Terug naar alle
TR
SK
RS
HU
BA
EuroVelo 6 – Belgrade to Bratislava section // Wild Atlantic Cycling Blog
donderdag 16 februari 2023
Follow Fiona and Paul on their eventful cycling trip along EuroVelo 6 – Atlantic - Black Sea in this article by Wild Atlantic Cycling Tours. Discover lovely spots and enjoy the ride in Eastern Europe with their words and pictures.
After our inaugural CycleSail Croatia Tour, at the end of season, we weren't in a desperate rush to get back … so we thought we'd ride back from Dubrovnik to Bratislava… well part of it anyway.
And still recovering from the trauma that was 'Ride Across Britain' early September its attractiveness was that lovely flat gradient along the Danube…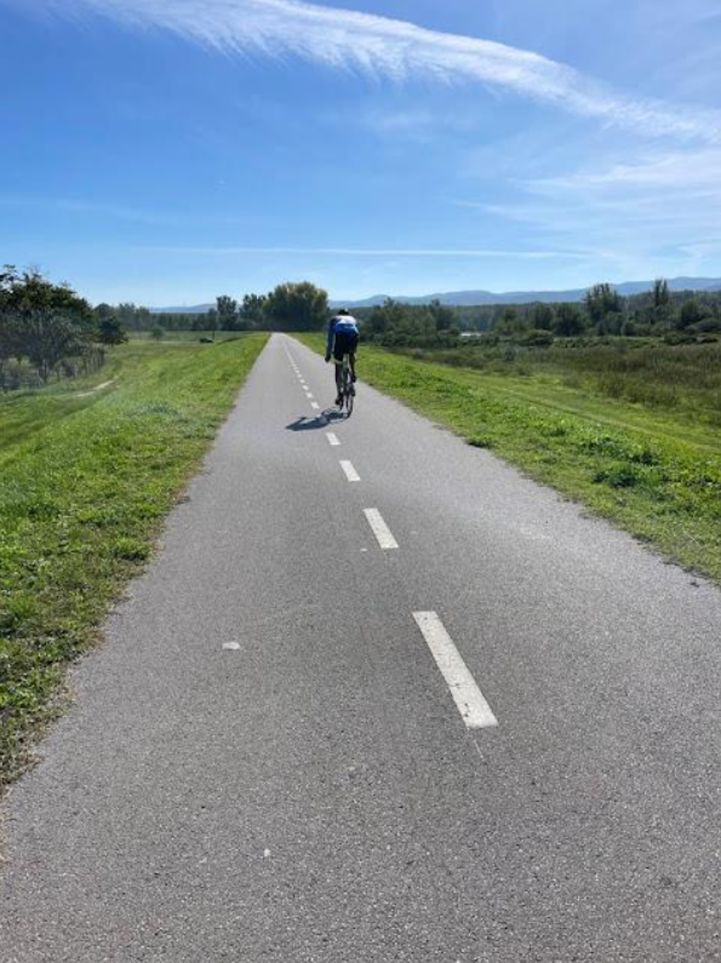 But first we had to GET to the Danube and Belgrade seemed an appropriate place to start:
1. It was on the Danube
2. It's easier to get a bus big enough to carry a bike to a big city, right? and
3. We'd never been to Belgrade before
So, to get to the 'start' having sent our suitcases home with our most accommodating clients we pitched up at Dubrovnik bus station with our pannier-packed bikes, what was left of our Kuna and Euros and managed to get ourselves and our bikes comfortably ensconced on a bus WITH a USB to … Sarajevo !?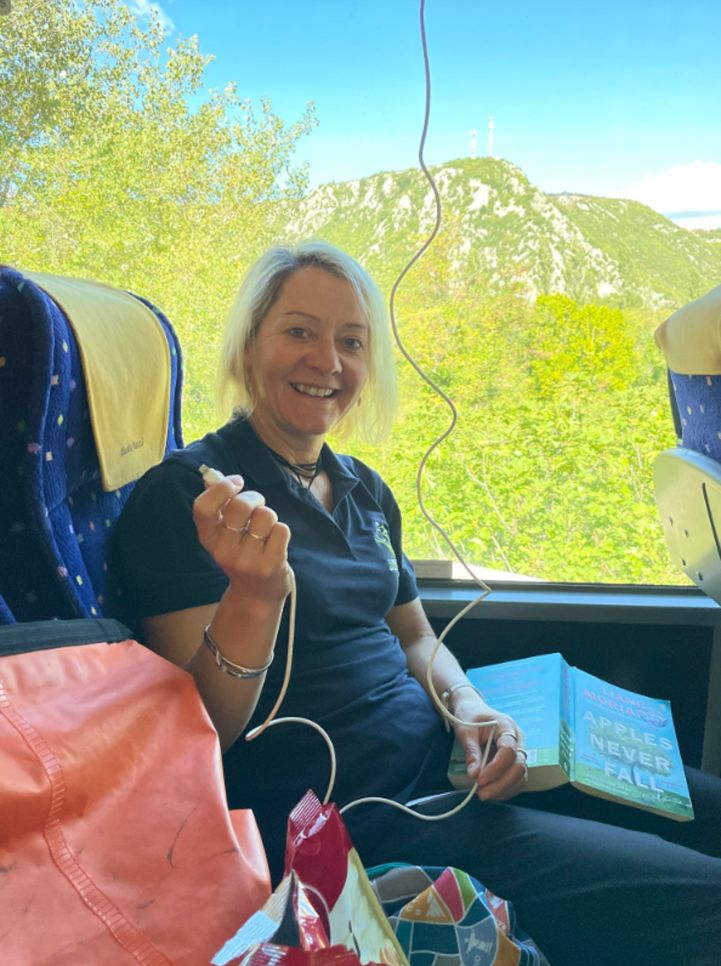 It took a lot longer than we anticipated! It was hot! And it was late by the time we arrived at the Sarajevo bus station where there were no buses to Belgrade :(
We had nowhere to stay, 23 euros left and fewer English speakers around us. Anyway, we had the foresight to have data therefore we had Google. And Google told us we had 12 km to ride over a big hill to another bus station. Now there are bus stations and there are bus stations and this was a BUS STATION! Anyway Booking.com found us a hovel 500 metres away for our last 20 euros in cash and having ascertained a bus would go to Belgrade at 8am the next morning that may or may not take our bikes we left for the night.
Breakfastless and cashless we re-appeared the next morning (7am breakfasts are out!) to battle it out with the bus driver; a big battle (because we had no Euros left remember), involving lots of what I'm sure were expletives, that with the help of an English-speaking American accented Bosnian, resulted in our bikes and us eventually getting on the bus.
Sarajevo looked a whole lot prettier as we were leaving it …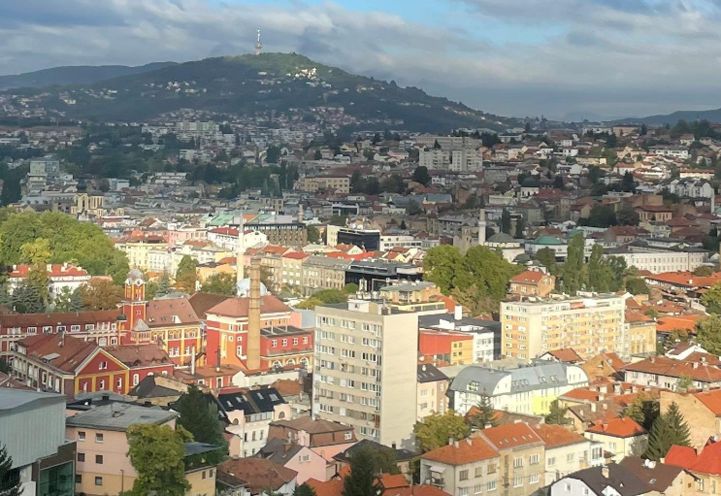 Getting off the bus without having found a cashpoint was a whole other story … Anyway - we made it. Belgrade was lovely. Cycle lanes in the city and a couple of EuroVelo 6 signs to help us get out …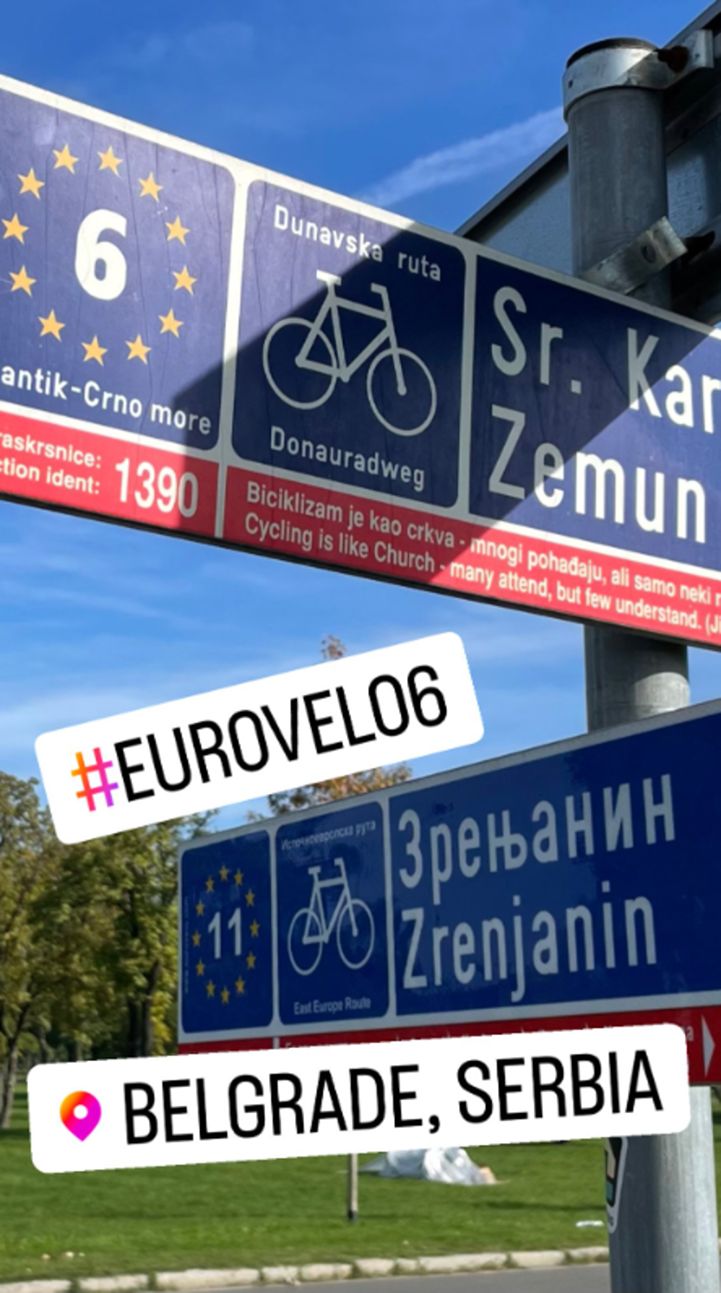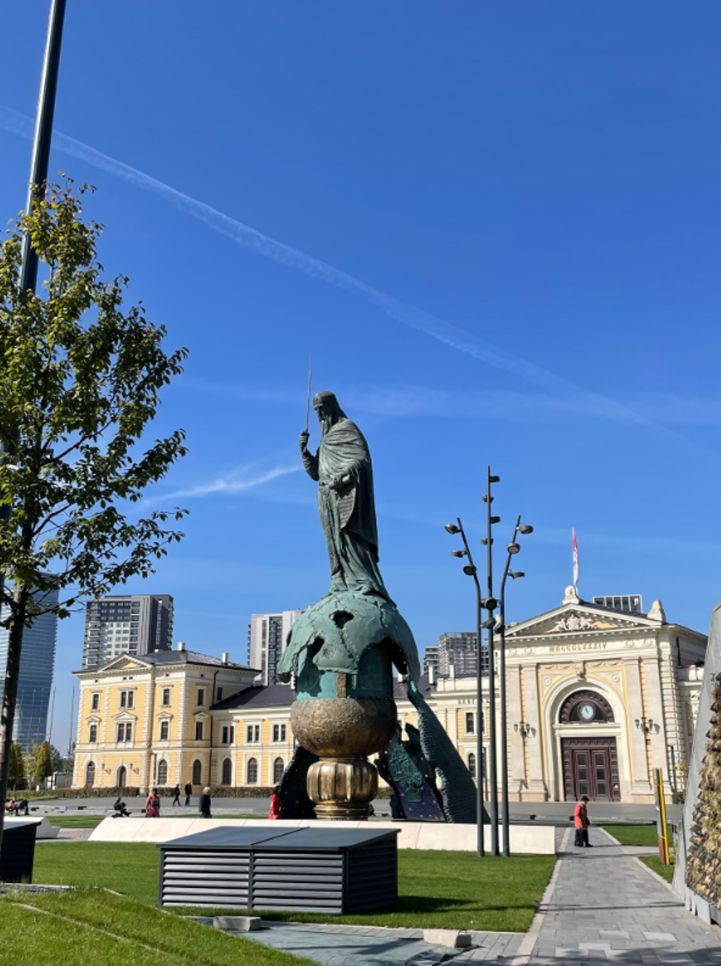 We decided our first stop would be Novi Sad. We figured 100 km would be a fine start. And it was - smooth and quiet roads for the most part riding along overtaking the apple and the pomegranate carts.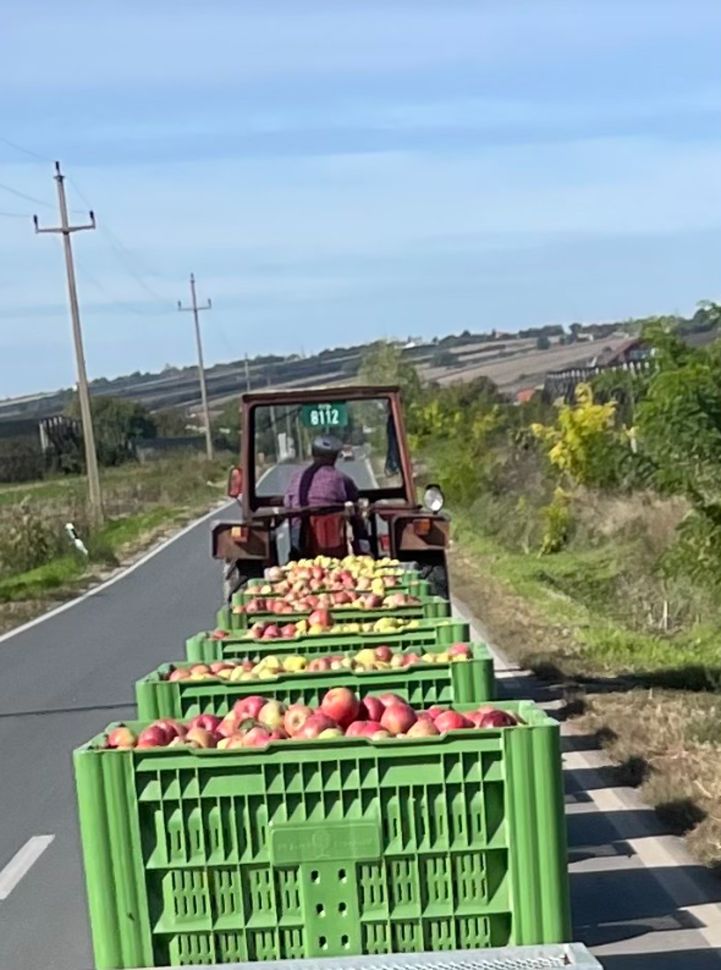 Novi Sad was a delightful surprise. Young, vibrant, cosmopolitan, cheap as chips and turns out it is European Capital of Culture 2022. What a find!
We continued on to Bačka Palanka and Bačko Novo Selo - and after another smooth start…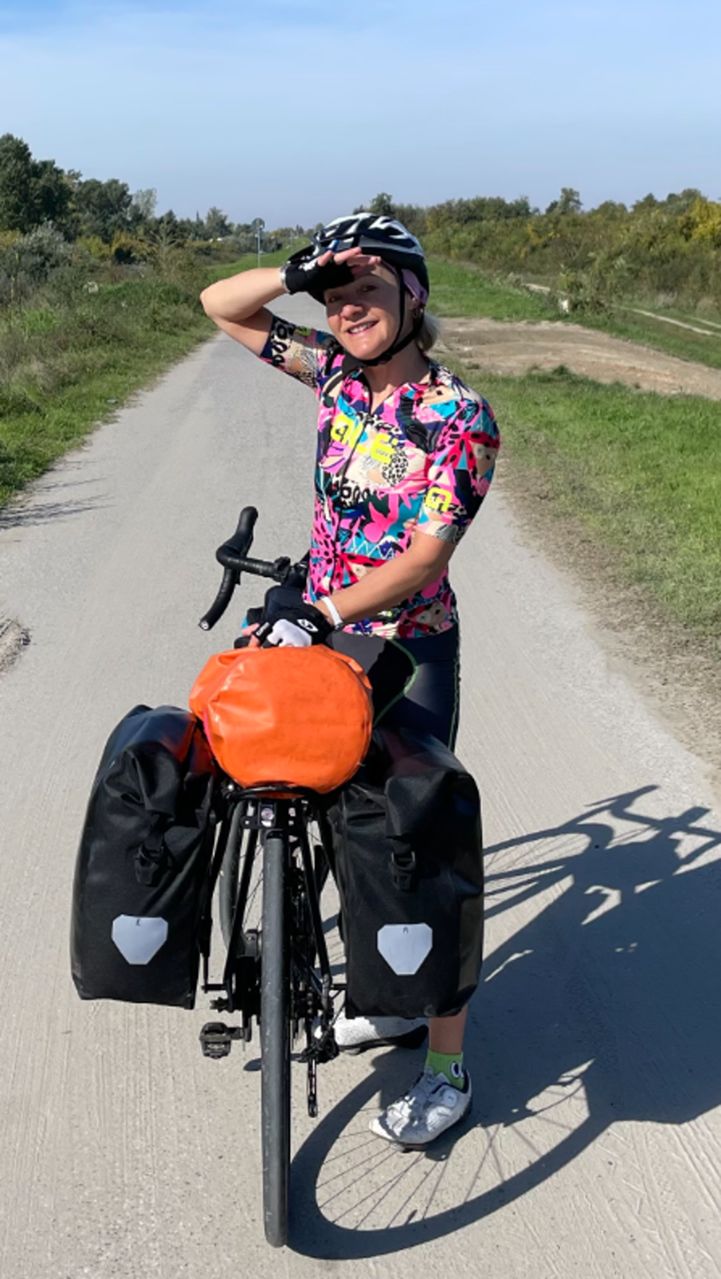 Things got rather remote and quite a bit rougher …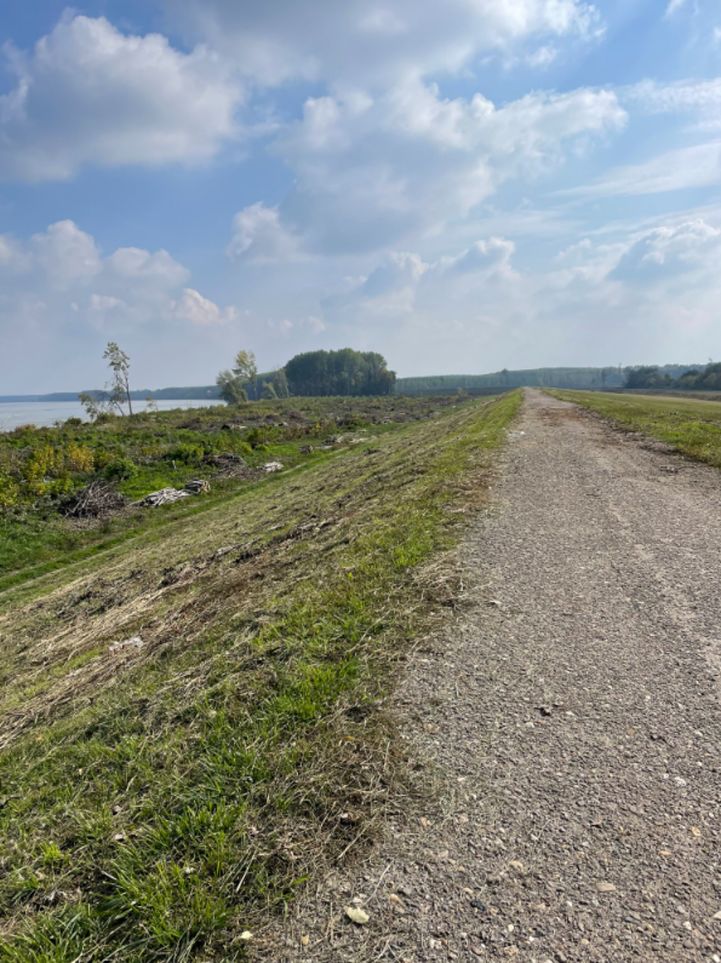 … and then they got really rough … seriously this pub was in what appeared to be a completely deserted village. It looked nothing like a pub of course, but Paul has this incredible ability to smell the possibility of a 'dirty pint'* after a day's ride a mile off. Anyway, it was like something straight out of the wild west indoors with the sawdust and everything, and smoke billowing through the rafters so they kindly put a table and chair outside 'for the lady' they said, so Paul promptly sat on it…
a fairly common term for the cyclist's post ride, pre-shower pint)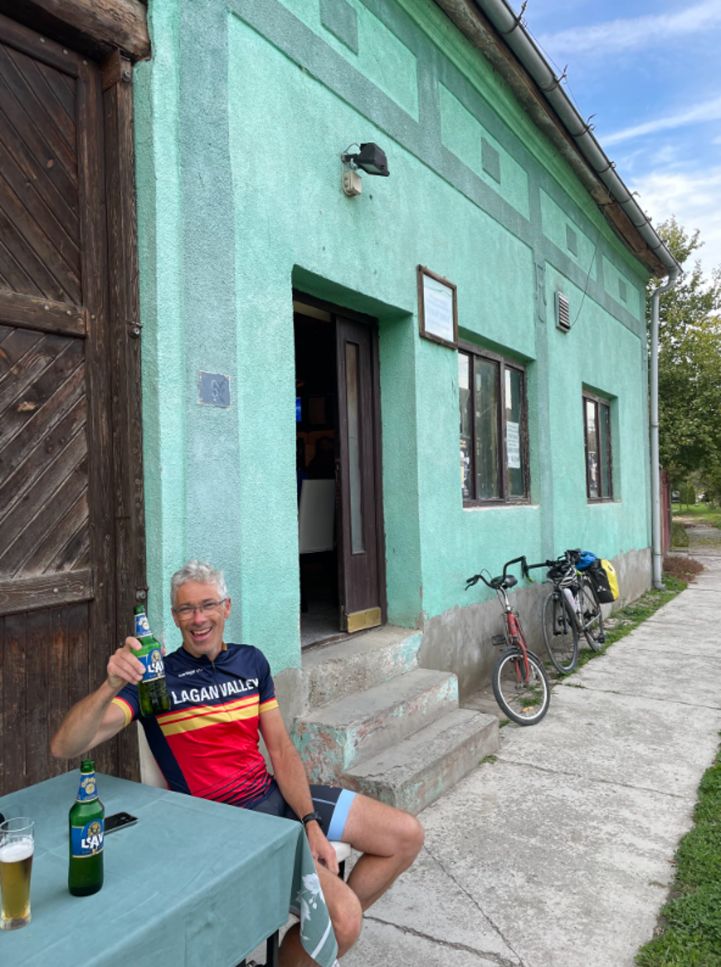 Satnav said our accommodation was nearby - seemed unlikely … but there was certainly life around us because the bees line this part of the Danube housed in colorful ex railway carriages so I guess someone needs to collect the honey …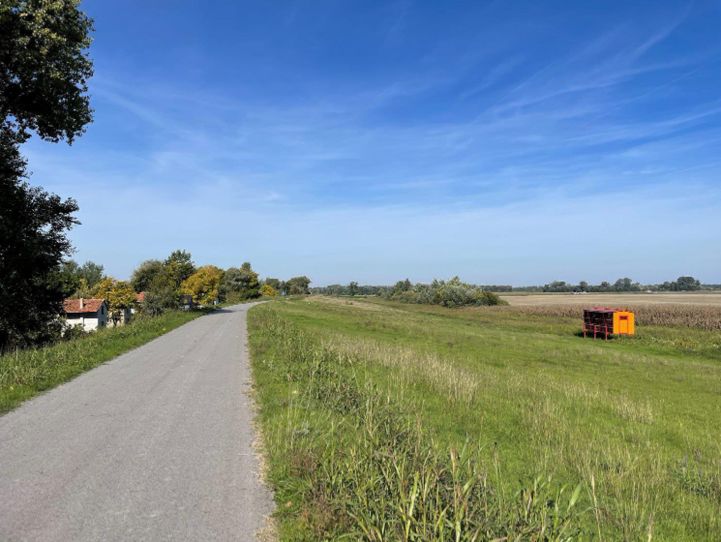 And up popped our accommodation. Like a marvelous little mirage. This delightful hotel has an a la carte restaurant and overlooks a lovely little inlet of the Danube that is home to a whole host of wildlife you can watch over breakfast on the terrace. Hospitality was first class. It was comfortable, the food was good and our bikes were put to bed for the night in a spacious locked basement.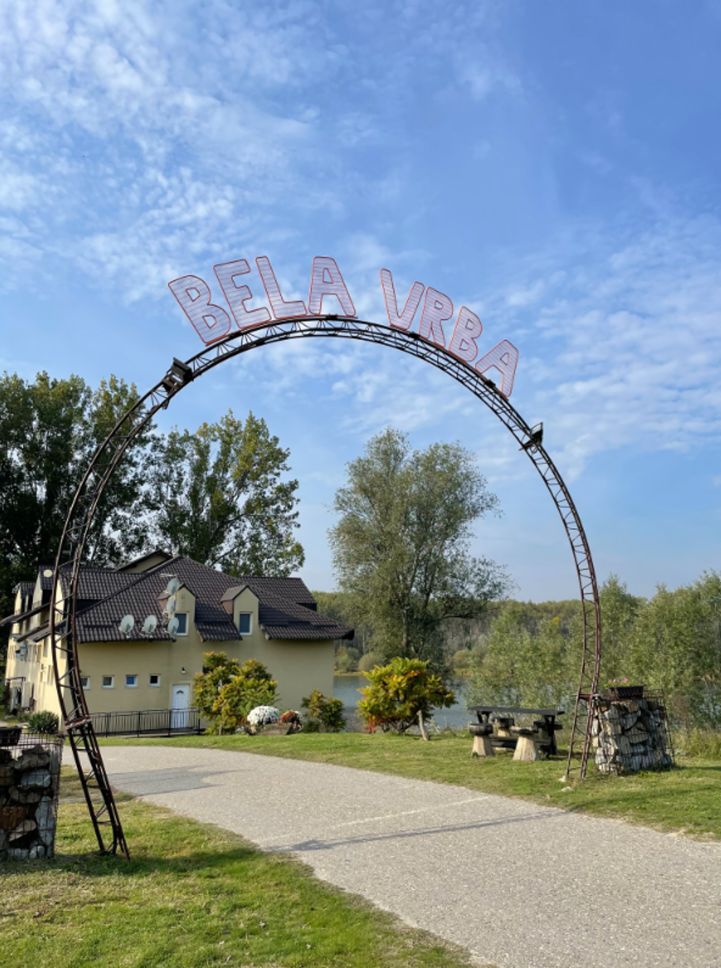 The gravel continued and despite the dropped handle-bar gravel bike and the 32 tyres I fancied a slightly less teeth-chattering ride to Sombor so we hit the road: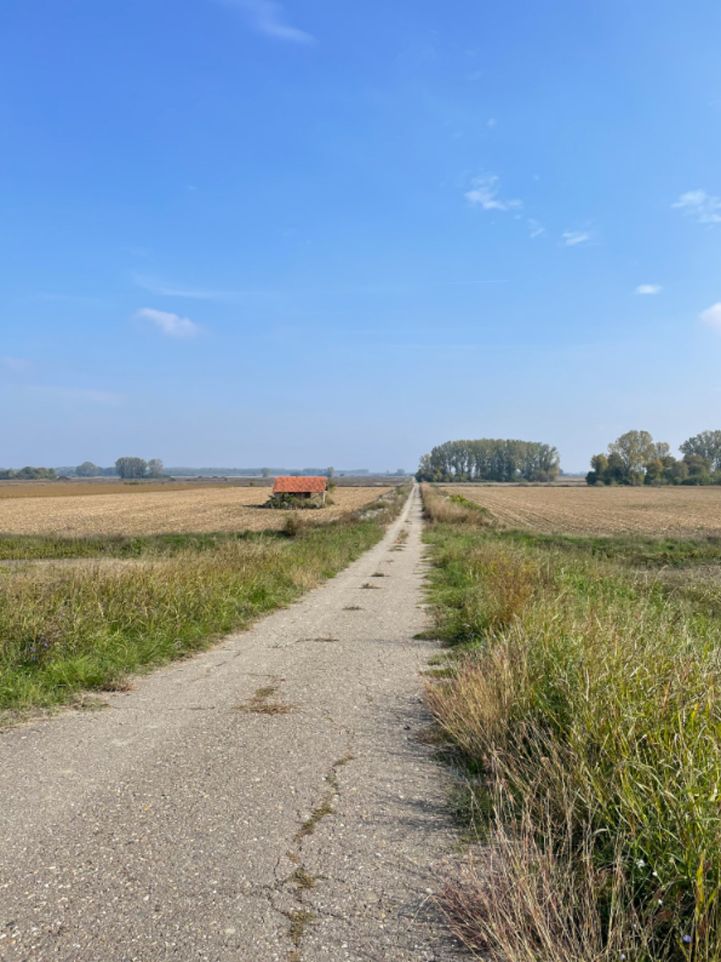 Via this level crossing - I couldn't resist taking this picture not two minutes after the train had passed. There is no barrier. You have to have both your ears and your eyes open when you see rails going across the road in Serbia!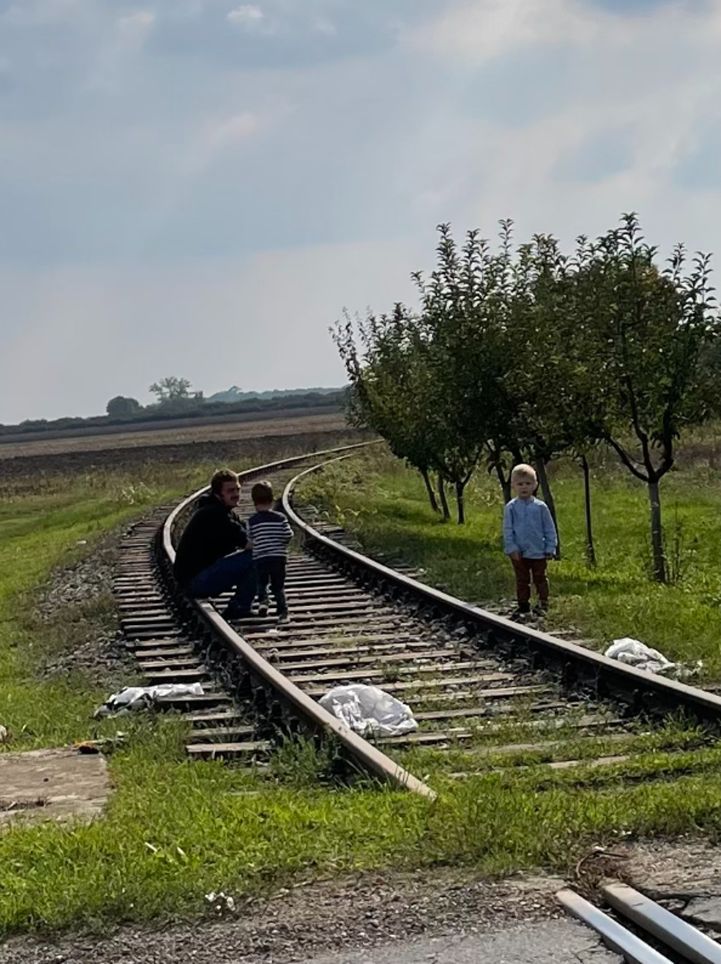 Sombor turned out to be another gem of a stop en route.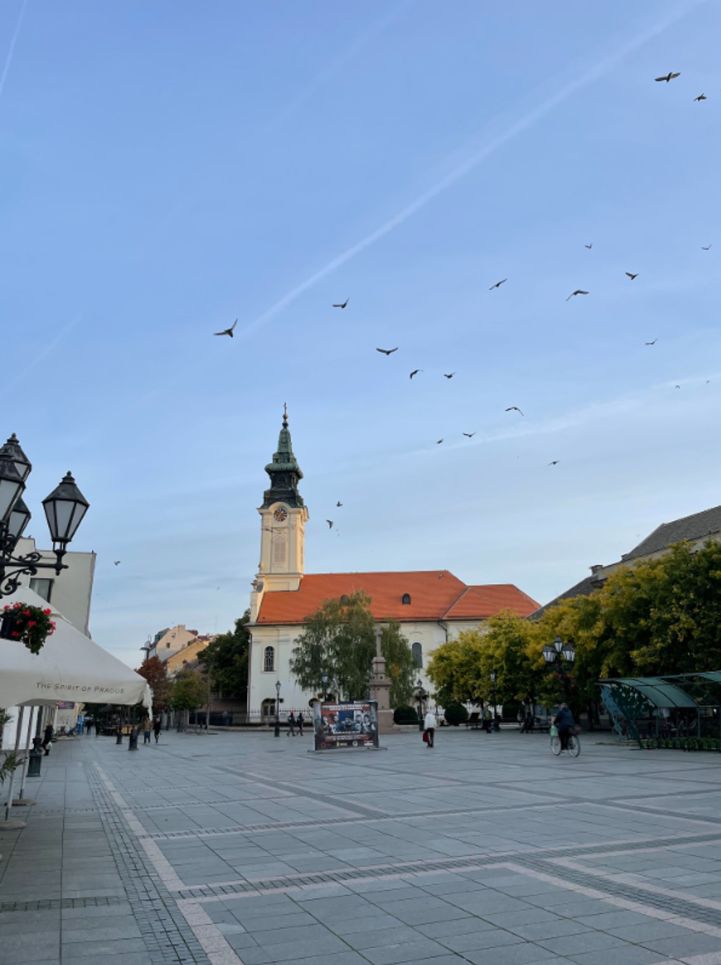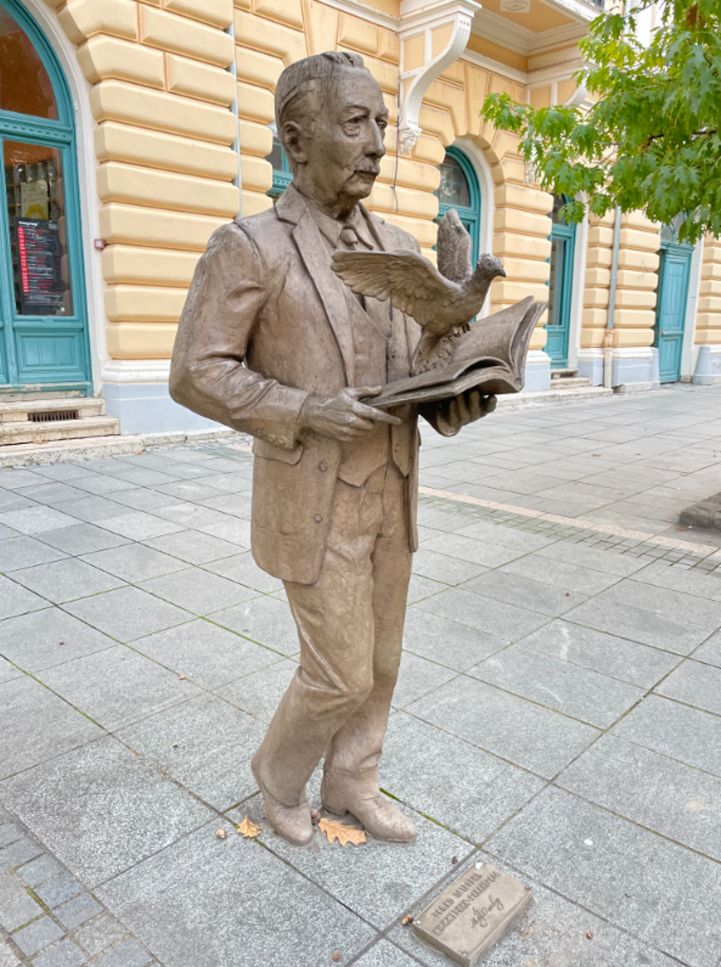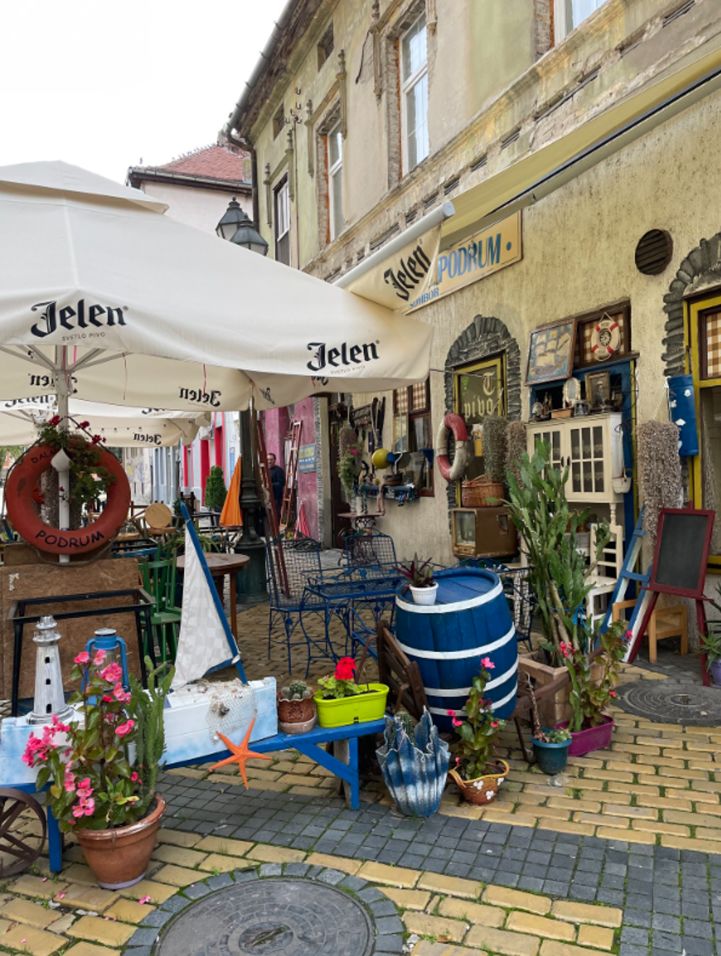 Given the road conditions along the banks of the river we opted to continue on tarmac into Hungary.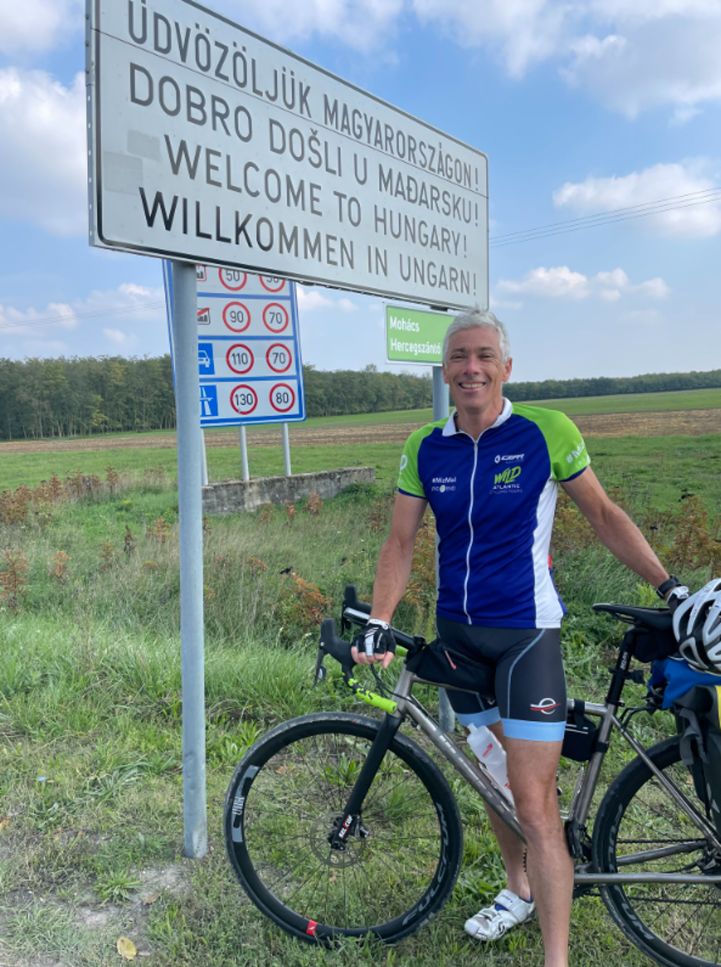 A ride along the Danube SOUNDS nice but in reality, being that flat it's just a teensy bit boring at times. As much of the river is lined with trees your view is obscured somewhat and it can be a bit repetitive.
When riding the dedicated smooth cycleways admittedly it's great being able to 'go fast' so for those who like to zip along and JUST CYCLE their hearts out these parts are awesome. Same goes for the lengthy choppy bits; but we're all different and I'm the kind of 'cyclist' who likes something to look at round each corner so I don't mind a climb because I LOVE the view at the top and I LOVE what I call a 'Fi gradient' descent; they're pretty tame and normally don't involve switchbacks! Although I am partial to the odd sweeping bend when my panniers aren't there - although on one occasion they did provide a wonderfully soft landing that protected my bike rather well from my incompetent cornering ;)
I digress - we're in Hungary … :) First stop Mohacs. It seems everyone rides bikes here. It's not a 'thing' it's a mode of transport. This little bridge over the Danube turned out to be a ferry.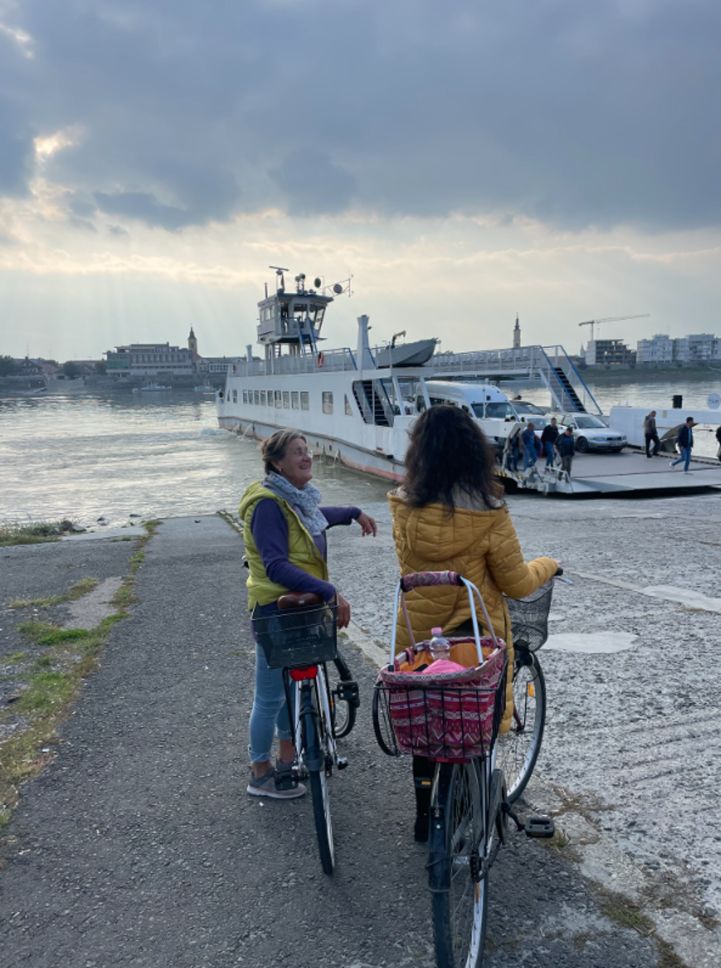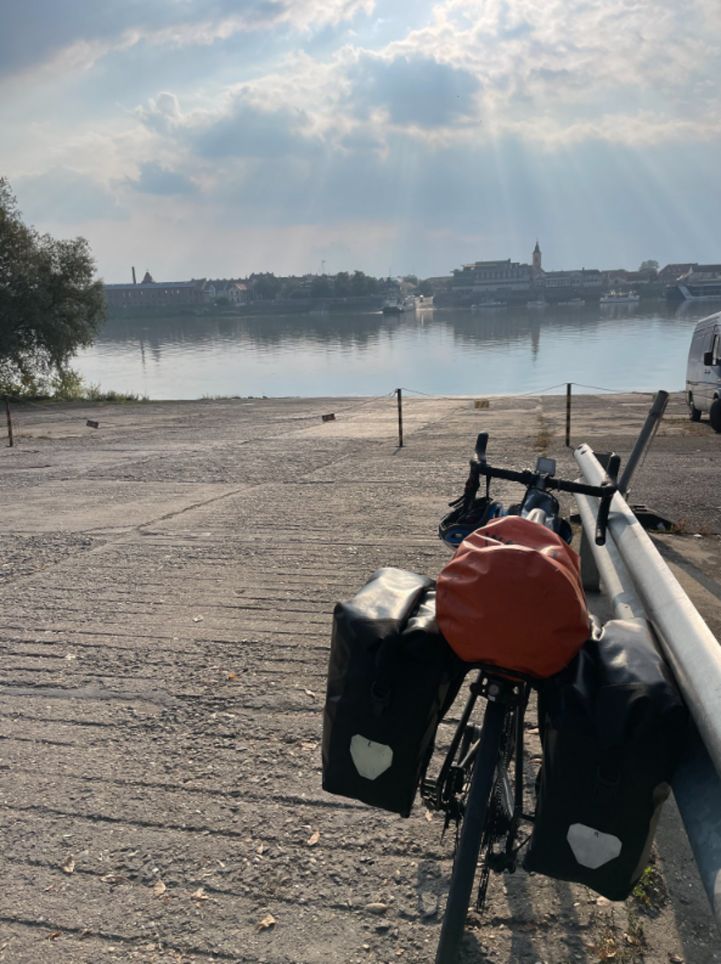 And Mohacs turned out to be another pretty little river stop with busy little cafes and a distinctive monument. Sorry, can't remember what the monument was built to remind us all to remember!?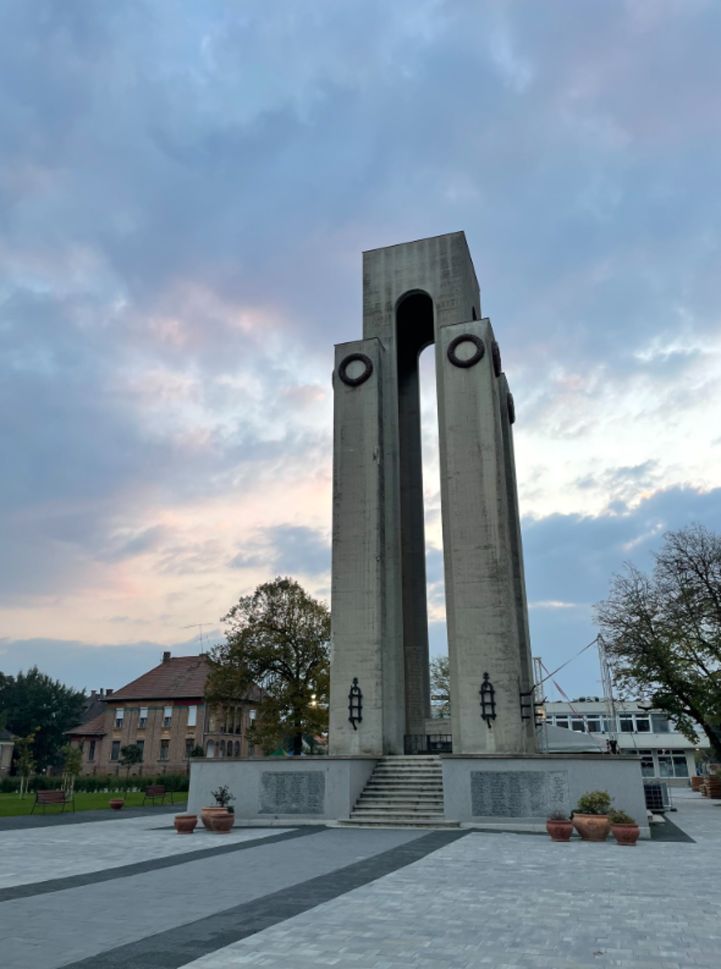 And this is where we leave EuroVelo 6 - Atlantic - Black Sea and the Danube for a chunk for this stretch to Budapest because I had heard that Lake Balaton was well worth a diversion - and we couldn't take any more of that constant pedaling flat stuff ;)
So, we headed out of Mohacs towards Pecs with Hungary still creating a great impression on us in its bicycle-friendliness well maintained tarmac offering …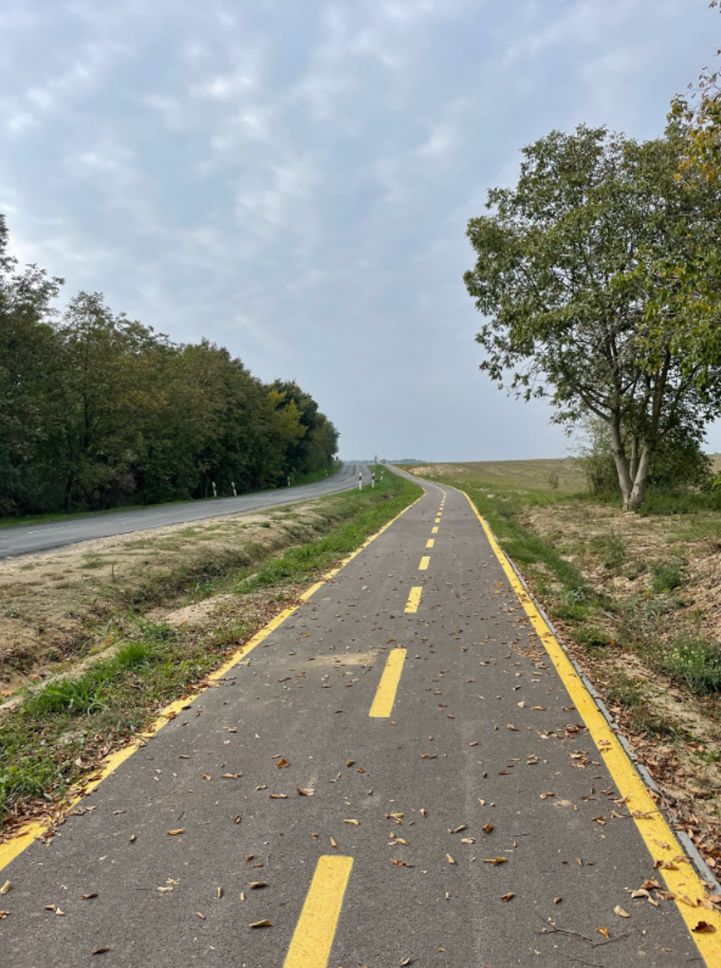 Pecs is just fabby! It's a University town with lots of atmosphere and activity. Students hang around on skateboards and rollerblades and buzz around on scooters and bikes. Another pleasant surprise. Sometimes it's worth doing no research on such trips and just pitching up in places.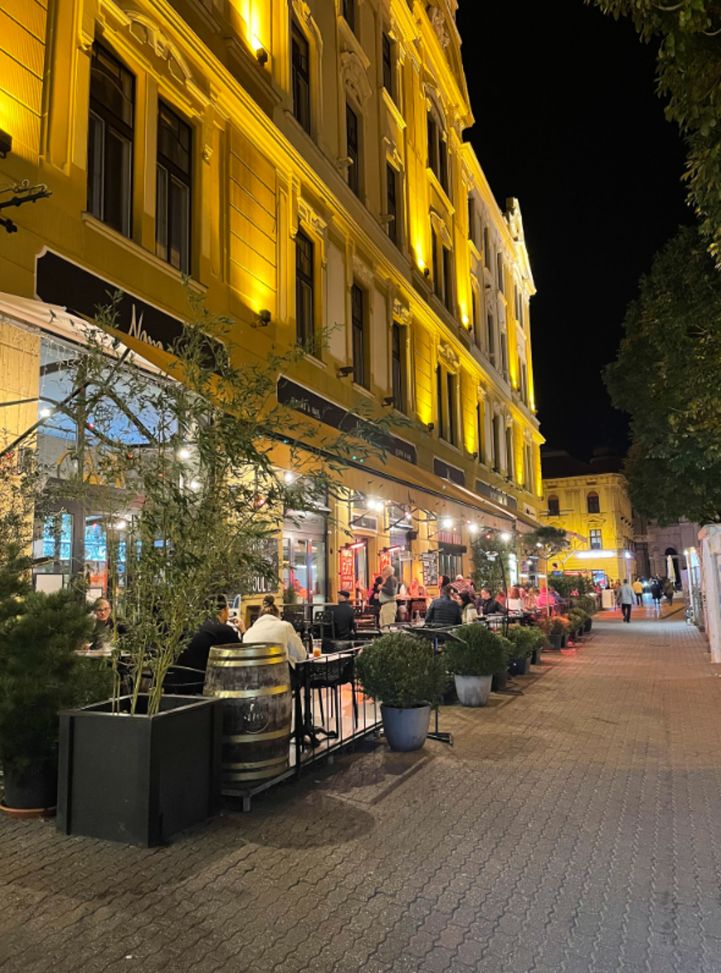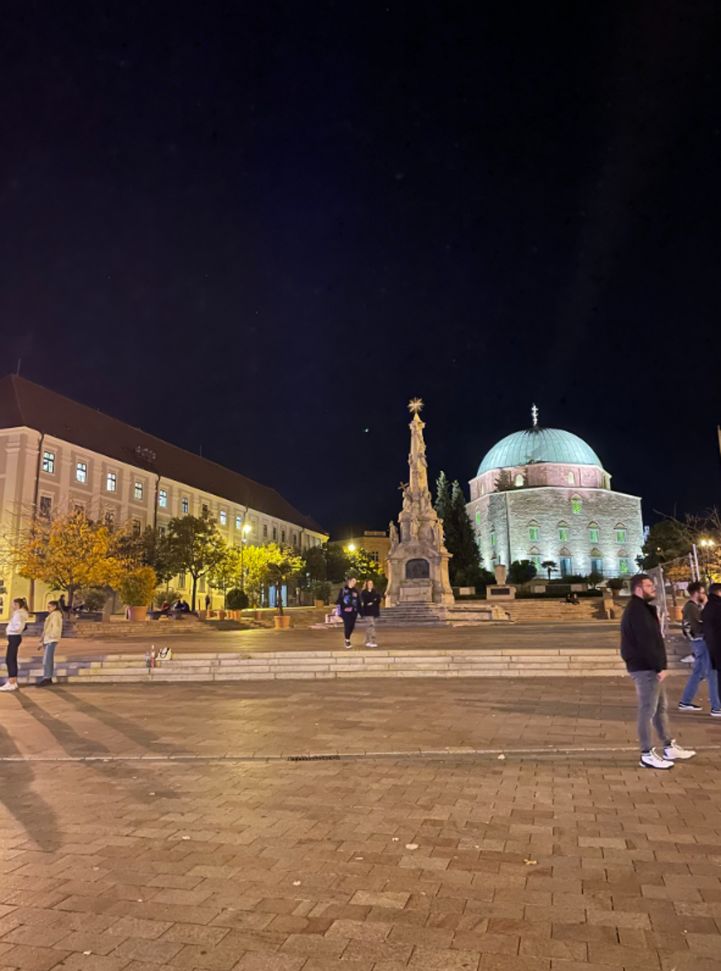 Onwards to the Lake and a few days off the bike! Lovely dedicated cycle path alongside the main road for an 8 km section on the approach to Siofok. Big thumbs up to Hungary for the cyclists so far …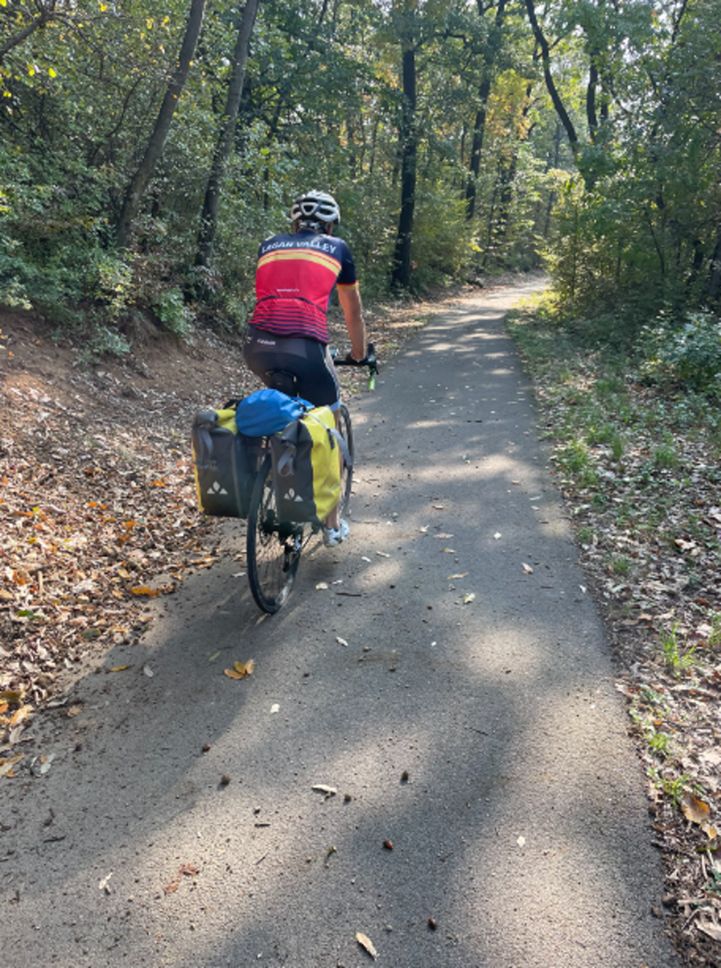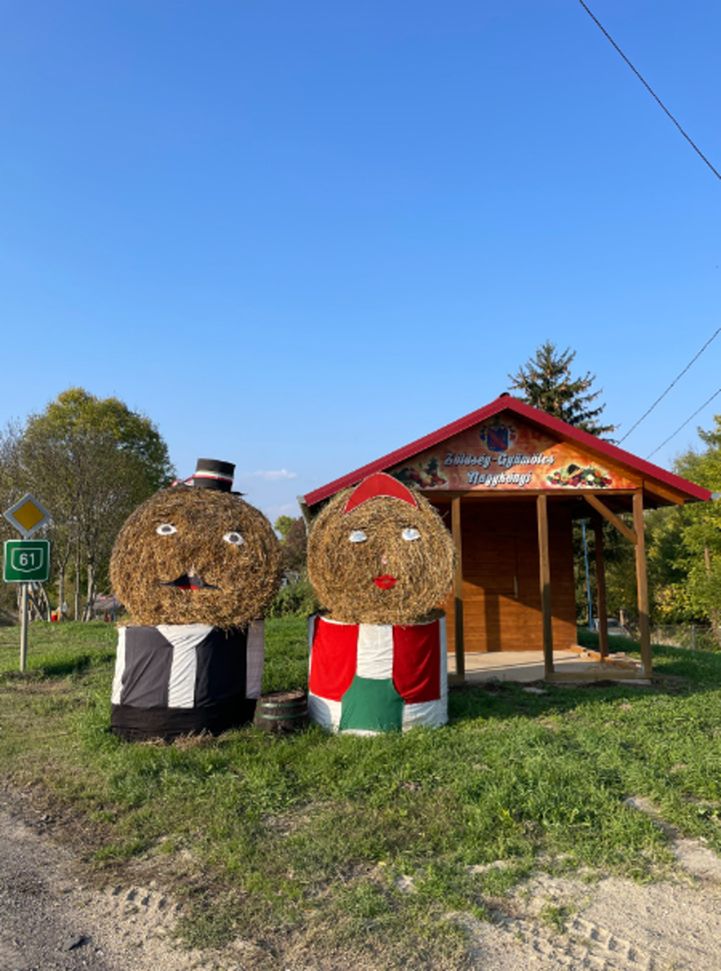 We'd heard that the Hungarian Government have invested in 200 km of cycle path around the lake so we were keen to look at least at the northern half of this. We did. It isn't QUITE road bike worthy yet!
As a land-locked country Lake Balaton is the 'seaside' destination for Hungarians and is well served by train from its Capital so it caters for all tastes.
Tihany has a stunning view and accommodation that appears to be a bit more upmarket. Balatonfured was our favorite. Next time we'll go south - I'm sure it will be very different there too. Being further away from Budapest I imagine it will be quieter at the weekends. The food was awesome along the front. I particularly liked the fresh cinnamon chimney cakes: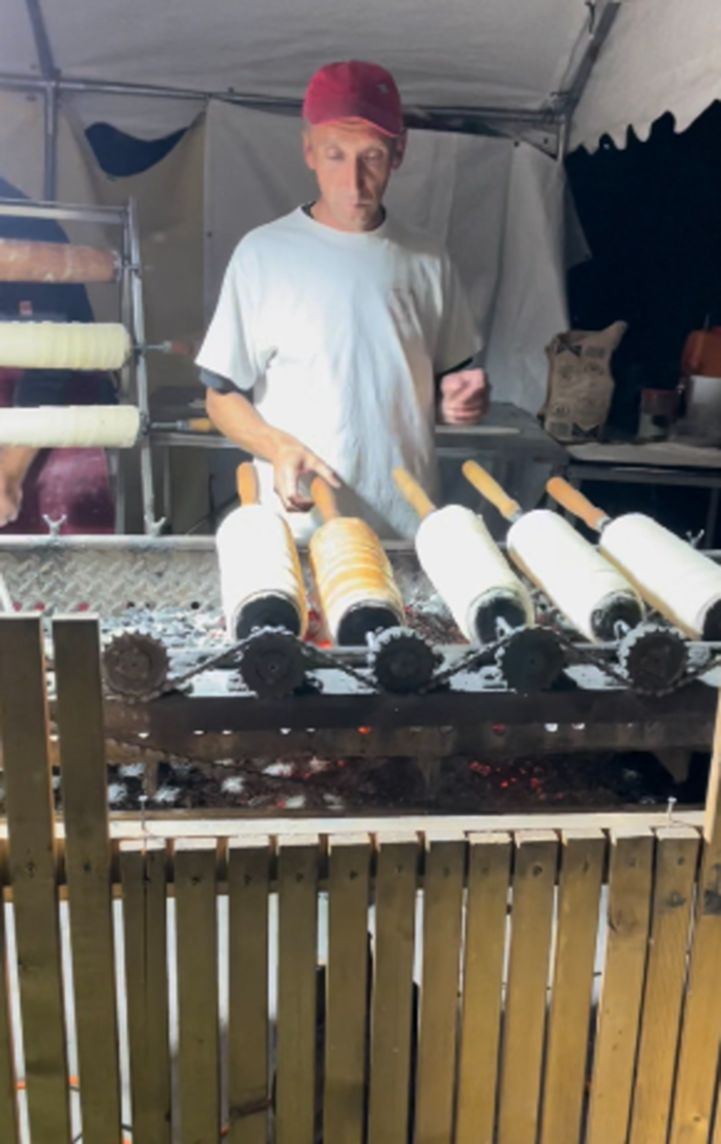 This is the glorious view at Tihany. By the way don't try and pronounce anything phonetically in Hungary. It won't work. It won't sound remotely like a place any Hungarian has heard of. Best to just point.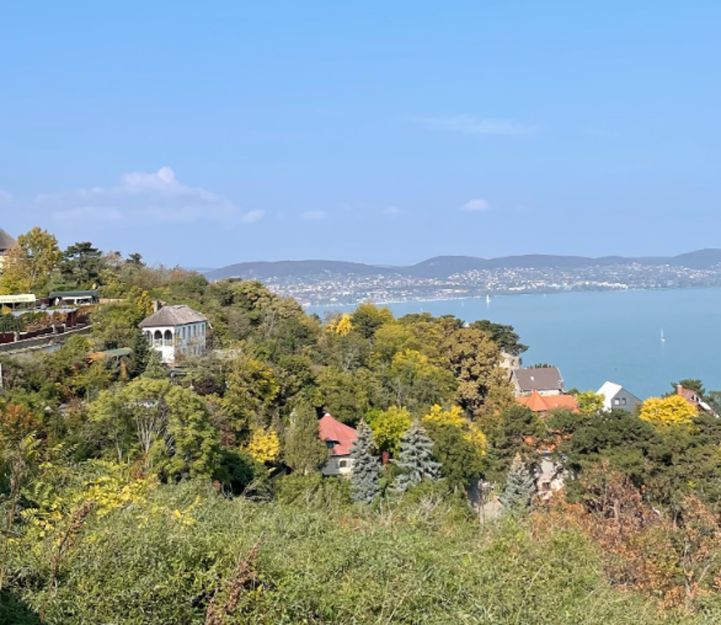 So onwards to Budapest.
As with most European countries, and indeed most other countries in the world asides from the UK (raised eyebrows emoji) the train service was inexpensive and catered for bikes with a dedicated carriage AND THEY EVEN HAD BIKE SEATBELTS!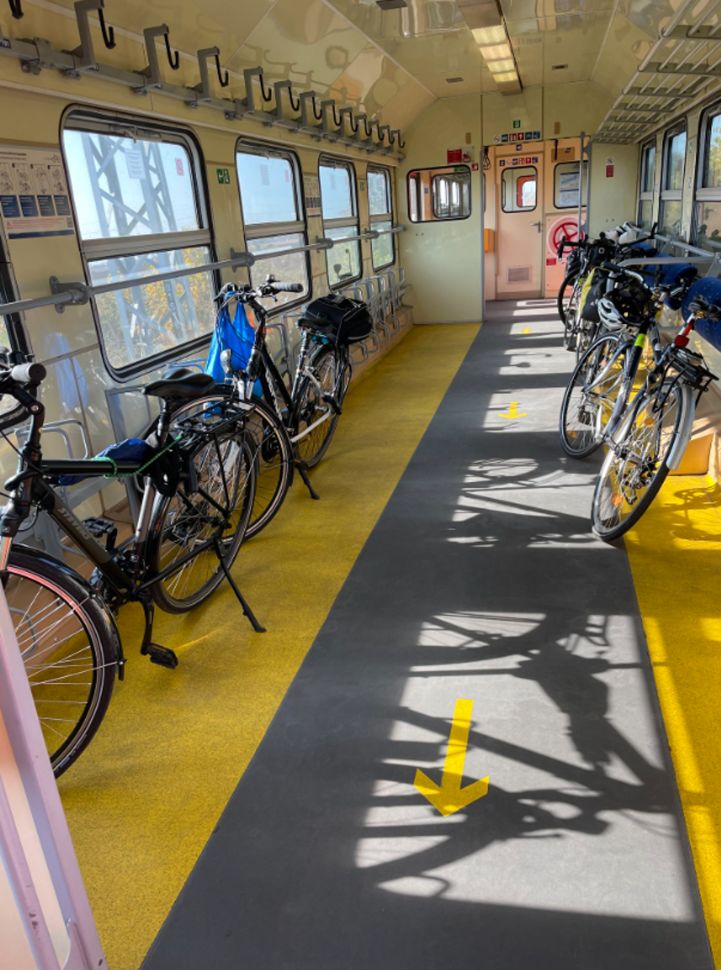 Budapest is a glorious city. Don't take my word for it, just go! Only don't stay in the youth hostel we stayed in if you're over 25. Separate story. Answers by e-mail.
Do however sit down on St Margaret's Island by the fountain for the daily evening light show that caters for all music tastes from Classical to Crap (I mean Rap). Speaking of which I was truly rapt by it. Just go!
Now to the exit by bike … the first 7 km or so is on city cycle path so it's slow but safe and steady. Opting to 'cut the corner' of the Danube and head straight to Esztergom was our big mistake. Here follows my Strava entry for that day:
'MOST of that ride was AWFUL; in really heavy traffic where I was questioning my sanity but about 15 km of it was on brand new outstanding cycleway on EuroVelo 6. SUCH a contrast! The 15 km section is on the approach to Gonya. SO glad it materialised as I was a quivering wreck on the main road. Materialise is the right word as at the time RidewithGPS had it marked out as tarmac and both Google Maps and Apple Maps said it didn't exist. It clearly hadn't existed for long as the marks of the digger alongside were fresh and the path was the smoothest I have ever ridden on. Another EuroVelo victory I reckon.
Saying that our stay in Gonyu was decent is a euphemism. DO however stop for lunch the next day in Gyor. JAM it's called. Brunch to die for. Service was great!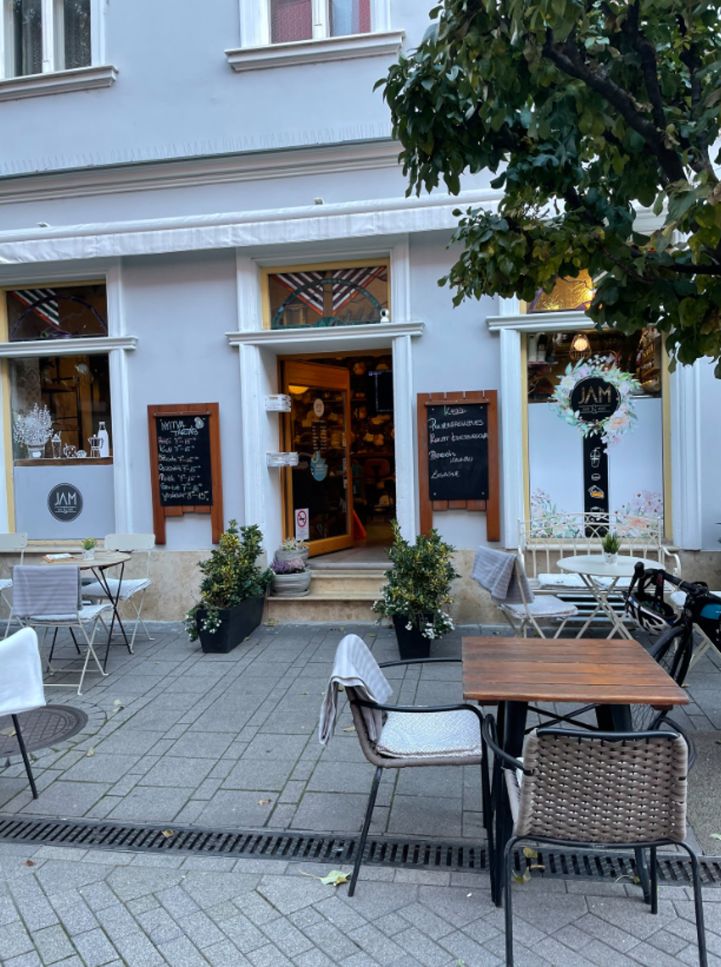 Puts you in a really good mood for the border crossing into Bratislava, except there isn't one! And I LOVE a stamp on my passport too :(
This last stretch in the crunchy October leaves is a lovely ride.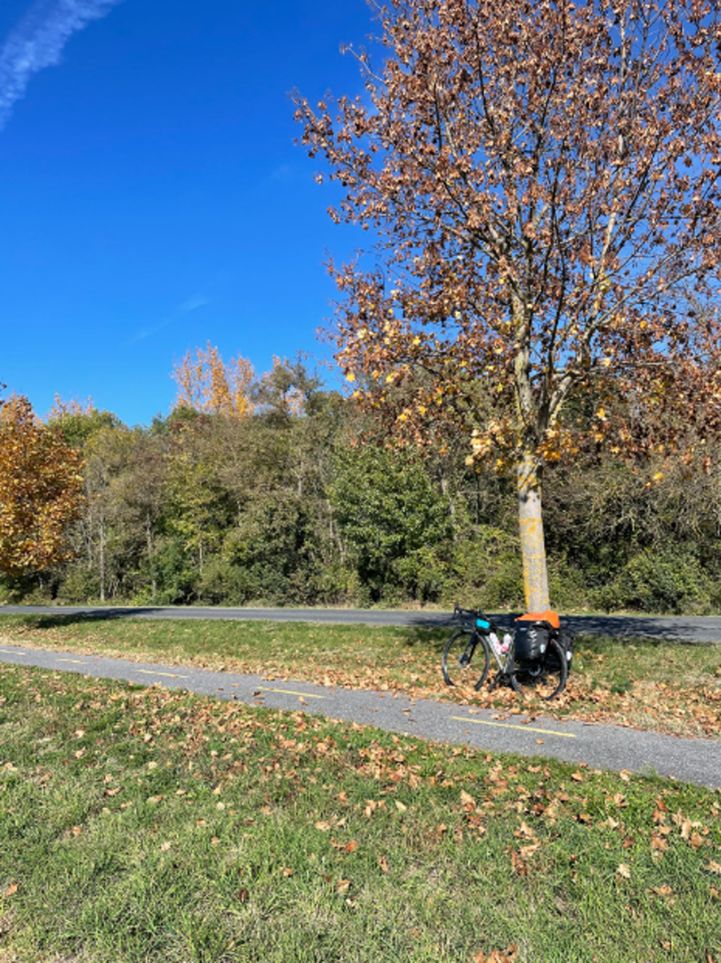 But the biggest surprise is the border itself. When you pass through this unmanned border you ride on a traffic-free section of road all the way to Slovakia's capital (10 km). This road is used by the Hungarians and Slovakians for all sorts of pastimes. There are the cyclists: time-trialists, shoppers, family day-trippers with tricycles and the odd EuroVeloer :) The Skateboarders, The Roller-bladers, The Segway and Scooter enthusiasts and a plethora of other things on wheels because the tarmac is long, wide smooth and simply a joy to roll on! The perfect welcome end to a lovely trip. Only it didn't end there - What happened next? - Answers on a postcard ;)
Thanks for reading. If you made it this far any response at all gets a free cycle shirt for any of our trips. Only it won't be this one - the route didn't come up to scratch to make one of our absolutely superb tours - and that is WHY we spend so much time researching. We don't just do good Cycle Tours, we do Amazing Adventures For Intrepid Cyclists. Below pic of me admiring the evening view post sunset from Bratislava's UFO building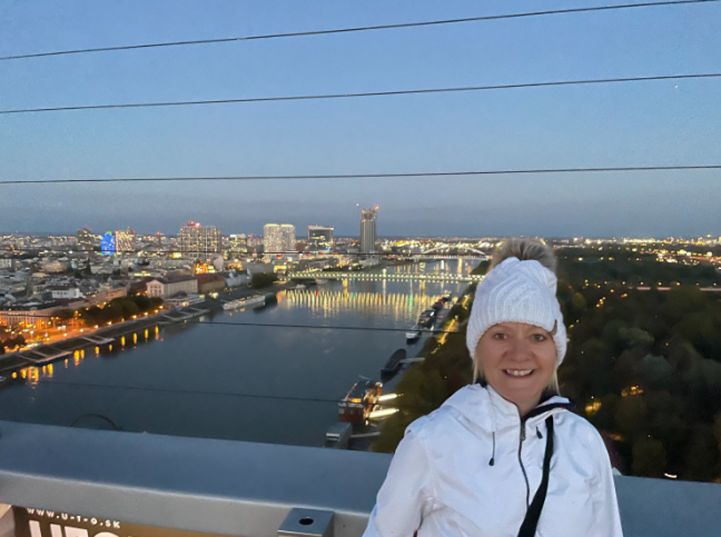 And writing this article a month later in my chosen November 'working from home' location in Manavgat, Turkey.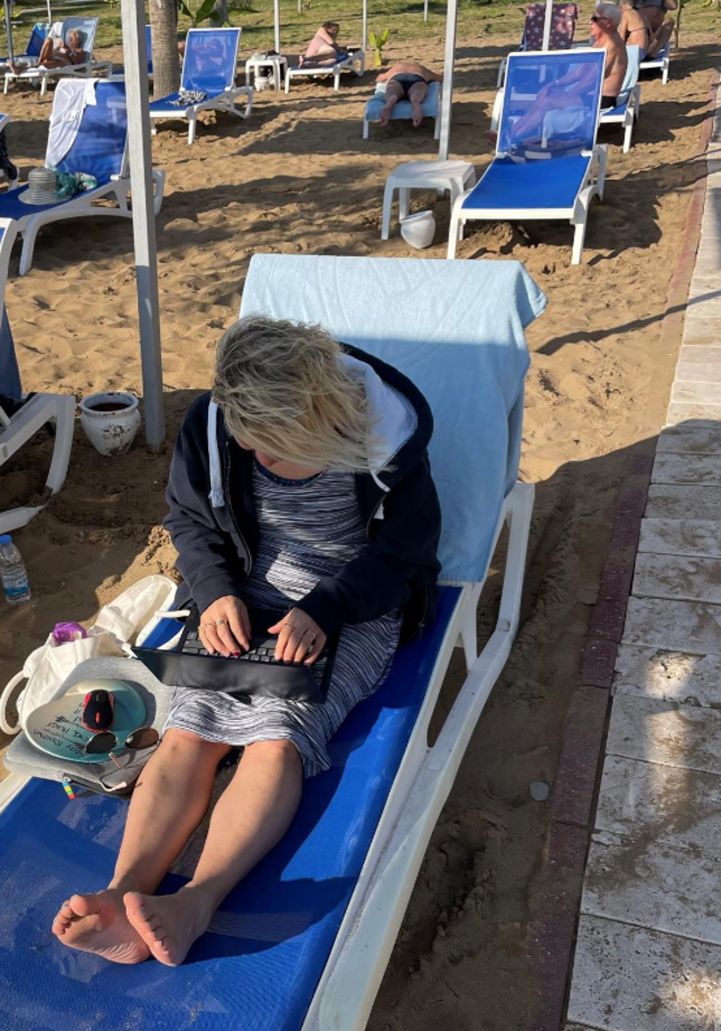 Very happy to answer any questions on our EuroVelo 6 - Atlantic - Black Sea experience to anyone thinking of doing same.
Get in touch to find out about this and / or any of our tours at [email protected]
This article is an advertorial of the Wild Atlantic Cycling Tours. If you would like to know more, visit their website.