Terug naar alle
UA
PL
DE
Ukraine – the unexpected end of my adventure by RawCandyRides. Part 3
donderdag 19 januari 2023
Birgit aka RawCandyRides explored 41 countries so far – by bike, of course. This autumn, she was on a cycling loop on EuroVelo routes in northern and central Europe and she reported from it with a short series on EuroVelo.com!
Previously, Birgit took us with her in Sweden along EuroVelo 10 – Baltic Sea Cycle Route and its traditional fishing villages and in Poland, where she enjoyed the particularly favourable cycling conditions and the generosity and hospitality of the locals.
Did you miss the beginning of this series? Find episode 1 here and episode 2 here.
This last part of her travel report draws the conclusion of her trip in late September and early October 2022. We meet her back in Poland where she is considering a change of plan due to bad weather conditions.
This thing called bad weather.
Last year, this time had everyone cycling around Poland in t-shirts. This year, the smart people stayed home, and a lone clueless cyclist wearing every layer, was out and about with no real plan, other than to escape the hounding rain.
(Yet Another) New Plan.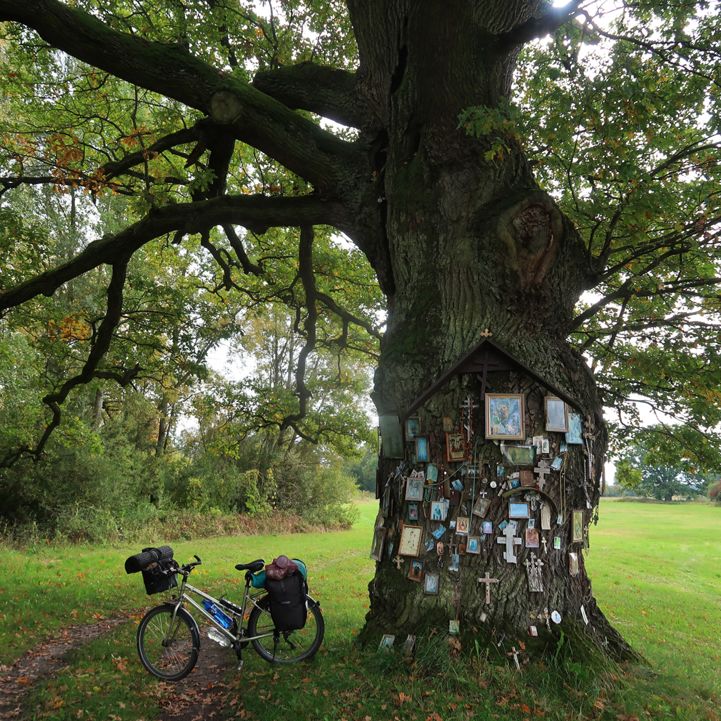 I had arrived from a short cycle in howling Sweden a week before, and had then tried in vain to chase the sunshine in Poland. So... 100km south from Braniewo (the eastern most town in north Poland), I decided to call this cycling-in-rain-thing quits, and use faster means. But it wasn't going to be as easy as I thought. My digital map might say there is a train station, but the reality was a train graveyard. The only people around were a trio of Hells Angels, and one thing I have learned is that the meaner a person looks from the outside, the more marshmallow they are on the inside. I was lucky that they spoke English well, and knew exactly from where a train would go south, and how to get to that train. A van-style taxi of course. They pointed to a lone vehicle in the parking lot, and as luck would have it, it was departing to my brand new destination in 15 minutes, of which ten were spent convincing the driver my bicycle and bags would indeed fit into his small luggage hold. I even offered to pay double. He accepted my bicycle, but refused the extra payment. And just like that - thanks to three friendly local bikers - I had a new plan.
Did It Work?
By the time I arrived in Olsztyn by communal taxi, the last train south had already left. But this is Poland. Everything is easy, and everyone helpful. I bought my train ticket for the next day, after narrowing down the options in mime with a patient ticket seller, to the furthest possible southern station, without changing trains: Czeremcha. Now all I had to do was find a city camping spot for the night. 7km from the train station, I chose a suitable spot along a lake, close to a leafy University complex. Easy and legal (see resources below).
Because It Was The Rain That Made Me Do It.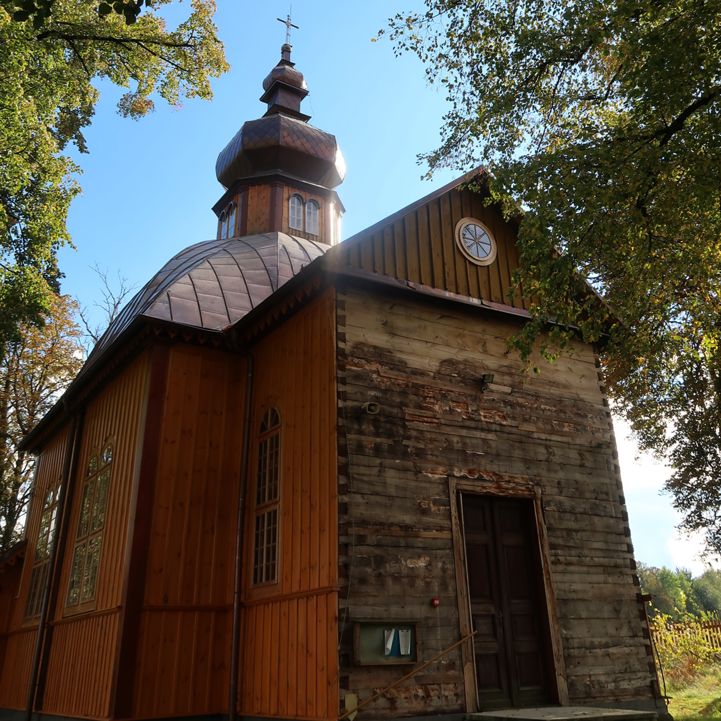 I woke up, packed up, cycled past a motley bunch submerged in the cold lake waters for fun. I made the train. I arrived south. A lovely couple pointed me to a woman running a hippie campspot in her apple orchard backyard. I got a hot shower, and at the same time supported a local at a time when tourism (especially in the East) is down due to the Ukraine-Russia war. This might be another reason why I am the only one still cycling along the beautifully kept GreenVelo routes. I was now on the Eurovelo 2 - Capitals Route headed south-west as the border of Belarus was budging me left when I wanted to go right.
As I cycled through gorgeous old-timey villages filled with beautiful traditional wooden houses and matching churches, with not another cycling tourist in sight, it became clear to me that now was the time to support those affected by this huge drop in tourism. Instead of eating mostly store bought food and wild camping, I would now seek out restaurants, cafés, and locals offering paid accommodation. Usually I go super budget as my journeys are long, but this 7 week micro-adventure (by my timeline) was the moment to be less thrifty and show support.
How It Went.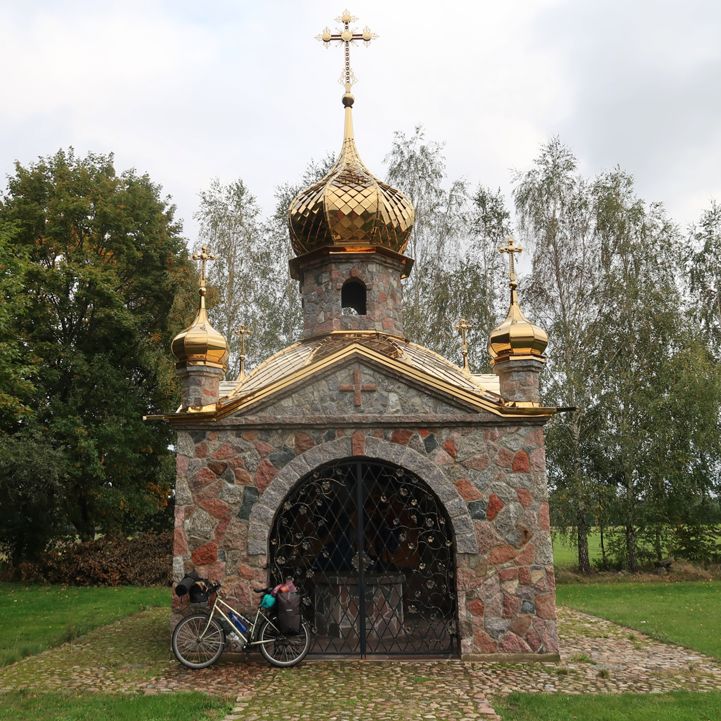 The best things in life are the epic ones you don't expect. A handful of times along the Bug river, I would come around a corner and be unexpectedly blinded by gobsmackingly beautiful golden churches, religious compounds, and monasteries. One evening I had again set up camp in a shelter along the Polish side of the river. This time it wasn't border patrol cars that spotted me. I was instead found by the orthodox monks of the Monaster pw. Świętego Onufrego, who insisted I be their indoors guest for the night.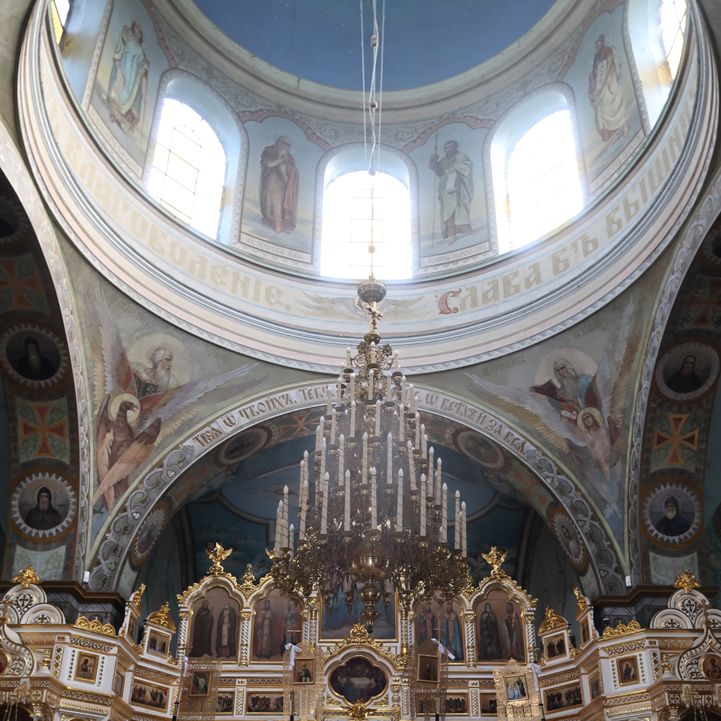 One of the most wonderfully curious conversations - over three warm local herbal teas - about my adventures followed. English is a simple language, and with fewer words and many gestures, all expected details were conveyed. I was invited to attend their exceptionally melodic morning service, followed by a hearty vegan breakfast. Orthodox Friday's for the win. As someone that is not religious, this was an interesting and heart-warming cultural experience. All around the world, people with different beliefs and lifestyles than me, have embraced me. Being different afar does not come with the same prejudices and fears as in the commercialised West. Why?
At some point the next day I hit 30,000km. I never would have thought when I first set off, that I would go this far, and see/experience/taste/feel/love and love it so very much. And although during the last few pandemic years I have only been cycling around Europe, and yearn for the lands afar I had to bail on when borders closed in Africa during my Cape (South Africa) to Kapp (Norway) adventure, Poland was such a wonderful fresh cultural surprise, I felt excited by the newness again.
Then the Ukraine got closer, so I thought a lot about if I should, or shouldn't. In the end I felt that supporting local businesses (as I had been in Poland), especially those close to my heart (plant-based, healthy, eco), was the right choice. But at the same time, I didn't want to be in the way. Lviv was further west than the eastern parts of Poland I had just cycled, so I went for it. The Ukranian border crossing could not have been easier or faster. I wheeled my bicycle through passport control, and no-one was interested in checking my bags, as they were everyone else's. If the Ukraine didn't have a problem with me being there... Getting to Lviv is an 80 km cycle along Eurovelo 4 - Central Europe cycle route, which I had followed from Przemyśl, the Polish city closest to the border. I would only cycle 10 km along endless rows of trucks waiting to leave, and to get in, before feeling that the urgency of the traffic on this road, was no place for a bicycle tourist.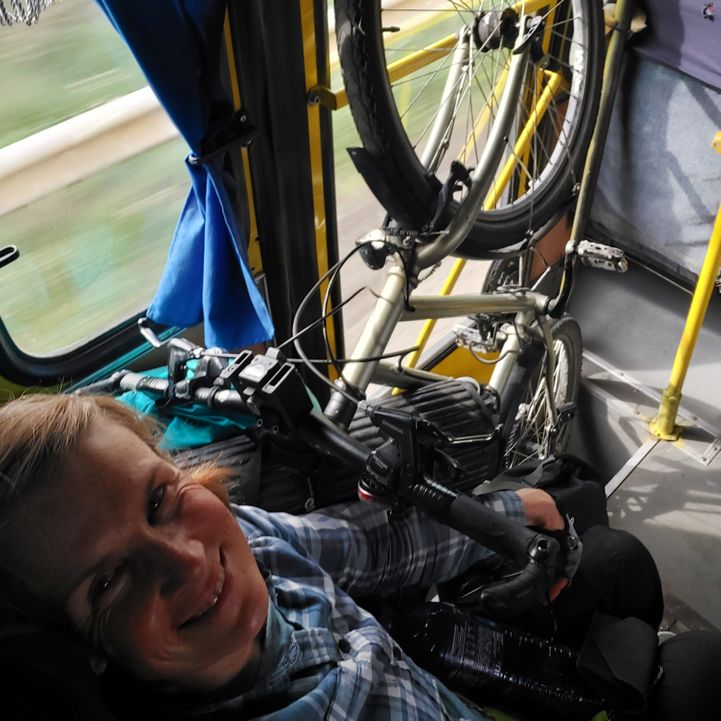 I had made it to the first train station in Ukraine, but no dice. The next one would be in 3 hours. So I decided to hitch, something I feel really comfortable doing with my bicycle, but not without. Within 15 minutes a local bus stopped. I was squished on. Then another bus whose last stop was before the Lviv airport, so back on the road I went. What followed wasn't the planned weekend I had in mind, but nine wonderful days in a city with such innate charm, and hospitable people. My hostel was filled with displaced Ukrainians and international students stuck for the time being as there is no way out. Ukrainian men can also not leave since the start of the war. Despite all the restrictions and consequences of war, there was positivity (and so much young love) in the air.
So what about Lviv?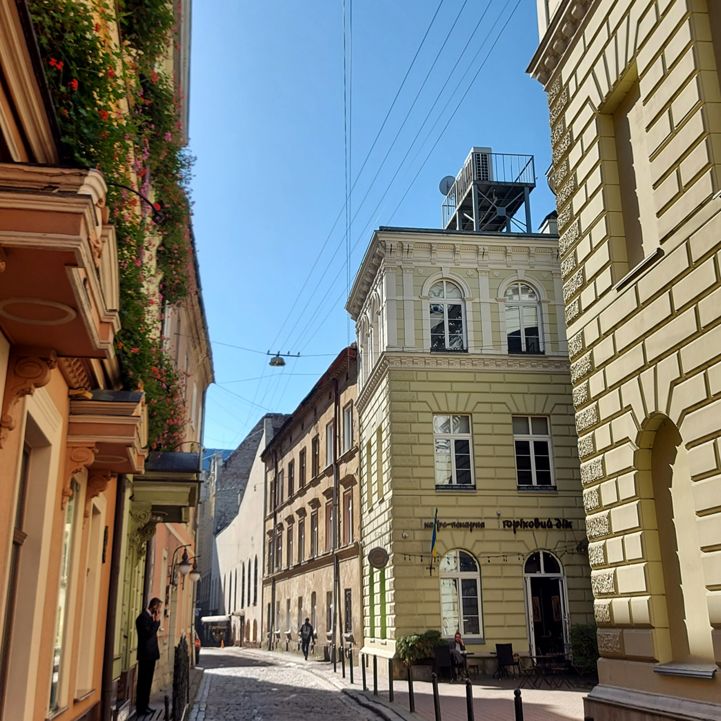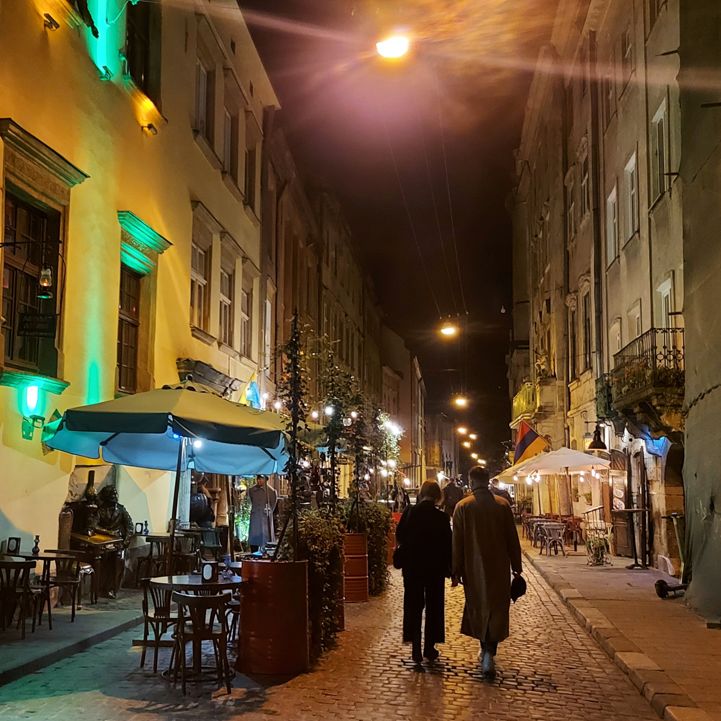 It is a gorgeous old timey city with lots of leafy parks, and a large pedestrianised cobble stone centre. This enables relaxed walks around town, where there is always a cultural event on display. In the evenings before the 11pm curfew, popular musicians dot the area. I was astounded by the standard of foodieness. From the 62 countries I have traveled in, only Hong Kong, France and Japan rival. As for supermarkets, only Hong Kong comes close. As I delighted in some of the best plant-based/vegan food and kombucha in Europe, friends started to donate money for me to spend at will, far outside of my budget. I had 5kg spare to add to my bags.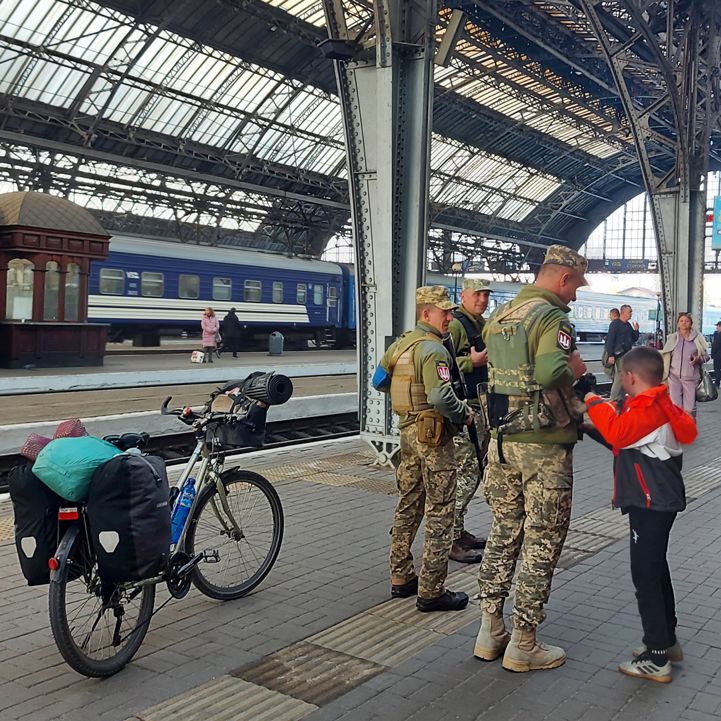 Sometimes it was really hard to see those left behind by time, selling damaged home-grown apples and freshly foraged mushrooms for little. Everyone else seemed to have the new normal in hand. Although there were sirens urging everyone to seek shelter twice in my time there, at no point did I feel unsafe, largely due to being surrounded by a people that are calm, kind, joyful and helpful.
The ultra modern train from Lviv to Przemyśl - a 100 km trip - took 7 hours instead of the three advertised. First, we were stuck on the departure platform, while everyone's passports were checked. Then we were stuck at the border for an insanely long time too. Finally, we arrived in Poland at midnight. As one of the few foreigners, I passed through passport control swiftly, and had to find a campspot in the dark. No problem.
I finally took another train that brought me back to Germany. And this is the end of this adventure.
Details on how to get about:
Poland is super uncomplicated for a bicycle tourer. The EuroVelo routes criss-crossing Poland quite often follow the local Green Velo network. There is a route, everywhere it is pretty. Amenities and sites for wildcamping, campsites, shelters, historical sites, views and so much more: here. Indispensible. Select bicycle and camping, et voila.
Train: Need to escape the rain? Changed your mind and want to get somewhere fast with zero bicycle drama? Tickets for you and your bicycle will cost an average €10, and take you half way across the country. This is amazing. If you book online or at the train station counter on the day, the price is the same.
Free shelters to camp: Although wildcamping and urbancamping are so easy and safe in Poland, some nights you might want to escape the rain, for free.
Cycle paths when you want to connect the dots between two EuroVelo routes. There are so many cycle paths in Poland, it was never hard to find one going my way.
Love is... the East.
Author and pictures credits: Birgit, aka @rawcandyrides on Instagram