Terug naar alle
BE
Music on two wheels to fight climate change: The Hermanos Perdidos' Rosalina tour
dinsdag 30 augustus 2022
Two months, five countries, a dozen wheels, thirty concerts and over one thousand kilometres. From Brussels, Belgium to Biel, Switzerland, roughly following the route of EuroVelo 5 – Via Romea (Francigena). Six musicians show how going on tour can be sustainable!
This is how the Hermanos Perdidos described their sustainable music tour in words and numbers. The band is made of six musicians playing a variety of instruments in the style of gypsy and cumbia music: Daria, Gwenaël, Kaspar, Dorian, Gregor and Cris.
After releasing their first album, Despierta, in May 2021 the band wondered how to share their festive music with the public at a time when it was still forbidden to organise gigs asa a result of the lockdowns. They landed on a wonderful idea: to reinvent themselves and resurrect the streets while promoting their new material at the same time! That summer they started out with two cycling music tours in Switzerland, the resulting enthusiasm from the public saw more than 40 people pedalling with them to Lausanne for the last gig.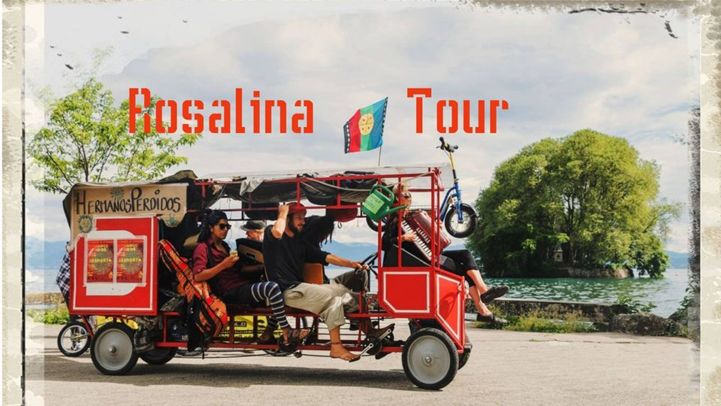 In June and July 2022, they set their ambitions even higher and set out for a two-month cycling music tour from Brussels to Biel, playing 3 gigs a week on average. The itinerary followed parts of EuroVelo 5 – Via Romea (Francigena), in particular from Brussels to Dinant and from Freiburg to Basel, sometimes taking a more direct route when they had to reach the next concert location more quickly.
"For us, following the EuroVelo route was helpful, Gregor commented, because we could ride without looking at the map, and we always found the way and the signs. The routes were good and it was fun to ride!"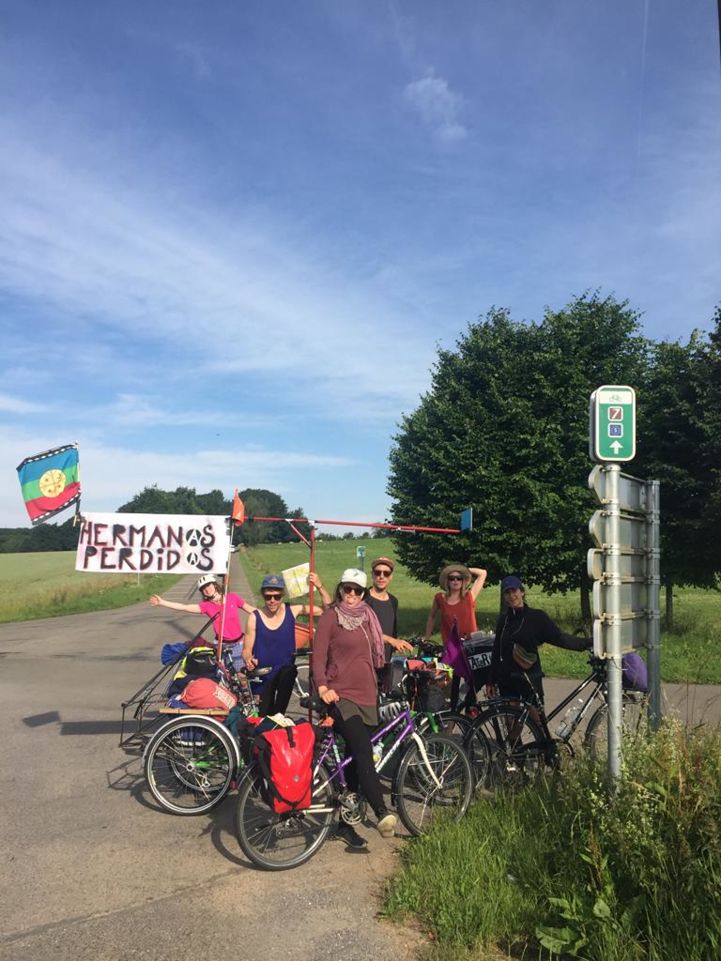 In Brussels, the band built bicycles and trailers in collaboration with a bike workshop, and they created the Rosalina: a beautiful three-wheeled green tandem to serve as a emblem of the tour and fly their flag! They organised accommodation and food along the way based on the invitations of hospitality that they received and other contacts, adapting to the rhythm and needs of everyone involved. Not an easy task when travelling with 13 people – given that friends and helpers joined the Hermanos Perdidos on their tour!
The idea of touring by bike again this summer was not only motivated by the prospect of promoting their music to a wider audience though. There were two main ideas behind this project, and an activist angle to it. First, they wanted to relive the great experiences and the pleasure they had of touring by bike in 2021. And second, the climatic and political challenges that the band is confronted with in their daily life as live performers. Long car journeys between concerts generate a lot of greenhouse gas emissions. The decision to go on tour by bicycle was a logical solution to reduce their environmental impact – and a way to show what is possible. Live music can be fun and non-polluting at the same time.
From this experience, the Hermanos Perdidos extracted some advice to route planners, festival organisers and the bands themselves; on what should be put in place in order to facilitate more cycling tours for live performers. We couldn't agree more:
"What's needed is several things: better embedding of road conditions and inclinations in maps, more cycle paths in cities and safer ways in the countryside. For festival organisers, it is necessary to rethink hospitality; even though a group with bikes takes much less space on the roads, we need more storage space when we rest – because we can't leave our gear in an open trailer in a parking space. It is also clear that we have to stay overnight. For bands it is necessary to accept that it will not be possible to play every gig in any place – cycling 30km per day is already a decent distance to cover when the sun is hot and there is a gig afterwards… We are just at the beginning of a critical mass to make the change real."
To find out more about the Hermanos Perdidos' Rosalina tour and music, you can visit:
• The Rosalina tour's blog: https://rosalina.fyahstudio.one/
• Their website: https://www.hermanosperdidos.com/
• Their YouTube page: https://www.youtube.com/channel/UCRKxd4k_m0_dmuDGfqZGdpA
• Their SoundCloud page: https://soundcloud.com/hermanosperdidos
• Their Facebook page: https://www.facebook.com/PerdidosHermanos/