Terug naar alle
GB
TheBigRecord:UK – Capturing the sound of the UK on two wheels!
woensdag 30 september 2020
British sound artist and cyclist Paul Cheese is not unknown to the EuroVelo Team. In April 2018, he cycled 2,650 km along Eurovelo routes 11, 8, 5, 7 through Greece and Italy, capturing the sounds of fantastic locations along the way and creating a song with this material – and in September of the same year, he spoke at the EuroVelo Conference about using cycling as inspiration to write and record music. In 2019 he went on a new musical adventure, this time in his own country, cycling 8,000 km to every region of the UK to capture the sounds of people and places.
At EuroVelo, we love how Paul Cheese's original approach connects cycling with creative projects, using nature and everyday life in the countryside as a source of new sounds and a musical inspiration. Travelling the world is not only about seeing it – memories can also be shaped by sounds. To find out more about his incredible journey and his future musical cycling projects, we have reached out to Paul and asked him a few questions!
Can you tell us more about your 2019 cycling project, TheBigRecord:UK?
I have always been fascinated by sound and the great thing about being out on a bike is it gives me a chance to listen. An opportunity to tune into my surroundings and take a moment to think about sound creatively. Cycling allows my brain to wander and think of things from a different perspective. It gives me a 'brain holiday', which gets the creative thoughts going.
So, after exploring sounds in many different countries, I got thinking. Do certain regions sound different to each other? Do places have a common rhythm and resonance? What type of song will sounds collected from all over the UK create?
How did it start and what was your mission?
My mission was to cycle to every region of the UK and capture the sound of people and places, I then wanted to use these sounds to create a piece of music. I also wanted to know great sounding locations to go and capture sound in. Local knowledge was key to the project and talking with people about cycling and sound was absolutely brilliant.
I cycled from Folkestone in Kent all the way across England through Wales then over to Northern Ireland, then over to Scotland. From the north coast, I cycled zig-zag back down East to West across the UK circling around London and finishing at the BBC broadcasting centre in London city centre.
Which EuroVelo route(s) did you use during this trip?
Whenever cycling on mainland Europe I always aim for EuroVelo routes, I can always guarantee that it will take me passed places that I never knew existed and often these are the moments of a trip that stand out! During TheBigRecordUK, I followed EuroVelo 1 – Atlantic Coast Route through Northern Ireland, and up through Scotland, jumping on to EuroVelo 12 – North Sea Cycle Route up through the highlands. Heading south, I used the exceptional Sustrans national cycle network which also takes you to/through amazing locations. Here and there, I also dipped in and out of EuroVelo 2 – Capitals Route and EuroVelo 5 – Via Romea (Francigena).
How do you feel cycling connects to music creation?
As well as the freedom to go wherever my legs can take me, I love the physical and mental challenge and the sense of achievement that a day of cycle adventure provides. It's great being able to have a good think about everything as I explore, cycling is a fantastic muse.
The brilliant thing about being on a bike? You can stop and listen. Here is an example. I was cycling EuroVelo 1 in Scotland, ah, the amazing quiet! It was so quiet that I could sense this low rumble. That kind of sound you can feel. People say about following your nose, well I followed my ears to find out the low sub bass was coming from a water pumping station. Which incidentally was humming the note of D. This way I collected thousands of sounds, just by having a good listen to the world around.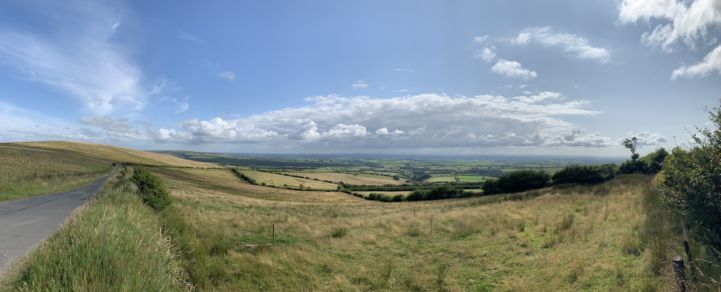 Were you rather following a planned itinerary or going where the wind was taking you?
Within the first three days, I realised that planning a route would be impossible. The reason was that as I talked with people, they would suggest I head to a great sounding destination for recording. Fantastic! But it was a completely different way than the way I initially planned to go. So, I quit the planning thing and completely relied on people's suggestions. This did mean that sometimes I had not booked accommodation until 11.30pm. And most of the time, I did not have a clue where is was going!
What were you carrying on your bike on these 8,000 km?
Everything I needed plus a spare. I had about 45kg of recording equipment and stuff in addition to the usual bike necessities: microphones, camera tripod, laptop, guitar, and a suit (if I am going to turn up to a new place, I might as well look my best!)
You must have crossed many towns and villages and spoken to hundreds of people. Amid all these experiences, is there a moment that stands out, and why?
Often I would be on the road, cycling and recording for up to 16 hours a day. But this meant that some days I would arrive after everything was closed which made the hunt for food quite challenging. Relating to that, there is one moment that, when it happened at the end of a long day, made me feel euphoric, emotional and lucky.
I was cycling in Wales and was staying above a pub. It had been a long hilly day and I had eaten all my supplies. When I arrived everything else was closed and the bar did not even have any peanuts. But there were a few locals at the bar, we got talking and they said "You have been cycling all day, we cannot have you going without food". So, one guy went home and got me some bread and butter, one lady got me some eggs, another went home and got me sausages, and one lady said "I have got some vegetables, you can have them too!" I felt like I was in a film, how amazing was that! During all my bike adventures I have been overwhelmed by the kindness of people and to top it all, when I left the pub in the morning, the front door made a fantastic sound.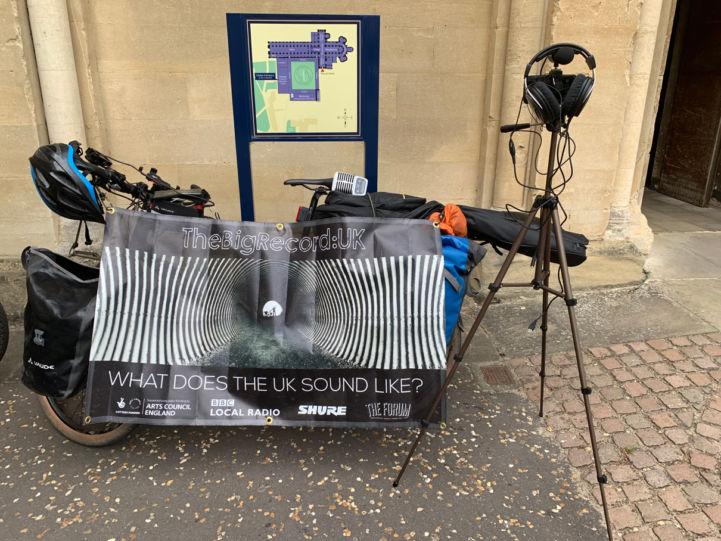 We know that you are not going to stop here in your musical cycling journey! What are your next projects, and will they still involve EuroVelo routes?
Absolutely! I am in the middle of creating my 3rd album 'Just for The Record Three'; this is being written and recorded on 12 worldwide cycle missions with one song being written on each trip.
I have more European cycle audio adventures planned for 2021 and these will definitely be using EuroVelo routes. Because of lockdown in various forms 2020 has been a year of getting out on the bike, listening and exploring my local area. It is amazing what I found around the corner from where I live, tracks and roads I pass everyday and have never had the chance to explore.
Let us conclude with Paul Cheese's own quote from his talk at the EuroVelo Conference 2018: "I use cycling as inspiration for my song writing. My goal is to get children and adults to listen to the world differently. So, I ask: what is the soundtrack of your adventure?"
You can read more about Paul Cheese's last cycling and musical project on the dedicated website and in this article by the BBC on his adventure. Paul Cheese also has a personal website where you can listen to the other songs he wrote.
Questions: Florence Grégoire