Terug naar alle
FR
Gastronomic experiences await you along EuroVelo 15, ideal for wine lovers
vrijdag 25 maart 2022
This route is a great destination for cyclists of all abilities but also offers fantastic culinary delights to entice the senses and invigorate the spirit.
The mighty Rhine River is not only famous for legendary Das Rheingold from the Der Ring des Nibelungen epic, but also for another treasure - EuroVelo 15 – Rhine Cycle Route. This route is a great destination for cyclists of all abilities but also offers fantastic culinary delights to entice the senses and invigorate the spirit. There's nothing better than a hearty meal and a glass of delicious wine after a day of cycling. So, we have prepared an overview of relevant gastronomic specialties that you can discover along the Rhine Cycle Route.
In the Netherlands the Rhine River splits into several branches. The cool breeze of the North Sea certainly whets one's appetite, and there are charming cities and towns (such as Maassluis, Dordrecht, Gorinchem) along the way with restaurants and shops which offer tasty and nutritious food. It is said that the Dutch are proud of their fish, seafood, cheese, and tomatoes. Haring or 'Hollandse Nieuwe' (Dutch new herring) is referred as one of the most famous foods in Netherlands and is usually served with gherkins and diced onions. You can find more information on culinary tours in the famous port city of Rotterdam on this link.
When it comes to snacks, you might want to try Kroket - deep fried roll with meat ragout inside, covered in breadcrumbs. Usually, it's made from beef or veal, but there are other versions such as vegeterial kroket, or with chicken or shrimp. It can be also served with bread with toppings on the side. For those who prefer healthy, nutritious meals, Stamppot should be on the list. It's made of mashed potatoes combined with one or more vegetables like carrots, kale, sauerkraut or endive. Rookworst (smoked sausage) is usually served with Stamppot.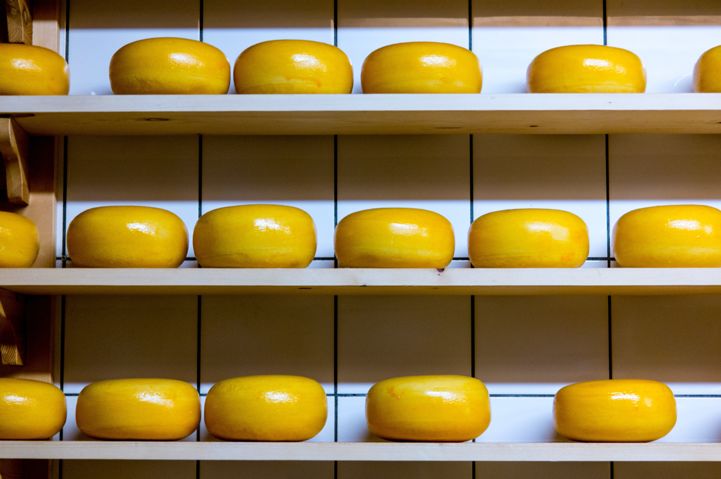 Dutch are also famous for their cheeses, which they've been making since antiquity. The most famous are Gouda and Edam. Naturally, cheese tasting wouldn't be complete without a glass of wine! For dessert, there are Poffertjes, mini pancakes with butter and sugar, and Hagelslag, sandwich with chocolate, licorice, or fruit flavored sprinkles.
Following the Rhine River south to France, you are definitely entering the wine country. The terrain is mostly flat and thus easy for cycling. Alsace has a long and proud tradition of winemaking. A lot of wineries are traditional, family-owned, practicing organic farming with ecological and biodynamic approaches. Wineries in Alsace produce wines under three major AOCs (appellation d'origine contrôlée): Alsace AOC for white, rosé and red wines, Alsace Grand Cru AOC for white wines and Crémant d'Alsace AOC for sparkling wines.
Cast off your worries and stresses, while you wander through the vineyards or explore the tasting rooms where you can learn more about the fine art of winemaking and its philosophy by trying the fantastic wines, for example Gewürztraminer. A fine drink should be accompanied with good food, so try out Tarte flambée, a savoury dish, with a layer of dough, covered with crème fraîche, onions, cheese and bacon. For a dessert there is Tarte aux poires – a baked pear tart with an eggy custard filling. Wines, as usual, go well with cheese, in this case Alsace Munster cheese. For more information about wine cellar visits in Alsace, please visit the Cycling Alsace website.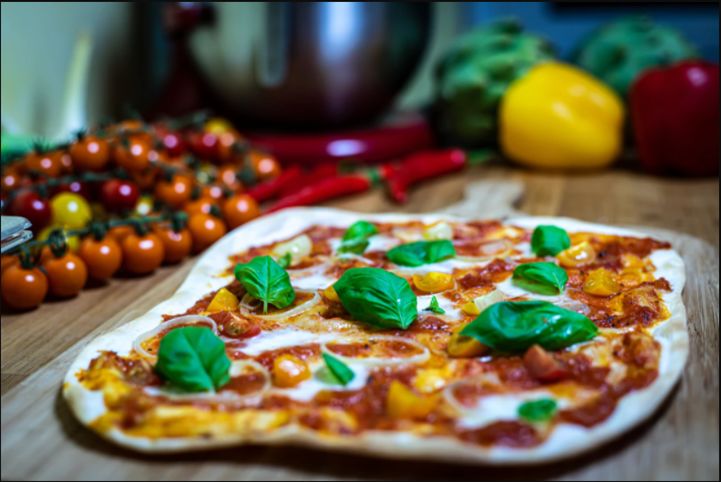 Crossing over to the other side of the Rhine, you will go through the states of North-Rhine Westphalia, Rhineland-Palatinate, Baden-Württemberg and Hessen. Like their French counterparts, these regions are also quite famous for their wine producing tradition, since the soil is well suited to growing vines. You can also add delicious, mouth-watering regional culinary specialties to this list, which will make up for burned calories after cycling and certainly appease your taste buds.
Seven senses, 1000 pleasures Spundekäs cheese dip, vintner's soup and Wisper trout are considered the ABC of Rheingau cuisine – just like venison from the local forests. Yet there is even more. As well as traditional inns, restaurants and wine taverns, the Rheingau also serves up haute cuisine. Dedicated chefs in gourmet restaurants prepare creations to secure them the top spots in gourmet guides. The season begins in the spring with the "Rheingauer Schlemmerwochen" (gourmet weeks) following the motto "regional wines, regional cuisine, regional originals". Over a period of ten days, vineyards and restaurants invite guests to taste, smell and feel the Rheingau.Palatinate Bad Dürkheim is home to the largest wine festival in the world. The Pfalz is also an important producer of red wines and Riesling wines, but the white wines of note here include Müller Turgau, as well as the Weissburgunder, Grauburgunder, and Scheurebe. Pfalzer Saumagen is highly recommended – stuffed stomach with variety of meats, boiled potatoes, eggs, spices and aromatic herbs.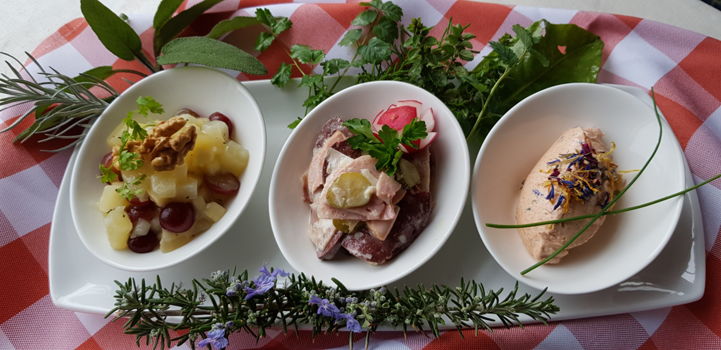 The cuisine in Baden combines flavours from Baden, Swabian, Alsatian and Swiss influences. In so called "Straußenwirtschaften" or "Besenwirtschaft" (broom taverns) the establishment hosts will offer you the wine that grows in their wine yards paired with culinary delicacies from the kitchen, cellar or the smokehouse. A glass of Baden wine pairs perfectly with the three Baden classics "Bibbiliskäs", "Brägele" and "Schäufle".
Over 50% of the vineyards in Baden are planted with red and white grape varieties from the Burgundy group: primarily Pinot Noir, but also Pinot Gris, Pinot Blanc and Chardonnay. For those with a sweet tooth, Black Forest cake is a must. Another gem that you should experience is Baden Wine Cycle Path. It runs around 460 kilometres from the Swiss border through the five Black Forest wine regions of Markgräflerland, Kaiserstuhl, Tuniberg, Breisgau and Ortenau and on through the Kraichgau to the Badische Bergstrasse. Along the way, cyclists will meet more than 300 wine-growing businesses, winegrowers' cooperatives and some excellent vinotheques. More information on wining and dining in Baden- Württemberg is available here. In Württemberg the most popular wine is Trollinger. The local cuisine also includes egg dumplings in different forms (spätzle and maultaschen), as well as soups, potato dishes and Eintopf.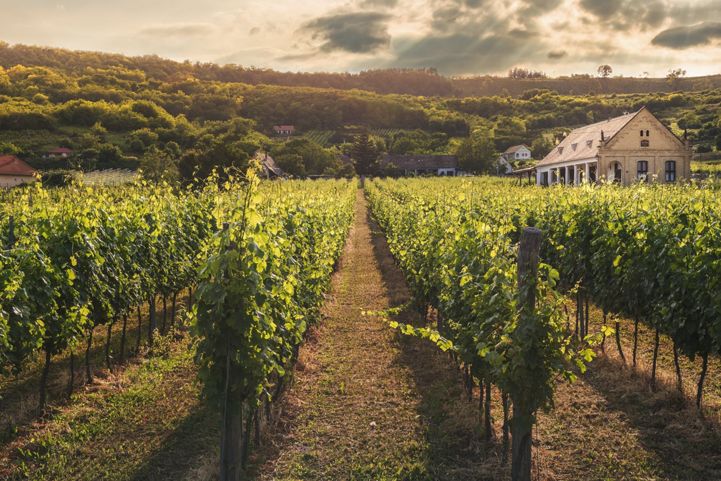 If you plan a comprehensive cycling gastronomy trip this list of restaurants might be helpful.
After France and Germany, the Rhine Cycle Route continues into Switzerland through the village of Andermatt. Some Swiss culinary specialties include cheese fondue (melted cheese with bread cubes), Raclette - melted cheese served with "Gschwellti" (jacket potatoes), cocktail gherkins and onions as well as pickled fruit, Älplermagronen – a kind of gratin with potatoes, macaroni, cheese, cream and onions with stewed apple on the side, Rösti – a flat, hot cake made of grated, cooked jacket or raw potatoes and fried in hot butter or fat. The dish is bound by nothing apart from the starch contained in the potatoes.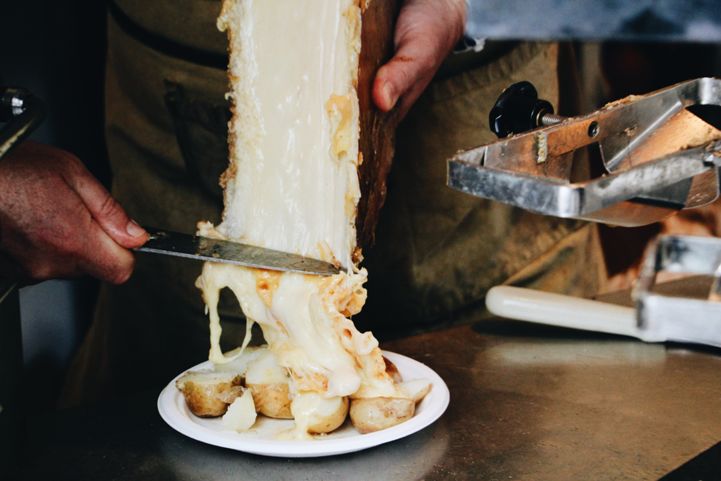 Specialties from Basel region include Basler flour soup which you can find during the carnival (Fasnacht) with cheese and onion tart as well as Suuri Lääberli (sour, liver strips) and sweet Basler Leckerli, small, relatively hard gingerbread biscuits with a tasty sugar icing. Mässmogge are colourful small sweets filled with a brown hazelnut mixture.
Several restaurants around Chur offer Capuns, a speciality of the Graubünden canton. They are meatballs made using dried meat and sausage, wrapped in a chard leaf. Among sweet treats we have Gottlieber Hüppen, baked as extra-thin crêpes, rolled as carefully as a Havana cigar, and filled with one of thirteen specially created chocolate or gourmet crèmes that are made locally in Gottlieben.
In Switzerland, along the Rhine, the most known wine areas are Graubünden («Bündner Herrschaft»), Schaffhausen («Klettgau») and Zürich («Zürcher Weinland»). Among others, the two main grape varieties are Pinot Noir and Riesling- Silvaner (Müller-Thurgau), followed by Chasselas (Gutedel). So, you don't want to miss out on wine tours available in Basel, especially if they include cheese (or Swiss chocolate). Useful information about Basel region, wine tours and restaurants you can find here, here and here.
With this information we will leave you to plan your cycling gastronomic tour along the Rhine Cycle Route and with these immortal words of Homer from The Odyssey:
"Wine can of their wits the wise beguile,Make the sage frolic, and the serious smile"
Author: Ivan Ratkovic