Terug naar alle
Nieuwe flyer EuroVelo 19 - Maasfietsroute nu beschikbaar
maandag 8 februari 2021
De flyer van de Maasfietsroute is vernieuwd en fris opgemaakt in de EuroVelo huisstijl. Hij biedt algemene route-informatie en een overzichtskaart met diverse hoogtepunten.
Droom je van fietsen in de Franse Ardennen of het Nederlandse Maasduinenlandschap? Of van plan om langs de oevers van de Maas in Dinant te fietsen? Pak dan de digitale versie van de nieuwe Maasfietsroute flyer erbij. Deze flyer is een handig hulpmiddel voor informatie over de EuroVelo 19, die volgens recente statistieken tot de populairste EuroVelo routes behoort.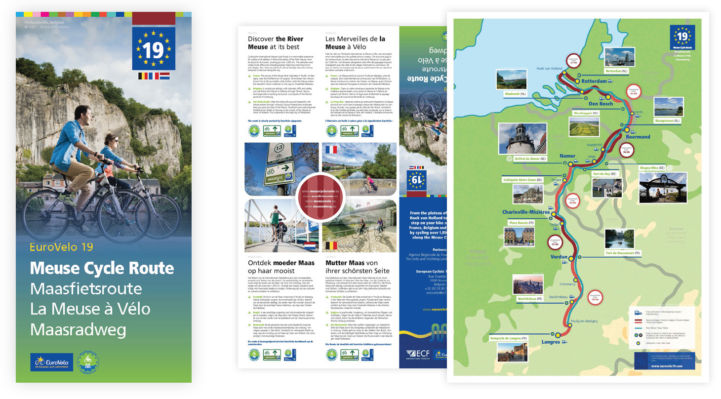 Op de voorkant van de flyer lees je een korte beschrijving van het gevarieerde landschap, het cultureel erfgoed en andere bezienswaardigheden. Allemaal te ontdekken en te verkennen langs de Maas in Frankrijk, België en Nederland. Op deze zijde staat ook nuttige informatie over de bewegwijzering en contactadressen.
Een grote gestileerde kaart beslaat de hele achterkant van de flyer. De route is hier onderverdeeld in verschillende etappes, waarbij de afstanden, de belangrijkste plaatsen en de treinverbindingen zijn aangegeven. Langs de route staan enkele bezienswaardigheden aangeduid, waaronder ook UNESCO erfgoed. Ze zijn geïllustreerd met mooie beelden, met dank aan onze regionale partners.
De nieuwe opmaak van de flyer sluit aan bij de vernieuwde EuroVelo huisstijl (meer hierover volgt in het voorjaar op onze website voor professionals).
De nieuwe Maasfietsroute flyer is de eerste in een reeks. Ook van andere EuroVelo routes zal een vergelijkbare flyer verschijnen. Verspreiding van gedrukte exemplaren gebeurt via grotere EuroVelo evenementen in 2021 of lokaal en regionaal via routepartners.
Auteur(s): Omer Malak