Terug naar alle
PL
Circumnavigation of the Baltic Sea along EuroVelo 10
maandag 29 juni 2020
Bernd Schadowski (47) is an enthusiastic long distance cyclist, blogger and author. He loves bicycle touring. The proximity to nature. The unforeseen encounters with exciting and unconventional people.
Bernd lives with his family in Germany near Aachen, and shares his daily adventures and helpful touring information on his cycling travel blog www.radreiseglueck.de.
In 2019 Bernd starts the circumnavigation of the Baltic Sea along the 9.000-km long EuroVelo 10 – Baltic Sea Cycle Route with his son Tristan (17). This is part 1 of Bernd's and Tristan's adventures around the Baltic Sea.
A really long bike trip - that has always been my childhood dream! After we had tried a few multi-day tours for a bit of experience, my 17 year old son Tristan and I decided that we would go for it! The inspiring EuroVelo network appears to be just the thing and we quickly focus on the longest routes. Tristan's penchant for cool temperatures draws us inexorably to EuroVelo 10 – Baltic Sea Cycle Route, a magical trip of 9,000 km around the Baltic Sea through 9 countries. "Cycling around a sea is something you should do once in your lifetime," we tell ourselves with a laugh. The North Cape is our optional dream destination, but it would increase our journey to almost 10,000 km.
If you don't try, it won't happen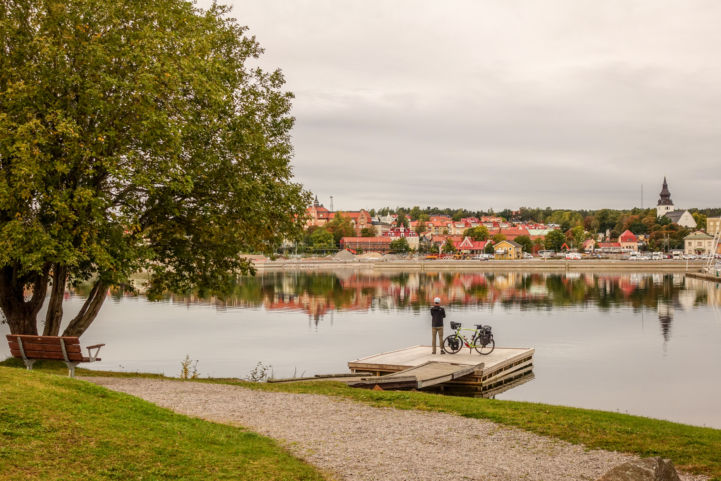 The route is basically known, but the detailed planning takes a whole year and poses many questions: How long will the tour last? What range of temperatures will we face? What equipment do we need? Furthermore, how do we reconcile it with work and school? The decision changes my life. After twenty years in my banking job I decide to quit and after my son's graduation party we start our adventure. Our Circle of Friends is divided into "Encouraging" and "Discouraging", but we don't allow ourselves to become discouraged, because if you don't try something, it will never happen!
We start our journey from Lübeck to travel eastwards around the Baltic Sea in early July 2019. Both travel bikes are equipped with 5 pockets, a tent, stove and food. Our clothing and sleeping bags are designed for temperatures from -5 to + 35 °C and are rainproof. We daily share our adventure via our blog radreiseglueck.de and combine it with raising money for a good cause: helping children in Sri Lanka to get school education.
At Travemünde we see the horizon of the steel-blue Baltic Sea for the first time. It is surreal, because it is hard to believe that it is Denmark just across the water, but three months and about 8,000 km away from us by bike! The thought sends shivers down the spine – and goosebumps!
Rolling along the wonderful German coast, we enjoy the route and both the people and animals that we encounter. A 16% gradient on Usedom makes us sweat profusely in the summer heat, but the fantastic and mostly car-free paths along the EuroVelo 10 make up for it. In Germany, it follows the "Ostsee-Radweg", which is very well signed, and at the border with Poland it changes to the R10.
Pure nature in Poland
Sandy trails and rough concrete slab tracks make cycling difficult in Poland, but they also lead us through the stunning national park "Słowiński" and alongside beautiful lakes. If you love nature, this is the place to be. Again and again we cycle through vivid coastal towns on Poland's Riviera. We greatly enjoy bathing in the sea – for the first time in ten days! Then suddenly we come across our first EuroVelo 10 sign and learn this means first-class bike paths! However, the most satisfying bit of this is the reversal of the worlds of cars and bikes: a bumpy road for the cars alongside an equally-wide first class cycle path. In the Amber City of Gdansk, we take a day off for a bit of culture and to recover.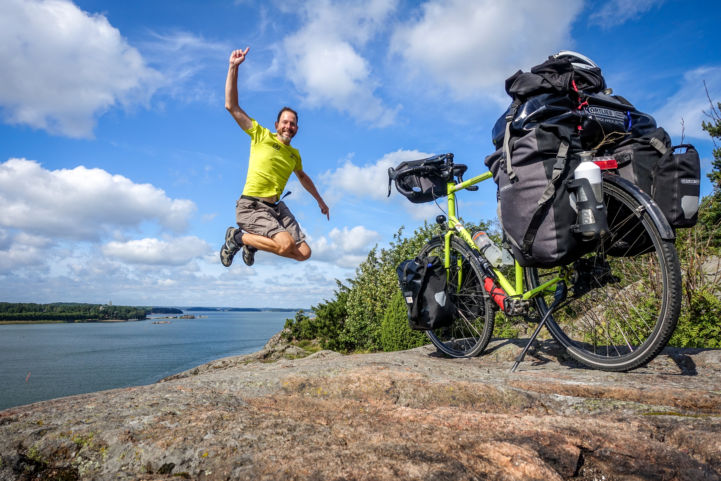 Adrenaline in Russia
As we enter the Kaliningrad Oblast we enter Russia for the first time, after 17 days of cycling. English is rarely spoken and German is only spoken by the older generation, so my Russian basics, which I had learned in the last six months, are helpful as door-openers. Tourist destinations along the route are as rare as bike paths and often just as run-down as most of the dilapidated buildings in the Oblast. Riding along lonely small streets we suddenly get attacked by two dogs, one biting into Tristan's bike-pocket. It is hard to ward them off, but we can manage it somehow shouting louder than they are barking at us. Two intense further attacks follow along our way, but this time we are prepared with stones in our pockets, throwing them on the asphalt in front of them. Despite everything, we find it enriching to get to know this culture, which is quite foreign to us.
A summer in the Baltic States
Warm summer weather accompanies us over the wonderful Curonian Spit, a UNESCO World Heritage Site since 2000, and back to the EU in Lithuania. We are amazed at the fantastic cycling network on the Amber Trail along the almost 100-km long Lithuanian coast - it couldn't be better. Riding the bike through this wonderful landscape and the lively towns of Klaipeda and Palanga makes our hearts beat faster!
In Latvia the path leads through light forests mostly on a busy main road. The Baltic Sea can hardly be seen on the route, though we are only about 2 km away from the coastline. The heat of the summer melts the tar and we have to be careful not to slip. Finally, we can leave the main road behind us at Cape Kolka, where the Baltic Sea and the Gulf of Riga meet in a visible wave and where sunrise and sunset can be admired from the same place - a wonderful piece of earth to rest at!
In the Latvian capital Rīga, with its pretty historic wooden houses, Tristan suddenly decides to finish his journey after 1,980 km. An average of 100 km per day over a long period of time can be very exhausting. It is one thing to talk about it, but another thing to do it. We talk about reducing the kilometers, but there are further reasons. Tristan thinks that he will lose the friendship of his classmates, being away the whole summer. Finally, he is not used to being with his dad 24/7 every single day. Although knowing that the option to leave was always open to him, it is very difficult for me when he takes it. Deeply demotivated I have to make a decision: will I continue circumnavigating the Baltic Sea alone, or will I finish the tour at this point too?
You will find out next month in the second part of the article!
Follow Bernd on Facebook and Instragram.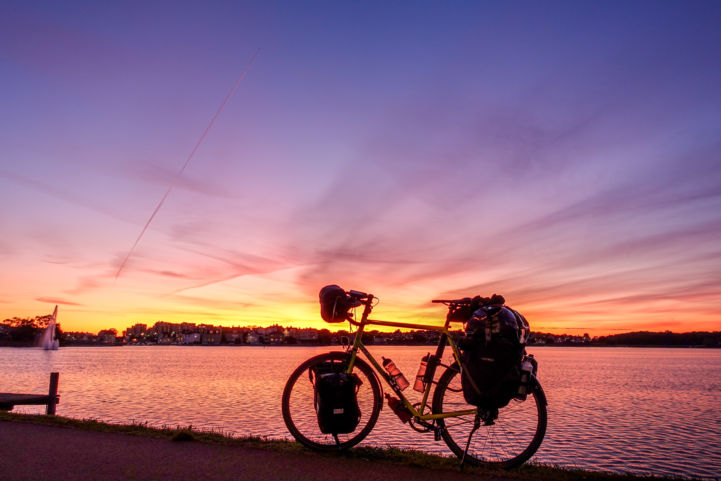 Author(s): Bernd Schadowski