Terug naar alle
BE
Take time to discover Brussels on EuroVelo 5
vrijdag 9 augustus 2019
Go off the beaten track in Brussels to explore the capital's many different sides.
If you are travelling along the EuroVelo 5 – Via Romea Francigena this summer, make sure to stop off in Brussels once to discover its many historical and cultural treasures.
Travelling by bike is actually the ideal way to sample the different atmospheres of Brussels in total freedom. It lets you take in, admire and experience the capital's ambiance and attractions while taking advantage of the great outdoors.
Not too fast and not too slow, cycling makes for an easy connection between the historical city centre and surrounding communities, while offering green spaces, extraordinary heritage, and a whole host of museums and activities to explore. So, saddle up and enjoy your guided ride through the city!
Stage 1: A closer look at the EuroVelo 5 – Via Romea Francigena route in Brussels
Once you have covered the first part of this "Pilgrims Route" and travelled through England and France, you will arrive in Belgium. After making your way through Flanders, you will discover an entirely different atmosphere – the beautiful city of Brussels.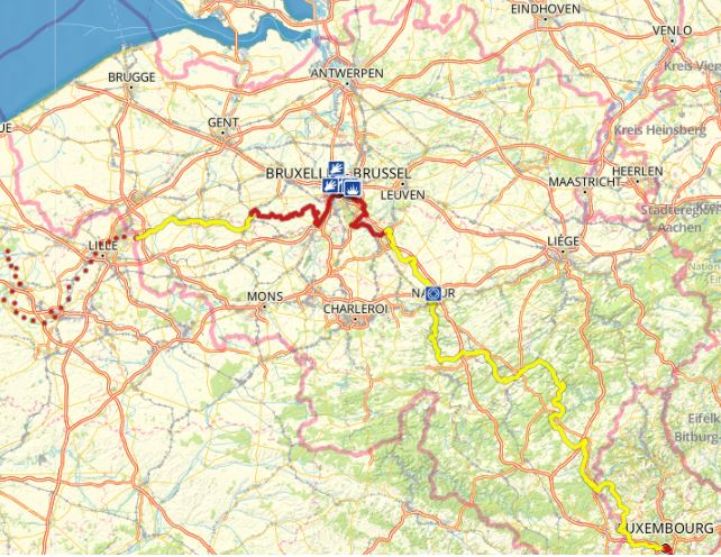 This part of the route is 43 km long and starts west of Brussels, mainly passing through the neighbourhoods Anderlecht and Forest. The route then continues along the canal, into the heart of the capital and passes by the lively Place Sainte-Catherine with its famous fish restaurants, the awe-inspiring Grand Place (main square) and the impressive Place Royale by the Royal Palace. The itinerary continues towards the European quarter and the attractive Parc du Cinquantenaire. Here you will have arrived in the district of the European institutions, where both Pro Velo (the National EuroVelo Coordination Centre for Brussels and Wallonia) and the ECF are based.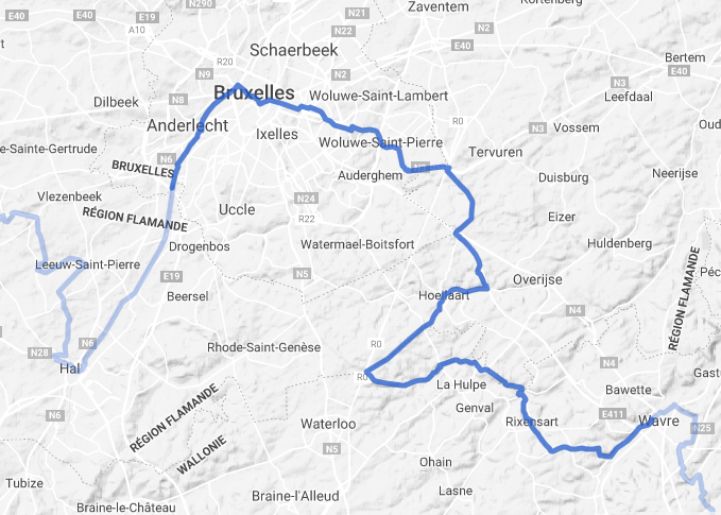 Finally, you will get to see the more residential side of the city. Discover the beautiful buildings along the chaussée de la Woluwe and the Mellaerts ponds park.
Ready to hit the road? Be aware that the route through Brussels is not yet signposted at this stage but you can still easily cycle through the city by following the itinerary on the national EuroVelo website.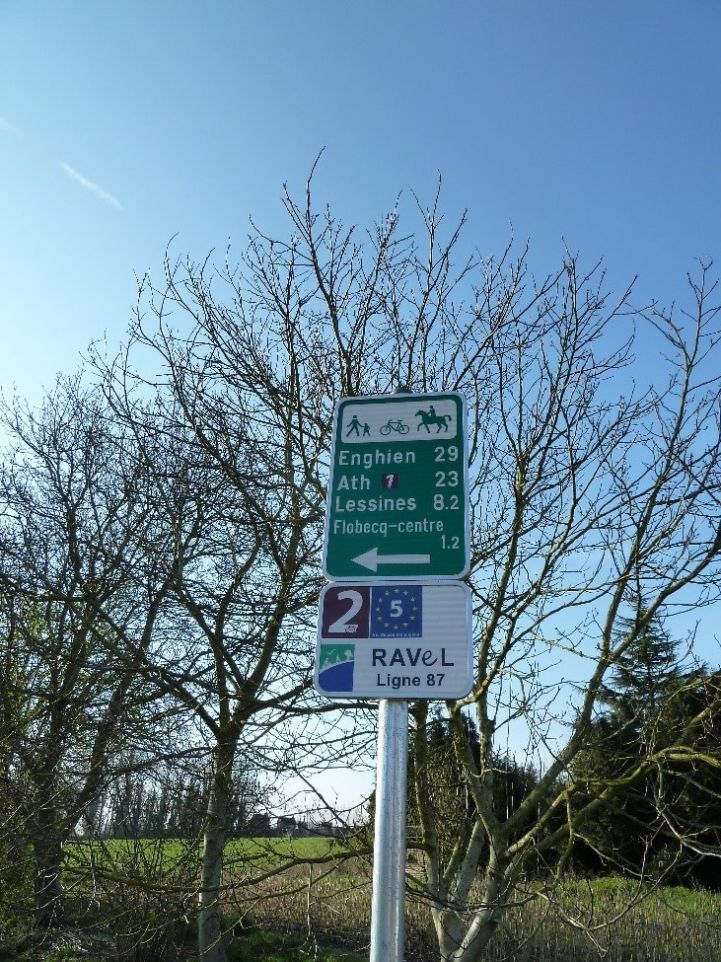 There are some signs on the route between Roubaix (French border) and Brussels but not everywhere (e.g. there are no road signs on the stretch between Brussels and Walhain). But the section to the south - between Brussels and Martelange (Luxembourg border) – is now fully signed to make your journey easier.
Stage 2: Where to find bicycle sharing or hiring in Brussels?
Planning a shorter stay or just a day trip? Whether you're looking to rent or share, you're spoilt for choice and you can get your hands on a bike wherever and whenever you like!
Bicycle sharing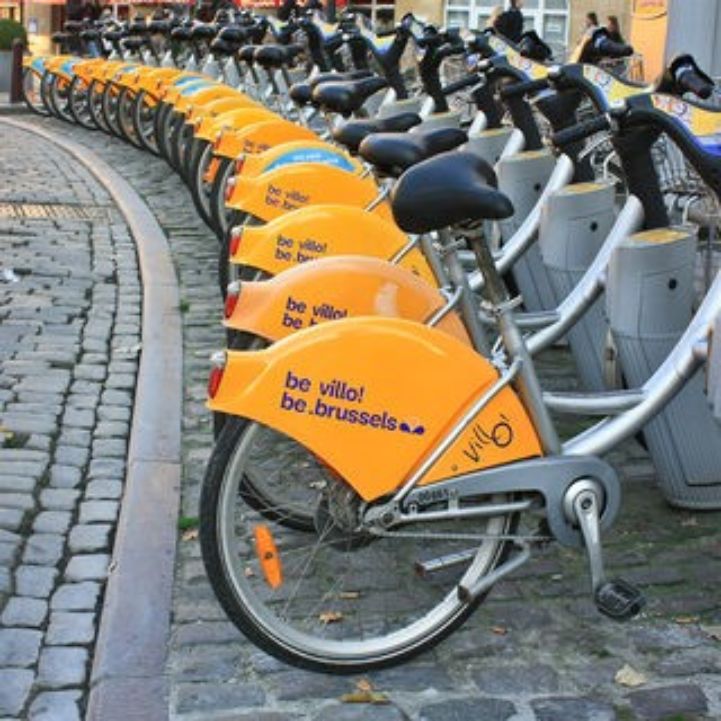 Villo! has 350 self-service bicycle stations in the Brussels-Capital Region. Unlimited trips are offered throughout the subscription period for regular or occasional users. Blue-bike lets train travellers finish their trip on a bicycle. Available at the Brussels' South, Central, North, and Luxembourg SNCB train stations. Shared electric bicycles that adhere to the principle of free-floating are already available in Brussels: Billy Bike (Saint-Gilles start-up) and Uber Jump bikes. There are no fixed stations to pick up or put back your bike and you unlock the bike with your smartphone via their mobile apps. An easy and fun solution to visit and move in Brussels !
Bicycles for hire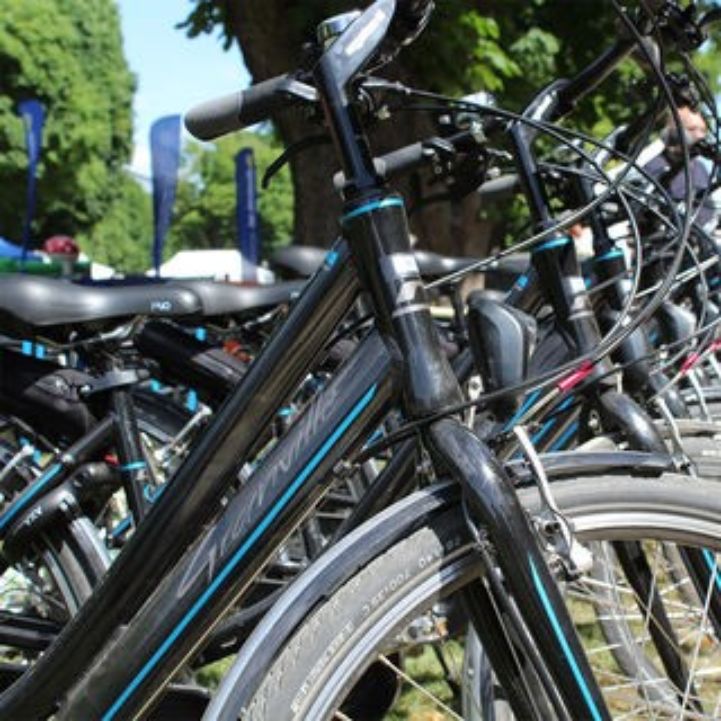 Known for its guided bike tours, Pro Velo is a reference in bicycle rental. CyCLO offers a unique cycling point in the heart of Brussels. This space - workshop awaits you at the (pre)metro station Bourse / Grand-Place. Looking for unique models or specialised equipment? You will also find tandem bikes, cuistax, tricycles, and other accessories. Almagic offers bicycles adapted to riders with limited or reduced mobility.
Stage 3: Maps to guide you through Brussels by bicycle
These precious tools for cyclists and budding bicycle tourists are bursting with practical information like cycle paths, bicycle dealers, and touring route advice.
Ideal if you want to stop off on your journey along EuroVelo 5 – Via Romea Francigena!
The "Brussels by Bicycle" guide map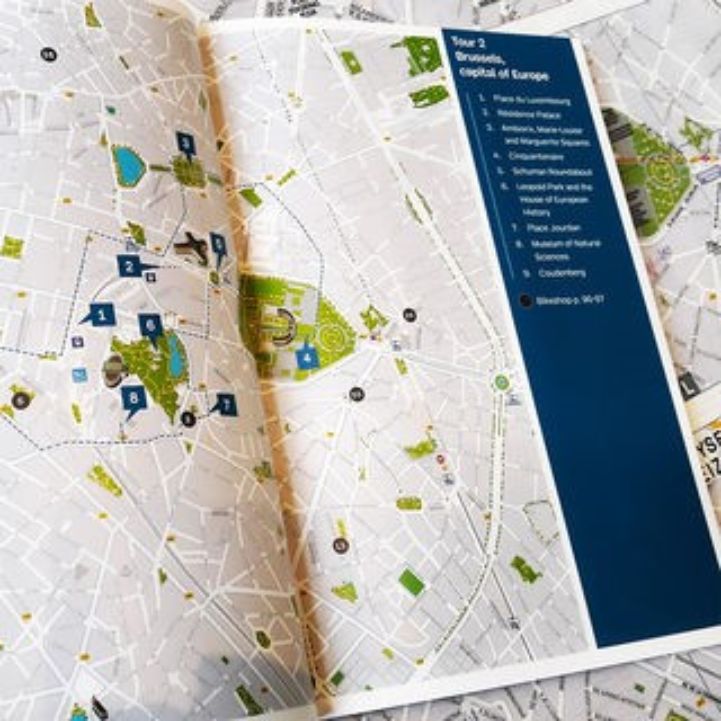 This guide map offers eight themed routes for cyclists of all abilities. Go and explore Brussels, its ambiance, culture, and rich heritage at your own pace. Available in French, Dutch and English at the tourist information offices of visit.brussels for only €2.50.
The Brussels bicycle map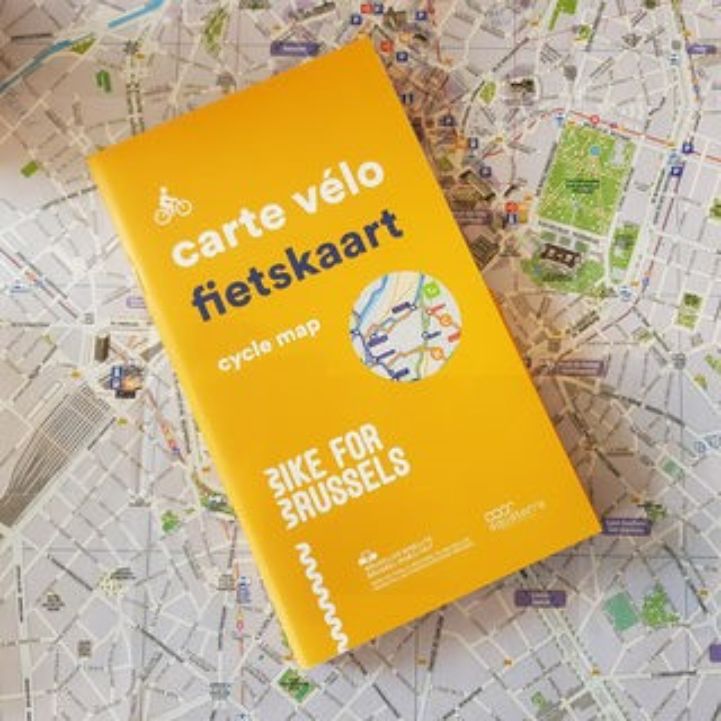 This map covers the biking trails (and their destinations), suggested bike lanes, bicycle parking locations, "Villo!" stations, woodland paths and also offers plenty of advice. You can obtain this map from cycling associations and the tourist information offices of visit.brussels.
The Eurovelo Overview Map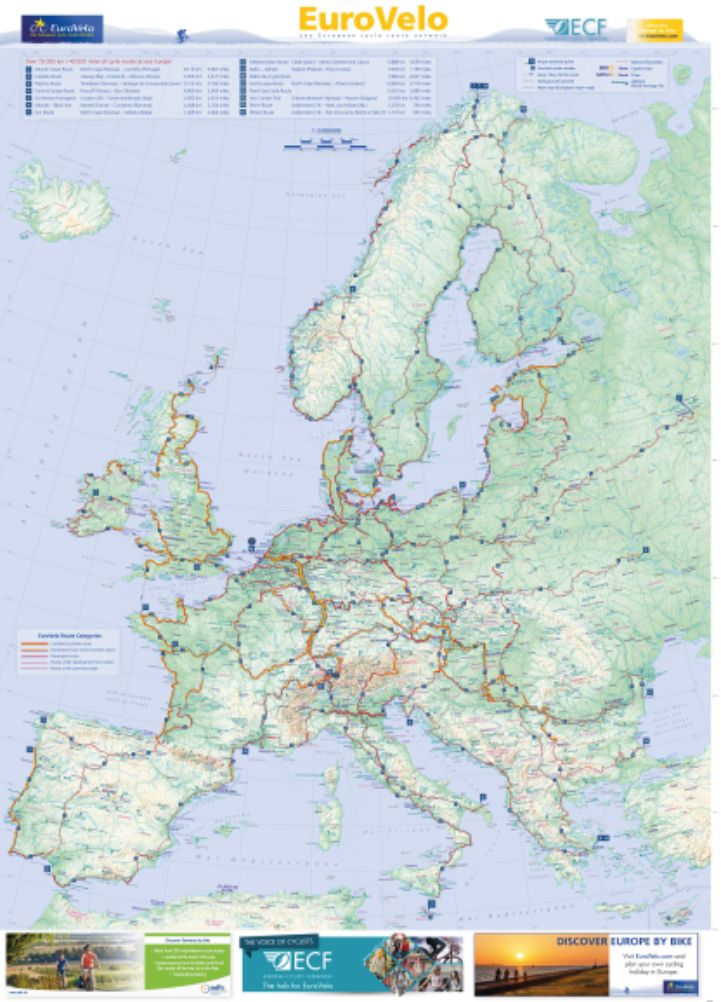 This map, published by the European Cyclists' Federation, covers the various European cycling routes, including EuroVelo 5 – Via Romea Francigena but also the 4 other cycling routes in Belgium (EuroVelo 3 – Pilgrims Route, EuroVelo 4 – Central Europe Route, EuroVelo 12 – North Sea Cycle Route and EuroVelo 19 – Meuse Cycle Route). It is available from EuroVelo or Pro Velo.  
Stage 4: What to see and do in Brussels by bicycle?
Without much pedalling at all, you can reach Brussels' surrounding communities from the city centre. Stop wherever you like to visit a museum or have a drink on a cafe terrace and choose the route that suits your mood best!
Roam through the heart of Brussels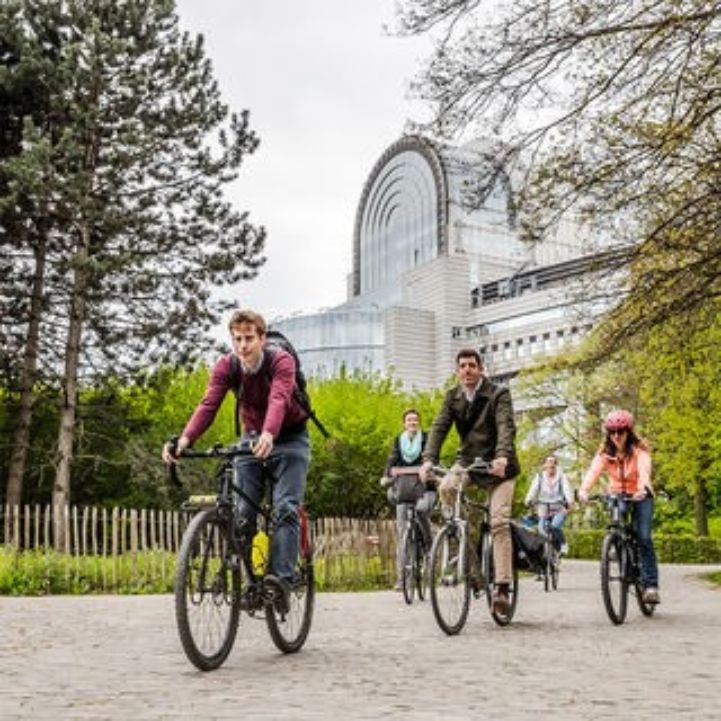 The city centre and the European district offer loads of opportunities for touring and architectural exploration.
Criss-cross the canal by bicycle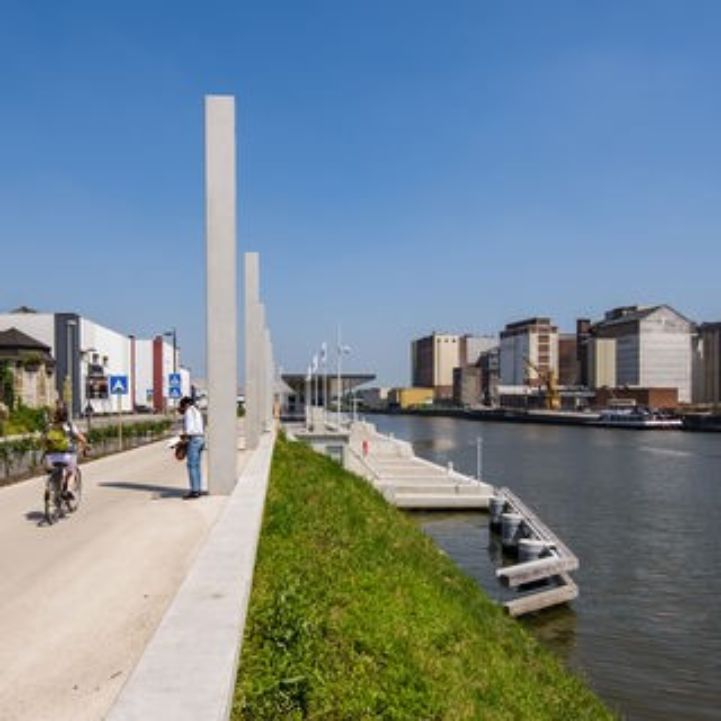 An icon of canal transportation, the Waterbus allows you to bring your bike on board a boat, for a journey through the numerous vestiges of Brussels' industrial past. Want to see more? Go explore the waterways of the Senne Valley with Coordination Senne.  
Get out of the city centre for a breath of fresh air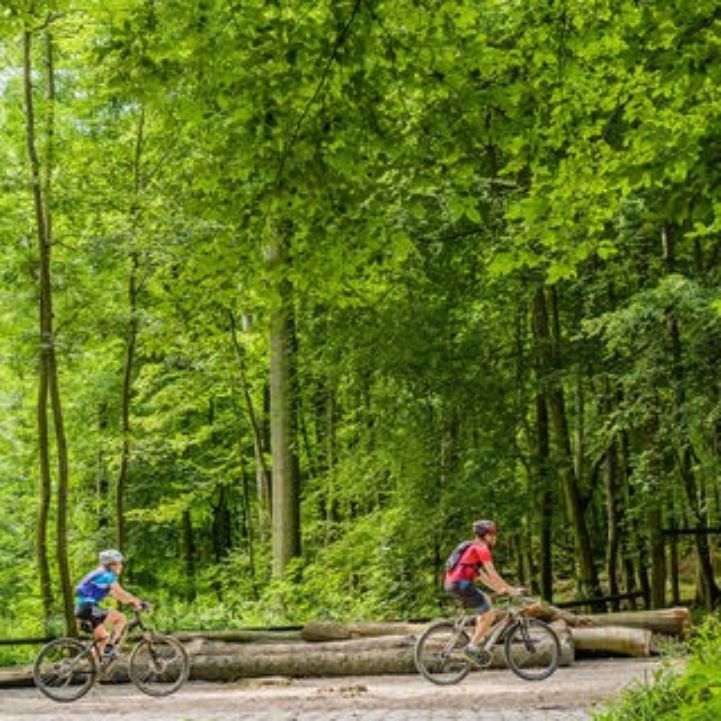 The Green Walk is a magnificent 63km course which enables pedestrians and cyclists to do a loop around the Brussels-Capital Region by traversing a number of parks and forests and the city's hidden rustic corners.
The Sonian Forest and its 5,000 hectares of woodland vistas are the green lungs of Brussels. It's a canopy of beech trees, many over two hundred years old, and other distinctly local woods..
The Garden Cities of Le Logis and Floréal are made up of small single-family houses with flowery, tree-lined gardens. The flowering of the Japanese cherry trees in the spring is the ideal time to visit.  
Stage 5 : Bicycle tours or greeters: take a guided bicycle tour!
As the European capital, Brussels definitely deserves an extended visit to discover its many attractions. On top of that, the suburbs are only a stone's throw away. Stop off wherever you want - to visit a museum or have a drink - before continuing your journey along the EuroVelo 5.
Bicycle tours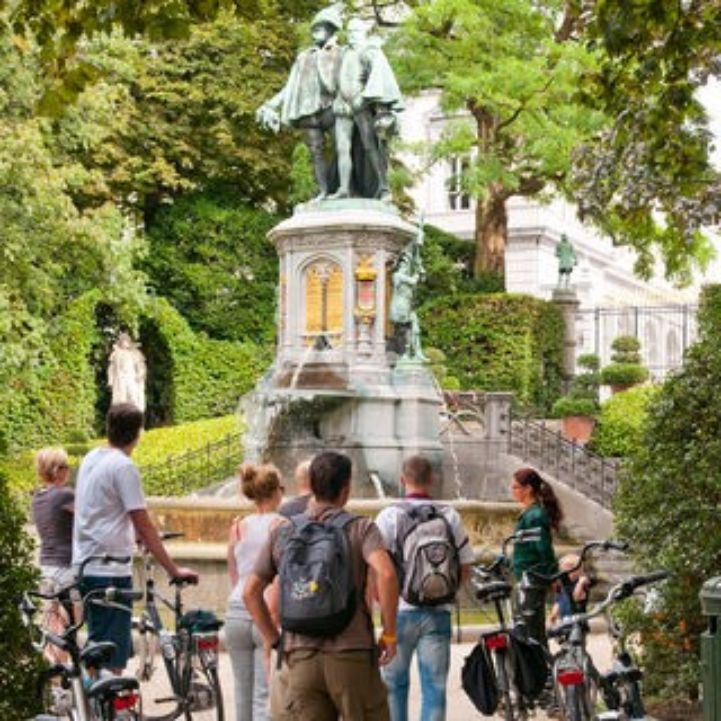 With Pro Velo and its incredible selection of guided tours, discover the many facets of Brussels.
The Brussels Bike Tour is THE ultimate bicycle tour! From April to October, a guide takes you to see the essential sights of Brussels. It takes all of 3.5 hours, and includes a foodie stop at the famous Chez Antoine chip stand.
Comfortably seated on an electric bicycle, savour Brussels with Once in Brussels. History's major moments and noteworthy figures, along with all of the capital's myths and mysteries will be revealed to you.
With its Weekend Tour, Cactus offers a sumptuous mix of Brussels' must-see attractions and its hidden gems. At the halfway point, the bicycles will be set aside for a little break on the terrace of one of Brussels' pleasant bars.
Are you looking for a bike ride with overnight stay in one of the hotels of the capital or surrounding area? Then take a look at the Belgian EuroVelo website. This contains several tourist packages that allow you to discover Brussels and its must-sees, such as the Comic Strip Centre and the MIMA.
Greeters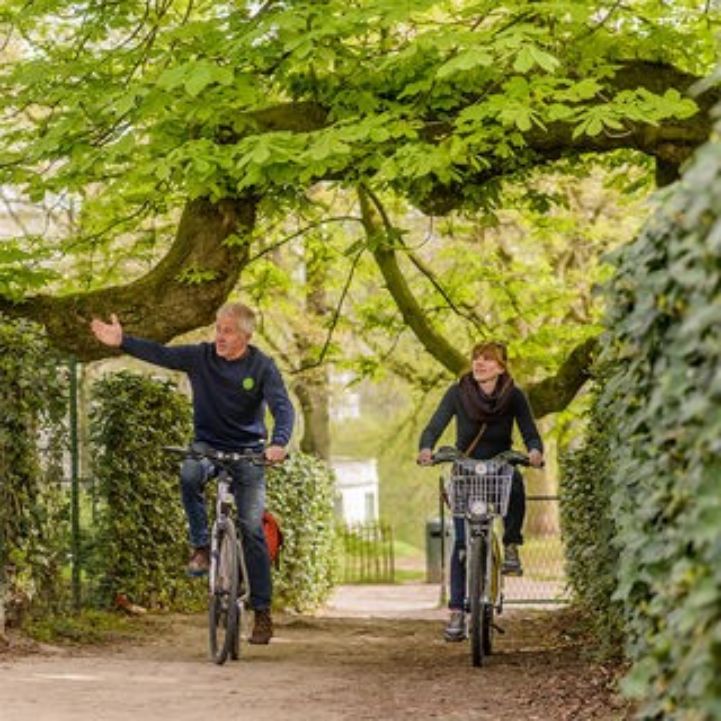 Explore Brussels in a friendly and original way with a local by using Greeters! These volunteers are passionate about their city and will share their favourite places, stories, and good deals with you during the tour, all free of charge!  
Stage 6: Catch your breath
After pedalling for hours, you will definitely want to stop for a rest. Brussels' new trend is cycling-cafés which combine bicycle repair, refreshments, shopping and activities.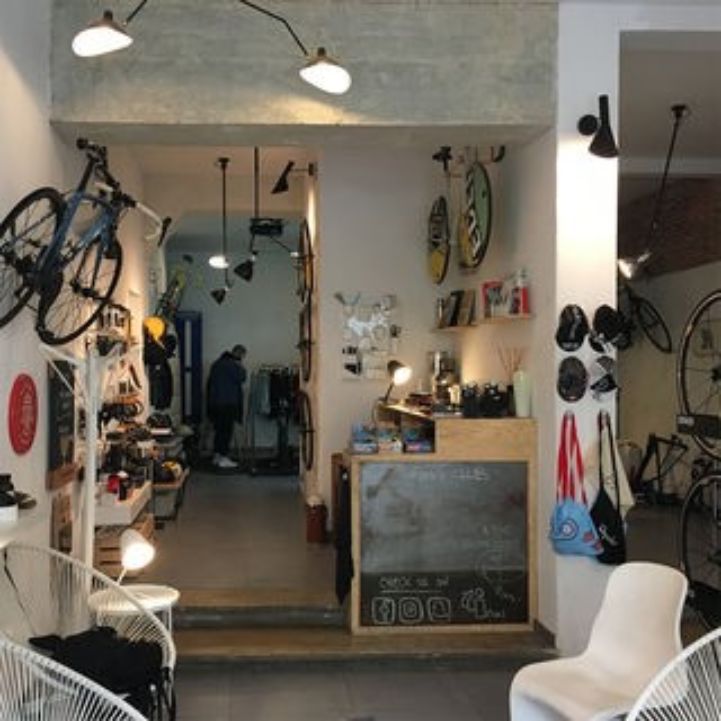 Not to be missed: the Kring Dansaert, a surprising cycling cafe in the Dansaert district, and Bikkenek welcomes you at the Jeu de Balle square.
Stage 7: Bicycling events not to be missed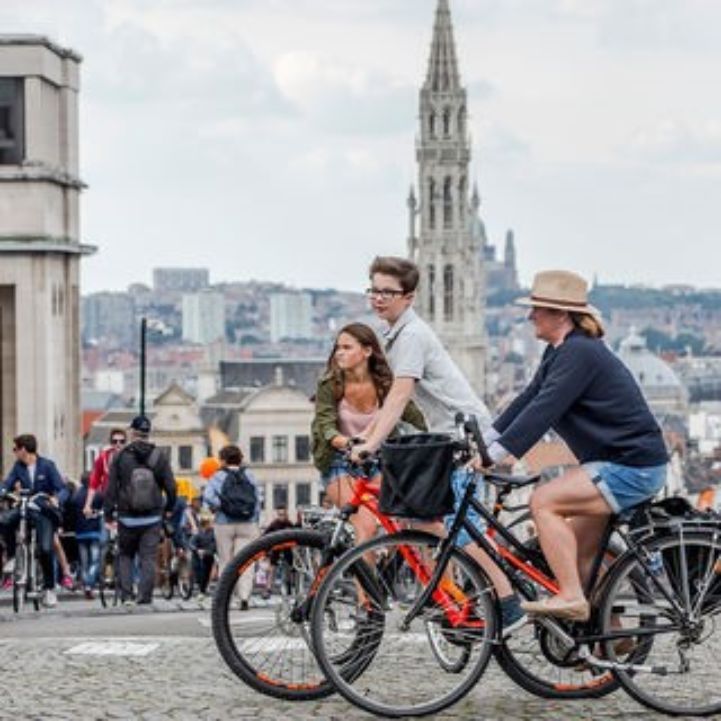 Throughout the month of September, Brussels is chock full of green, sustainable, athletic, and fun events. On foot or by bicycle. This autumn the capital of Europe has a new way to get around.
Author(s): Pro Velo, Maarten Van Hecke