Terug naar alle
GR
Discover Greece's beautiful EuroVelo routes
donderdag 26 april 2018
EuroVelo cycle tourists wishing to discover Greece's rich cultural and natural heritage by bike have a new tool at hand. Find all the information in one place on eurovelo.gr, a new website launched recently by our Greek National EuroVelo Coordinator "Cities for Cycling".
The website is available in English and Greek and offers an overview of the three EuroVelo routes that pass through Greece:
There is also plenty of information on how to get there by public transport, including planes, trains, ships and buses. Cycle tourists can even get familiar with the country's national signs. There are additional links to more tourist information (Visit Greece), bike shops, and emergency telephone numbers. Moreover, the website provides general information about the EuroVelo network and offers a news section. It includes videos, weather forecasts, and maps.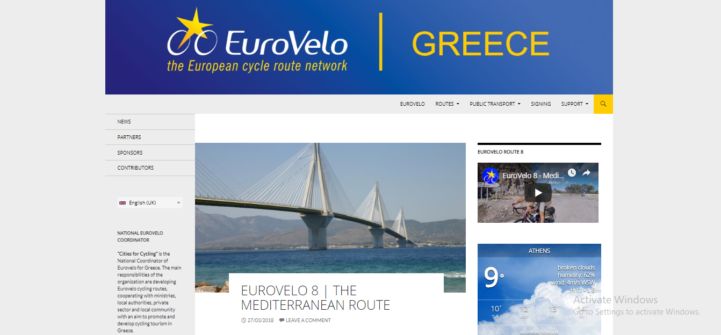 Please don't hesitate to explore this great website, which will be constantly updated and extended. This new tool will help you plan and enjoy your trip and not miss any points of interest along the route.
"Cities for Cycling" is the National Coordinator of Eurovelo for Greece. The main responsibilities of the organization are developing Eurovelo cycling routes, cooperating with ministries, local authorities, the private sector and local community with an aim to promote and develop cycling tourism in Greece. Among its priorities is creating a platform for exchanging bicycling knowledge and experiences between Greece and European cities.