Terug naar alle
EuroVelo: helping Europe to stay in shape
dinsdag 17 december 2019
Tracy Saade, a journalist student from Poland, discovered EuroVelo when she spent time in Brussels during the EU Regions Week in October 2019. She was fascinated by the idea of bringing Europe closer together through cycling and would like to encourage less experienced cyclists to go on a longer trip for the first time. In this article, she shares her knowledge on how to build up stamina and increase endurance before the journey.
I was first attracted to the EuroVelo network because it brings the people of Europe closer together while promoting a greener environment and an active, healthy lifestyle. The EuroVelo routes can of course be used for local journeys, for mobility and leisure, but if you go on a longer trip, the distance that a cyclist can ride depends on a number of factors. Extreme weather, mountainous environments, the type of bike and the physical condition of the cyclist all affect the overall journey.
Exercises can help prepare for big trips and prevent back and neck muscle pain, which are sometimes experienced by people cycling longer distances. I therefore want to present several workouts that can be practiced before heading on this journey to build up stamina, increase endurance and strengthen the muscles.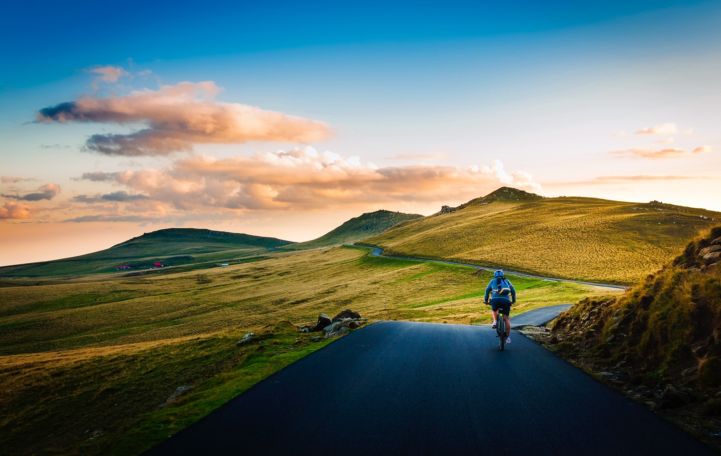 Yoga: Stretching tips such as neck side bending, shoulder roll and pec stretch are key points for cyclists who suffer from cramps and muscle stiffness. Yoga is recommended because it not only improves breathing and relaxation but also helps adopt a correct body posture. Cyclists can choose yoga poses that specifically target the core muscles, legs and the back.
Lunges: This is an exercise for the lower body, involving long steps while bending your front and back leg. This workout targets the hips and lets the cyclist acquire a straight back posture. Bending one leg at a time sounds close to what cycling is all about.
Planks: This is an excellent exercise that cyclists can do in and out of the gym. It strengthens the lower back, abs and shoulders. It is done by placing your elbows on the ground and grounding your toes into the floor, with the elbows aligned below the shoulders and the arms parallel to your body at about shoulder width. Focus on the tension in your abs and on straightening your legs while keeping your body stiff as a board. Your head should be in line with your back, looking down at the floor. In later stages, you can try lifting legs one at a time or doing side planks to increase difficulty and work different aspects of your core.
Squats: They improve leg strength and endurance. As many might know, this exercise is done by moving up and down in a sitting posture with a straight back. It is important to perform this technique in the proper way to maximise the effect and minimise any possible harm.
Supermans: This exercise strengthens your lower back and core muscles. Lie down on a mat on your stomach and extend both arms in front of you. Lift your chest, legs and arms off the ground simultaneously as if you were flying while using your back muscles to keep your arms and legs elevated. You can either hold this position or lift and release repeatedly.
In addition to these suggested exercises, regular muscle-strengthening training should also be part of every cyclist's gym visit. You can use weights and resistance bands for some moves whereas you can use your body weight for others.
Also related to health, cyclists can sometimes experience pain issues due to their position on the bicycle. This can be avoided by adjusting the bike to their individual body and preference. For instance, in athletic positions, a lot of weight is placed on the arms, shoulders and neck. Hence, the further the handlebar is away from the saddle and the lower the handlebar, the more weight is placed on the neck. Therefore, cyclists should have a moderately inclined posture to protect the neck. It is not recommended to sit completely upright either because the lack of tension in the torso can lead to a hunchback, which reinforces the kink in the cervical spine. Cyclists should visit an ergonomics specialist or talk to someone in a good bike shop to adapt the position accordingly.
Insights from Cycle Tourists
To give an impression of what cycling along a EuroVelo route is like, I spoke to two cycle tourists about their experiences discovering Europe by bike. Firstly, Serbian Stojan Ilic shared some details of his nine-year experience of cycling on EuroVelo routes:
"My problem is that I'm always in a hurry because I'm planning to ride around 110-120 km daily. That is why my training consists of long-distance weekend rides at least one month before the tour."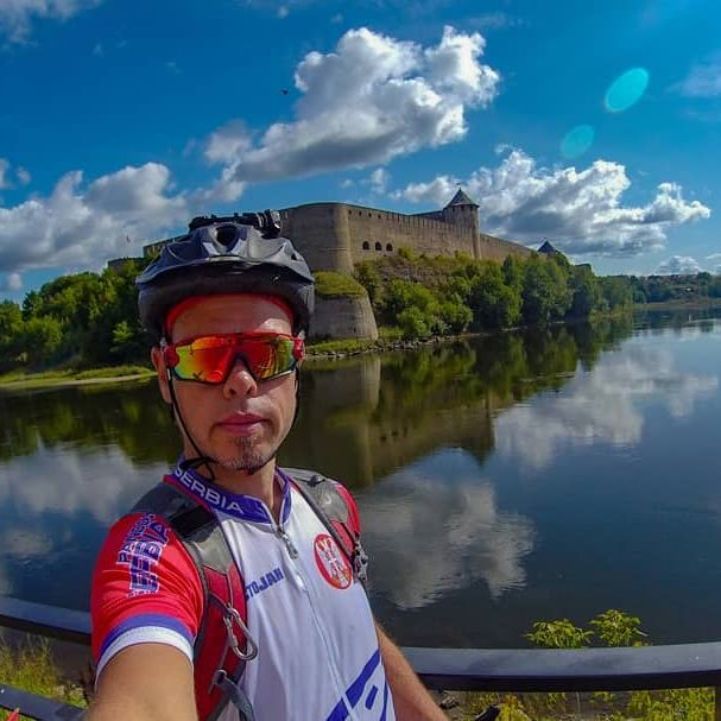 Stojan Ilic has been cycling every holiday for the past years, visiting 70% of all European countries. His last tour was EuroVelo 10, which covers nine countries in the Baltic Sea region. Cycling through one country to another gives people the ability to engage with others. The more cycle tourists you meet, the more you understand that everyone has their own approach. Some sports enthusiasts start unprepared because training is not needed if they plan to ride 50-70 km daily with breaks along the way. Sleeping and riding in countries where food is not so expensive also makes a journey relaxing and cost-efficient. In terms of nutrition, riding many kilometres per day requires more food. And considering all the beautiful specialties available in the European regions, it can be a challenge to not eat too much. "When I come back, I don't go through a recovery phase, but a recovery from eating," Ilic quipped.
Willemijn Lambert from the Netherlands has just been cycling on EuroVelo 13:
"I come back from this EuroVelo journey as a richer person, not in terms of money but richer with cultural knowledge and experience." Lambert described her cycling journey as an inspiration because being active helped her to connect with her inner self and earn a good relationship with her body. Cycling on EuroVelo 13 - Iron Curtain Trail is an accomplishment. Not only is it an official Cultural Route of the Council of Europe, but it is also the second-longest route of the network, reaching about 10,000 km. This route along the old Iron Curtain that once divided Europe enables cyclists to witness historical sites linked to the Cold War and the reunification of Europe.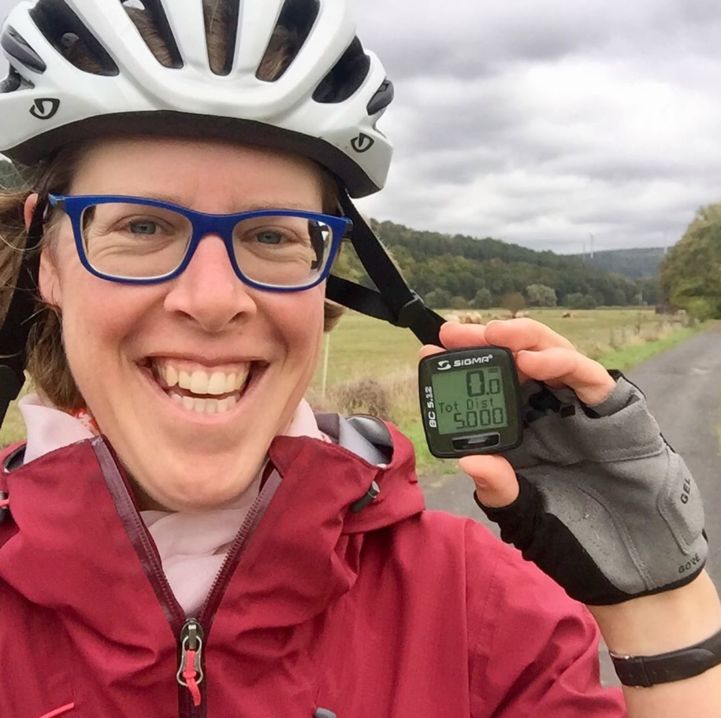 Visiting Europe by bike can be physically challenging, but this does not mean that only professional athletes can enjoy the EuroVelo initiative. "At the start of your trip, you might think that you're not strong enough, but after a while you build up your condition. So, specific power training beforehand is definitely good but regular every day cycling gives a great basic workout as well to start your trip with," Lambert stated.
A month prior to her trip, she exercised in the gym with a personal trainer to strengthen the muscles of her legs and back and to have a stable core posture. Finally, staying mentally strong, being consistent with food, evaluating your daily condition, and cycling more slowly if needed are all recommendations for anyone who would like to cycle on EuroVelo routes.
Concluding remarks
In summary, it can be said that cycling on EuroVelo routes is very healthy. The constant movement in fresh air and inspiring surroundings will make you feel free and improve your wellbeing. Our bodies are designed for exercise, and after a day in the saddle, they will gratefully accept the delicious local specialities found along the routes. Strength and agility exercises before and during your trip, as well as ensuring a bike and position adapted to your body, can help prevent muscle tensions that can occur on longer tours.
There is however, one health warning that we have to issue: Cycling EuroVelo routes is addictive!
Do you have any questions or advice about this topic? Connect to the EuroVelo Facebook Discussion Group to share experiences. Here you can find out more about the EU Regions Week 2019 in Brussels.
Author(s): Tracy Saade