Terug naar alle
Planning to attend Velo-city 2022 in Ljubljana? Why not cycle there?
dinsdag 22 februari 2022
Bordered by four countries (Italy, Austria, Hungary, and Croatia) and the Adriatic Sea, Slovenia is crossed by three EuroVelo routes: EuroVelo 9 – Baltic Adriatic, EuroVelo 8 – Mediterranean Route and EuroVelo 13 – Iron Curtain trail.
This year the Slovenian capital will host the world cycling summit and ECF's flagship event Velo-city from 14 to 17 June 2022, offering you a perfect excuse to plan a cycle trip to Ljubljana, winner of the European Best Destination 2022.
When traveling from Central Europe, you can reach Ljubljana following EuroVelo 9 – Baltic Adriatic. Connecting the two seas, the Baltic with the Adriatic, the route makes a start in the Polish city of Gdansk and ends in Pula, in Southern Croatia. Reaching the cities of Brno, Czech Republic, or Vienna, Austria, it will put you on track to cycle South on EuroVelo 9 all the way to Velo-city Ljubljana. Entering Slovenia, you will immediately begin to discover the country's stunning and diverse regional landscapes. Cycling across the Podravska region, home to hilly vineyards and thermal spas where making a stop in Maribor, the country's second largest city situated along the Drava river, is a must.
Getting closer to Ljubljana and cycling across the province of Savinjskka, make sure to stop and explore the medieval city of Celje where you will find Slovenia's largest medieval castle. From there, you will be able to reach Ljubljana within two days, a distance of around 90km. You can also reach EuroVelo 9 from Southern Europe, in the city of Trieste, in Italy and from Croatia. If coming from Croatia, don't forget to take a short detour to visit the Skocja caves UNESCO site.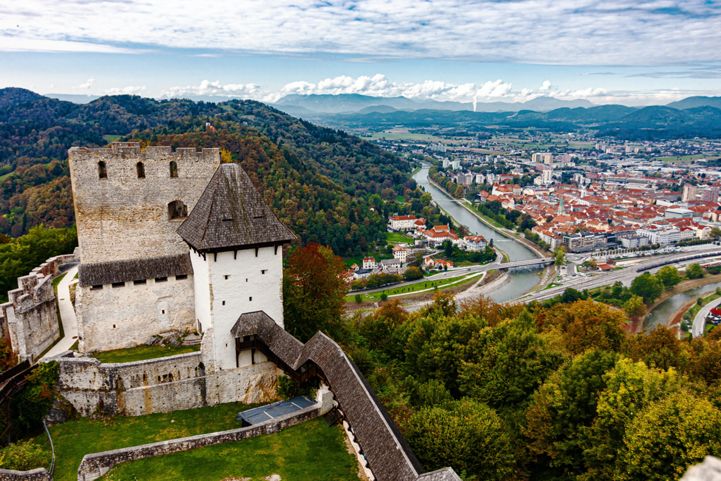 EuroVelo 13 – Iron Curtain Trail is the best option if you are planning to start from Finland, the Baltic countries of Estonia, Latvia and Lithuania, and northern Germany. The 9.995 kilometre route connects 12 countries, and reaches Slovenia's most eastern area, close to the Hungarian border. From the city of Salovci you can easily reach Ljubljana by train since the slovenian train company (slovenske železnice) offers various options for you to carry your bicycle on the train.
The short but beautiful 43 kilometre long Slovenian section of EuroVelo 8 – Mediterranean Route provides you with another option to reach the city if you are coming from Mediterranean countries. Arriving from Italy, you will cycle through the city of Trieste. Coming from Croatia, the route will lead you to three major Croatian Natural Parks and typical charming coastal towns: the beautiful city of Koper and its architecture from the Venetian Republic, and Izola, an authentic Mediterranean fishermen town. In the past few years, this area has been witnessing big improvements in terms of cycling infrastructure and EuroVelo signing in the context of the Interreg MED Programs MEDCYCLETOUR, making the area an very enjoyable place to cycle. From Koper and Izola, you can easily get catch a train to the capital city.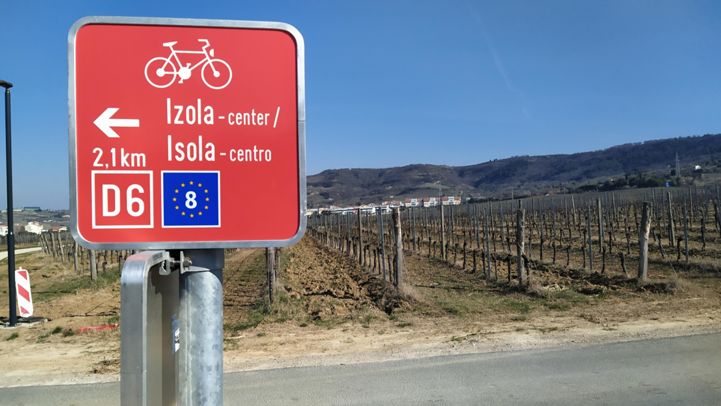 Don't forget that all GPX tracks of EuroVelo Routes in Slovenia are available on the country's EuroVelo dedicated website .The country's EuroVelo routes are managed by the Slovenian National EuroVelo Coordination Centre, a consortium of public and private bodies that joined the network in 2020.
Cycling in Ljubljana
Riding your bicycle in Ljubljana is the easiest way to discover and get around this vibrant capital city, which was recently ranked 14th most bicycle friendly city worldwide in 2019. Riding around the Old town, you can either use your own bike or BicikeLJ bikes, the city's efficient bicycle sharing system, in which less than one-hour trips are free of charge. This successful bike-sharing platform is now counting an average of 8 rides per person per day and more than 7 million users since its launch in 2011 proving that Ljubljančan and Ljubljančanka (Ljubljan's inhabitants) truly consider cycling as a real alternative to cars in their daily lives.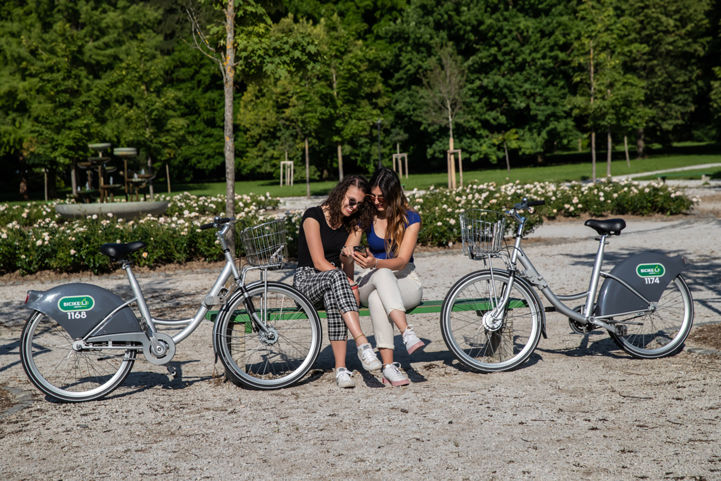 Riding around the city, don't miss the views from Ljublana Castle, overlooking the whole city. On sunny days, you might even get the chance to see the mountains and hills in the distance. Another unique way to explore is to go on one of the three Ljubljana themed cycle paths: the 12km long "Waterside Cycle Route" will lead to the riverbanks and to the city centre districts of Štepanjsko Naselje and Kodeljevo, then leading up to the main must-see places in the heart of the Old. The traffic-free city centre gives tourists the privilege to cycle around freely, passing the Presernov trg square and its unique triple bridge, connecting the medieval town to the modern part of the city. The Dragon Bridge will also catch your attention and taking that selfie with the Dragon is a tourist must!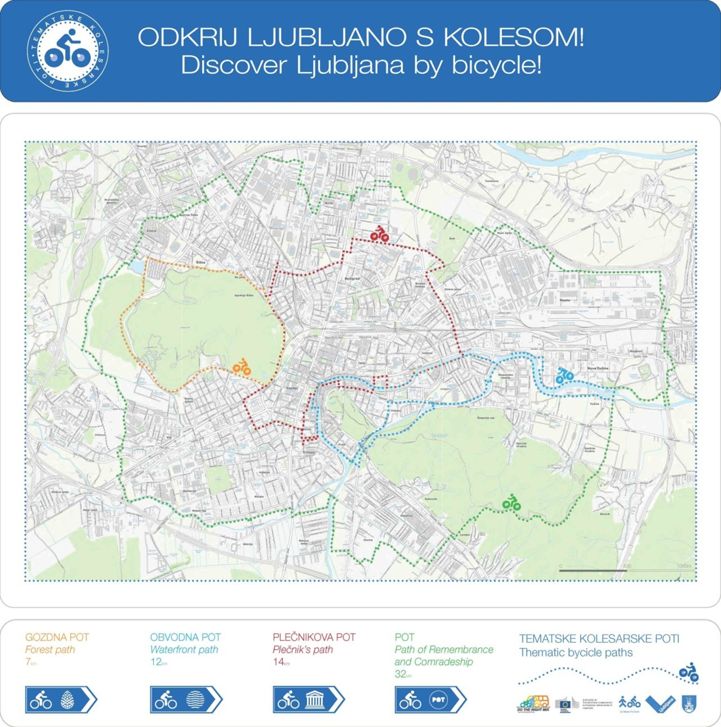 Slovenia was declared European Green Capital 2016 and wants to develop into an attractive, green and environmentally friendly city as part of its efforts towards sustainable development. In recent years, cycling has been increasingly promoted and the Slovenian capital city now counts around 300 km of cycle lanes and, as part of the Vision 2025 plan, has had a traffic free city centre since 2008. The city's efforts to become more livable and greener is plain for all to see with the transformation of "Slovenska Cesta", one of Ljubljana's busiest streets, into a road exclusively made for public transport, pedestrians and bicycles. Moreover, cycling counters have been monitoring cycling growth since 2015, counting more than 3 million cyclists in the past few years.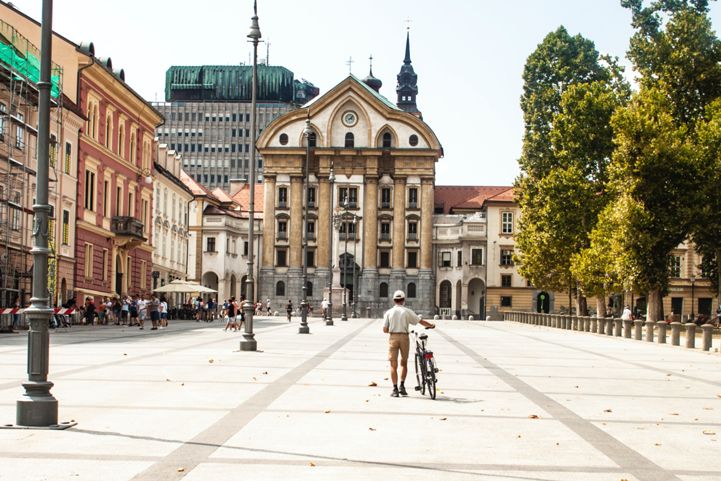 When it comes to bike services, authorities have been working on increasing the quality of infrastructure and their accessibility. Two bicycles' service stations were made available last year, making small repairs is now simple and even useful for tourists passing through on their bikes. You can find the service stations in front of the city's Tourism Information Point and at the "KoloPark", a former degraded area successfully turned into a new recreational area for cyclists. Bike Parks are gaining popularity around the city!
Velo-city "Cycling the Change"
After having caught a glimpse of the city and finally having settled in your accommodation, it's time to head to Velo-city! This year, it will be held in Ljubljana's exhibition and convention center. The Slovenian capital city is ready to welcome over 1400 participants from over 60 countries and to contribute to the promotion of cycling as a sustainable and healthy means of transport for all. This year's moto "Cycling the Change" reflects the goals of the event: rethinking urban space, setting the focus on citizens and communities as well as advocating for a better integration of cycling in many crucial policy areas. The Velo-city experience is four days of cycling networking, inspiring presentations, technical visits and fun at the world's cycling summit!
Author: Lauriane Irien