Terug naar alle
FR
Stories from the saddle: Personal experiences of the Atlantic Coast Route. Part 2
maandag 27 september 2021
This summer, cycle tourists from across Europe have told us about their stories of riding EuroVelo 1 in Norway, Ireland, France and Spain. Enjoy this second article focused on the southern experiences!
Cycling tourists from across Europe tell us their experiences riding the EuroVelo 1 – Atlantic Coast Route in Norway, Republic of Ireland, France and Spain. They tell us how this is a route that you can explore solo, with your partner or with friends. That you can choose to wild camp or to sleep in the comfort of a hotel. That you can spend months covering the entire route or cover a section during a long weekend. What is common about the stories is that they agree that Atlantic Coast Route is an unforgettable and not to be missed travelling experience.
MeMe Altillo, Spain. Cycling experience Extremadura.
¨Pedaling is living. You only need to do one cycling tourism trip to fall in love with this way of travelling.¨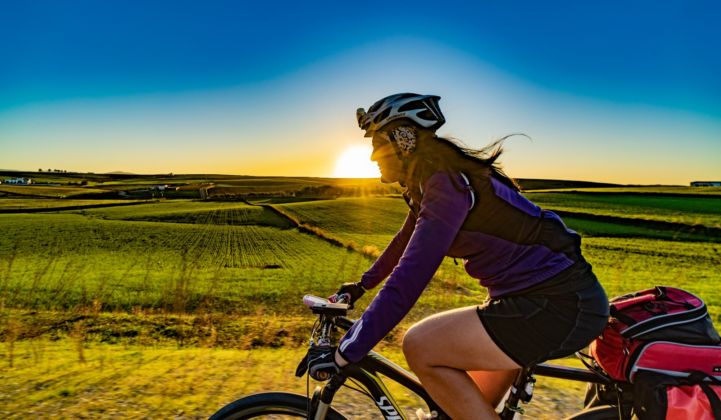 After becoming a mum at the age of 35, I started cycling with the aim of becoming fitter. Before that, I had barely practiced any sports at all. But this was the beginning of a big change. I liked cycling so much that I became a cycle trainer and I joined a cycling club. Fifteen years later, promoting women's cycling is now my passion.
I am always doing lots of cycling trips. I do a combination of short trips or trips of one or two weeks. I calculate that I have cycled around 13,000-14,000 km over the years. I am very grateful for everything the bicycle has given me.
What was your EuroVelo 1 experience in Extremadura, Spain?
EuroVelo 1 is one of those trips that any cycling tourism lover has in its bucket list. At the end of 2020 I had the chance to make it happen, I decided to start in Extremadura, because of its short distance to Madrid and because of my personal bond to this land. We thought that November was the best month, as the temperature is milder and, as advised in the 'Extremadura a Pedales' guidebook, autumn is the best season for EuroVelo 1 in Spain. We took two long weekends, it was our only possibility with limited holidays and we decided to do bikepacking the first weekend (with minimal luggage). After seeing the condition of the route – a combination of cycle lanes and low traffic roads – we decided to bring our cycle touring bikes and saddle bags for the next weekend.
We stayed in local hotels as we wanted to explore the cities we passed through after cycling. Extremadura has so much historical and natural heritage to discover! Our first weekend we cycled from Baños de Montemayor to Mérida. The next weekend we started at the point we left, spent the night in Zafra and ended our trip in Monesterio.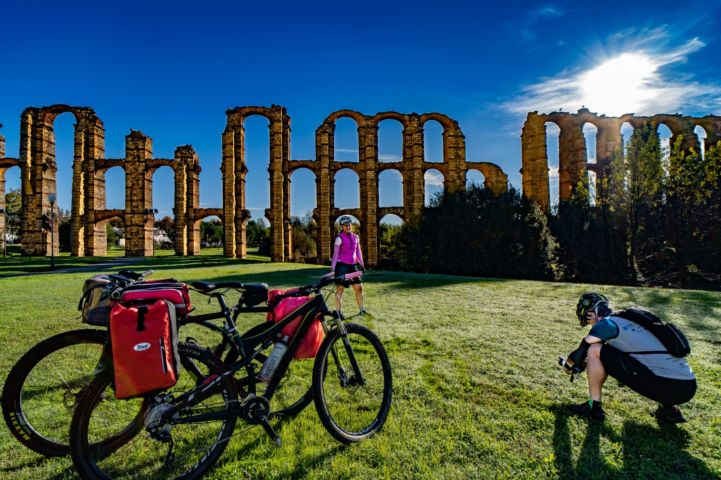 Which section of your cycle trip was your favorite?
I wouldn't be able to select only one highlight from the route, Extremadura has so much to offer. You definitely have to visit the spa at Baños de Montemayor and the Jewish quarter of Hervás. You should spend a morning rambling through the charming streets of Cáceres, a UNESCO town, together with Mérida also a UNESCO site. These are definitely 'not to be missed' destinations.
I would also recommend you to indulge yourself with delicious treats and enjoy the gastronomy that Extremadura has to offer. You can book a tour connected to wine or cheese. For example you can visit the wine Bodegas - Almendralejo is a perfect spot for this. Finally, I want to also recommend a beautiful place to stay in Cáceres: Hotel Alfonso IX, they were such nice hosts with us when we were there.
You can follow Meme on IG: memeameliavicente and Facebook and her project: 'Mujeres a Piñón' IG: mujeres.ap
"Without this first experience we wouldn't be where we are today so we really encourage everyone to start travelling by bicycle, especially on EuroVelo, as you never know where you will be in a few years time."
Fred Lolliot & Pantxika Goyhetche, France.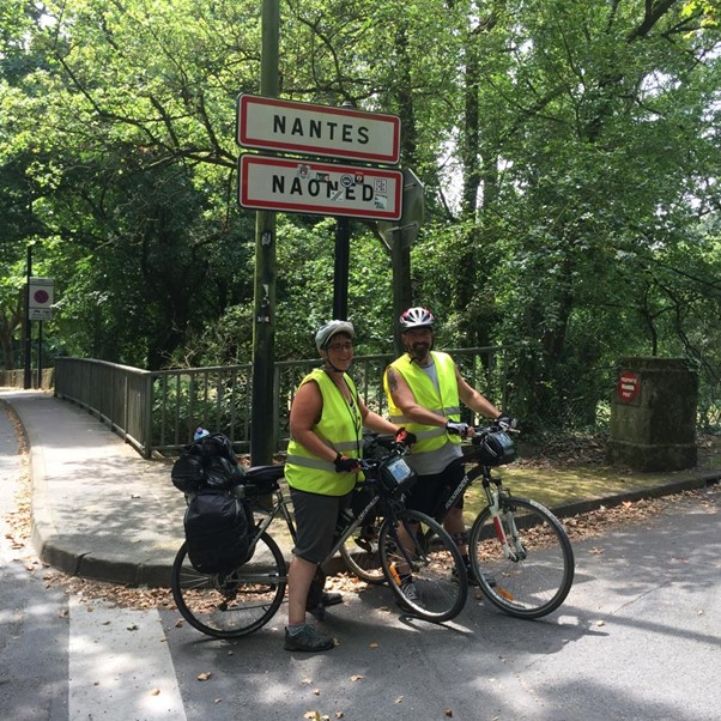 They cycled from Chester (U.K.) to Hendaye France. They traveled 2013 km during 36 days during August 2018.
We are a French couple that used to live in Chester in the UK. We ran a French restaurant there and we never really cycled before as we were always to busy to find the time for it. For the short story, we sold the restaurant at the beginning of July 2018 and when I (Fred) asked Pantxika what should we do for the holidays, she replied she wanted to do the EuroVelo 1 from Roscoff to Hendaye. I was initially against it, as I was not fit at all, but a few days later I came back to her saying I was reconsidering my answer but with two conditions. The first one was to use the two old Decathlon bicycles we had in the garage and the second one was to start from our home in Chester. She thought I was crazy, but at the same time she was very happy, so she agreed. We bought some cheap pannier bags, we prepared our tent we had for nearly ten years and ten days later we were on our way. A few friends turned up on the day of our departure to wish us a good trip, being sure we will be back in less than three days!"
What was your EuroVelo 1 experience in France?
We arrived in Roscoff, France on 30th July and from there we followed the itinerary of EuroVelo 1 indicated on the EuroVelo website. As it was our first bicycle trip we stayed every night in campsites but we decided not to book in advance to make it an adventure as much as possible. To be honest, it was very easy to find one every day. As beginners, we can say EuroVelo 1 is accessible to everyone and the route is really well signed.
Which section of your trip was your favourite?
Brittany was a memorable time as we have never been there before and we were very lucky because the weather was absolutely brilliant, which is not always the case there. We discovered the traditional food from the region and the people were very friendly and helpful. When we arrived at the Decathlon in Nantes they were so impressed we were doing our trip with our two old bikes (we named them at the time Joly Jumper and Rantanplan), they offered a free service with new sets of tires for both of them. We also appreciated the Bassin d'Arcachon region especially the Dune du Pilat where we found a campsite right at the foot of it.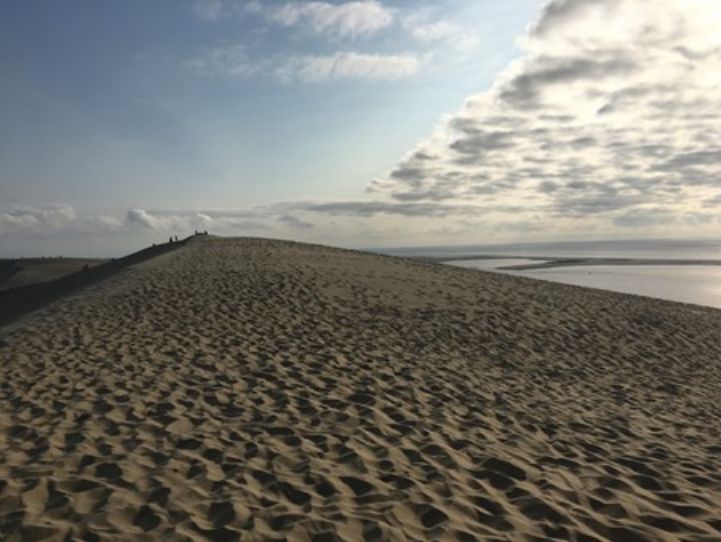 During the trip we were amazed by the number of people we met travelling by bicycle and we never thought we would see so many families. The exchanges every night with other cyclists were great and by now we were really appreciating this way of travelling. Following this section of EuroVelo 1 is brilliant as you are regularly passing cities, towns and villages, so it is easy to find something to eat and drink.
When we arrived in Hendaye we were so happy, we wanted to carry on to Spain but as we had obligations at home we decided to go back to Chester, promising ourselves we will do more bicycle travel in future. At the time we are writing this, we are currently in Guatemala, we have started an around the world trip by bicycle on Saturday the 5th September 2020 and we have just reached the 10,000 km mark.
You can follow our adventures on Facebook or Instagram : kalimutxoworldtour
"Apart from the positive environmental impact of not taking a car, cycling allows people to engage with their surroundings."
Elizabeth O' Shaughnessy, Ireland. She cycled EuroVelo 1 in France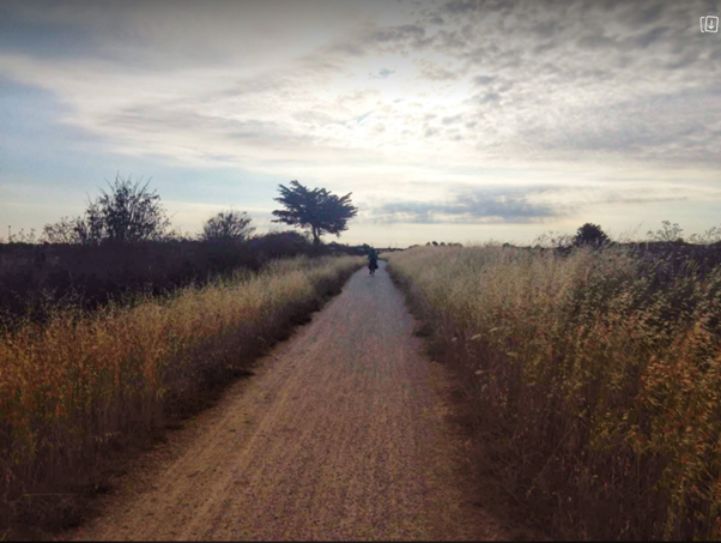 "This epic cycling adventure had been planned since January 2019. I had to learn how to take apart my bike and put it back together as I was bringing it with me from Dublin to Nantes by plane. I thought it would be easier than figuring out rentals. On the 8th July I left behind a cloudy Ireland for the heat of France (29 degrees at night). It took a little while to acclimatise. My companion on the trip, Aileen, had flown in from Mexico. She had suggested cycling in Europe during the summer. I came along because I cycle in Dublin and I had cycled some of the Wild Atlantic Way a few years before. I was not properly prepared for either trip but both trips I would do again!"
What was your EuroVelo 1 experience in France?
We joined the EuroVelo 1 on 9th July 2019 in Nantes, having flown in from Dublin the previous day. Our original route was to follow La Velodysee/EuroVelo 1 from Nantes all the way to Bilbao (and eventually fly out of Madrid on 23rd July). This changed slightly on the way as we were confronted with the realities of the weather, the gravel surfaces found on some sections of trail and the distances between towns.
We had opted to camp along the way, and found campsites wherever we went. We did some hotel stays too, for comfort. We also put our bikes on trains, skipping a few parts of the route. We underestimated how long it would take us to get from town to town. The great thing about French trains is they are well equipped to take bikes.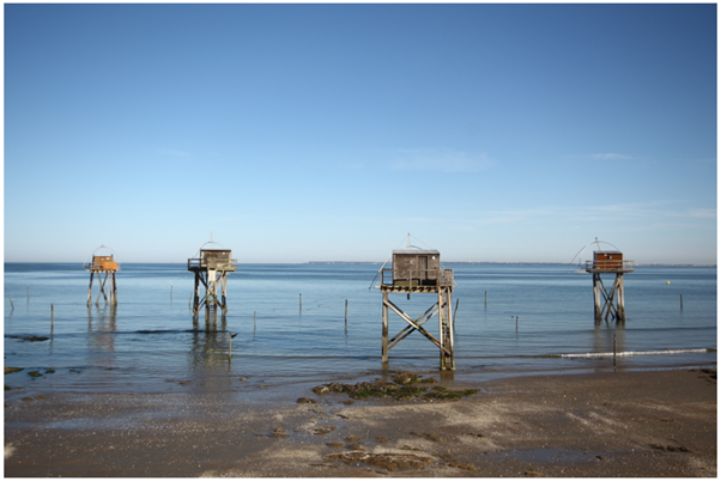 What section of your cycle trip in France was your favorite?
My favourite part of the route was in and around the town of Bouin. We stayed in a campsite attached to a farmhouse where there was only one other tent. It was so quiet. The facilities were very basic, and it took a while to locate the person in charge, but the landscape around us was always beautiful.
Everyone we met along the way was so helpful and patient, especially as our French was limited. From the people in shops and restaurants to the people on the train who helped hang the bikes on those hooks.