Terug naar alle
FI
Circumnavigation of the Baltic Sea along EuroVelo 10: Part II
donderdag 6 augustus 2020
Bernd Schadowski (47) is an enthusiastic long distance cyclist, blogger and author. He loves bicycle touring. The proximity to nature. The unforeseen encounters with exciting and unconventional people.
Bernd lives with his family in Germany near Aachen, and shares his daily adventures and helpful touring information on his cycling travel blog www.radreiseglueck.de.
In 2019 Bernd starts the circumnavigation of the Baltic Sea along the 9.000-km long EuroVelo 10 – Baltic Sea Cycle Route with his son Tristan (17). This is part 2 of Bernd's adventures around the Baltic Sea (discover part 1 here). After 1,980 km on EuroVelo 10, Bernd's son Tristan decides to leave the tour in Rīga. Deeply demotivated, Bernd has to take a decision: will he quit the tour too, or will he continue his adventures around the Baltic Sea?
Encounters with the Universe
It is so hard to continue the tour without my bicycle buddy Tristan. I am leaving Rīga somehow numb and I must pull myself together to concentrate on the roads. With its good EuroVelo signage, Estonia is the first country in which I am cycling solo. Somewhat depressed, I'm looking for a tent site in Estonia's summer capital of Pärnu, but everything is overcrowded. In a restaurant, fortune favours me in meeting Kaja and Margus, who invite me to camp in their garden. I gratefully accept and find friends for life with them and their son Edgar, who offers to let me stay with him at his apartment in Tallinn. Here and at other points on the tour I learn that the universe sends you the things you need so urgently, at just the right time. You only have to trust!
Later I am overwhelmed by the beautiful islands of Saaremaa and Hiiumaa as I cycle 300 km through a colourful world of insects, reptiles, flowers and wonderful summer scents. I love reptiles, and I am more than happy, spotting grass snakes and adders frequently throughout the unspoiled Estonian countryside. A few days later I get to know the most beautiful city on the tour for me: Tallinn - modern, medieval and friendly. Edgar invites me to stay for a couple of days in his apartment to experience the city more extensively - and there are news from Germany: I have just become a grandfather!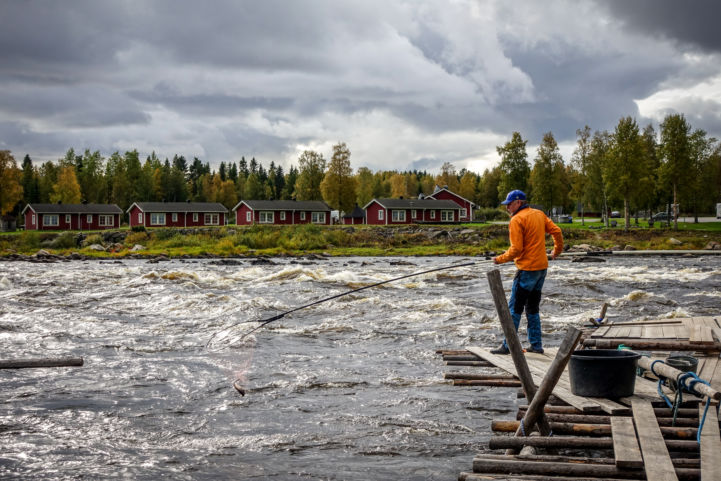 The Gulf of Finland
Passing impressive cliffs, beaches and waterfalls I cycle along the Gulf of Finland with a magnificent Baltic Sea view. RMK campsites offer putting up your tent at the best spots near the sea - free of charge. Finally I wistfully leave Estonia and enter 'Mother Russia' a second time via the border town of Narva. Ivangorod initially captivates me with an impressive fortress. Cyclists are not very welcome in this country, the entry and exit to St. Petersburg with its 5 million inhabitants is a risky undertaking on a bicycle. The city unites the splendor and glory of Russia - a mega contrast to the poor rural conditions. In no country on my tour do I feel so torn between fascination and sadness. An essential part of my trip is reducing prejudices between cultures, but in Russia they are sometimes so firm, that I don't always succeed. Before leaving, I finally come across the beautiful Russian city Wyborg. Unfortunately, like almost everything in Russia, it is largely in a state of decay.
"I am so happy to be back in the European Union!", I greet the Finnish border guard with tears in my eyes on Day 47. The change of colour from grey Russia to colourful Finland is delightful. Finns make everything beautiful, just like the Estonians, where each bus shelter is individually designed and the Finns' sphere of influence is unmistakable. Russia was quite a cycling experience, and its integration into EuroVelo 10 will be a tremendous project. Those who want to avoid the risk prefer to take the ferry from Tallinn to Helsinki.
From Helsinki onwards, the archipelago landscape with its islands and flat stones allows me to glide through a landscape of lakes and streams. The eye can hardly take it all in. It is the end of August, and to my surprise and annoyance I find out that all campsites are closed. There is the right of public access (allemansrätten) in Finland, but it is difficult for me to find good permitted places along the coastline. Days quickly get shorter and more damp than expected. The morning sun no longer dries the tent. From mid-September, I increasingly switch to CouchSurfing, Warmshowers, B&B and hostels around the Gulf of Bothnia. The EuroVelo 10 has not yet been extended here, so over many kilometers the E8 frays my nerves until, to my relief, I find the next junction leading to smooth nice roads again.
The Northernmost Point
In Lapland I sadly decide against the North Cape. The first snow is announced for the Lapland valleys and the infrastructure is largely closed. The locals advise against it. I postpone this dream, as I will soon start my days at minus 7 °C. The confirming calls of hundreds of wild geese accompany me to the south and they become part of my tour from now on.
However, I encounter a highlight at the northernmost point of my trip, namely the net fishermen from Kukkolaforsen, who catch one fish after another with meter-long hand-nets on rickety jetties in the wild river. I enjoy some of this freshly smoked specialty at little cost.
I have been on my bike for 66 days now. Although there is a cycle path from Haparanda to Ystad named Cykelspåret, the detours inland here in northern Sweden are often disproportionately long combined with exhaustingly steep gradients. So instead, I keep choosing permitted sections of the double-lane E4 - despite the stress arising from traffic. The Cykelspåret, however, is beautiful and it is advisable to simply adjust daily mileage targets and enjoy these often unpaved, but excellently navigable paths through Sweden's forests in an unbelievably audible silence.
Magical encounters on bike trips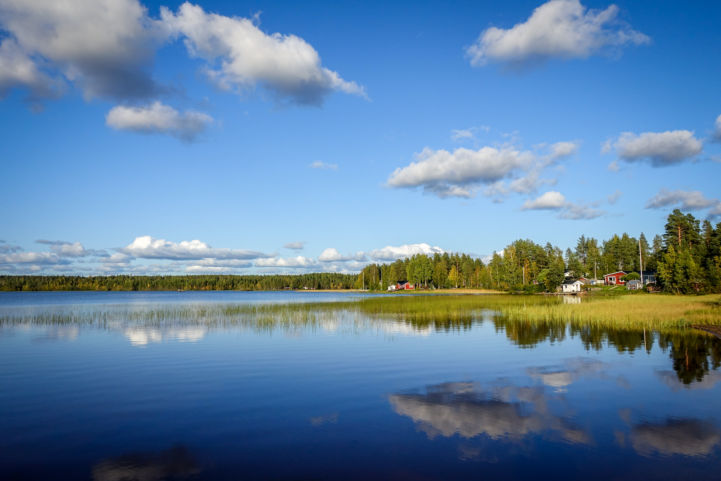 The cycling season has passed by. I haven't met any cyclists in the last 1,000 lonely kilometers. Suddenly a crazy tandem overtakes me with cyclists wrapped in colourful ice hockey jerseys. Like it's not crazy enough, I come across two touring bikers just over the next hill. I'll cycle with them for the next few days. Ludvig and Irene, who are on their way from Sweden to Spain, stay with me overnight in a small fairytale hut. We share our supplies and philosophise about the world, people and cycling. I find close friends with a deep inner connection.
Along old, low stone walls I continue my way on beautifully winding paths through the autumn sun in the southern Swedish region of Småland. Through fragrant forests I follow small, almost unpaved roads via Stockholm to southern Sweden. Suddenly a sound, the absence of which I am only now realizing, takes my breath away for a moment in Ystad. It is the surf of the Baltic Sea, which was not existing in its upper archipelago. I enjoy breathing in the air filled with the scent of the sea.
I take the train in Malmö to cross the Øresund to Denmark. My principle of avoiding cycling in large cities is thrown overboard in Copenhagen, because cycling is both a must and a pleasure here. There is an excellent cycle path network along the entire coast of Denmark with great Baltic Sea views and the EuroVelo 10 is well signposted here again. Constant grey, hazy, rainy weather accompanies me in the last country of my tour, the golden autumn days are gone. One morning I look at the endless horizon of the Baltic Sea, realizing that I have almost completely cycled around the Baltic Sea. All the efforts, the beauty and the various encounters well up inside me and tears run down my cheeks before I continue my journey to the island of Møn with its impressive cliffs. With over 5,200 € of donations gathered, I return to Germany on Day 100 and cycle via Kiel back to Lübeck, where I complete my dream of the Baltic Sea circumnavigation after 105 days.
"My Baltic Sea. Thank you for being my companion along the impressive EuroVelo 10 for more than a quarter of a year - with all your colourful nature, your friendly people and your different cultures". I realise that I will probably look back at it with different eyes forever.
Resumé
Would I do things differently next time? Yes - and no. It is a good idea to start earlier in the year for the EuroVelo 10 and to finish the upper part of the Baltic Sea by the end of August, before campsites and cafes close in the northern countries, Finland and Sweden, and damp autumn makes camping more difficult.
If I could change one thing, then I would have done anything not to have lost my beloved cycling partner Tristan in Riga, though I am incredibly proud that we cycled together 1,980 km in 5 countries. However, I also deeply appreciate the encounters I had, and changing things would also have meant changing those encounters and friendships. By solo cycling for more than two months, I have come to know all its advantages and disadvantages - and I have met my demons. Some of them have become my friends, others not yet. This is part of long-distance cycling and of course, the longer you are on your way, the higher the intensity.
Highlights
Highlights along the route were countless, but some of them were the Baltic nature, the wonderful Baltic coast and Estonian islands, as well as medieval Tallinn; the expanse of Nordic forests and archipelago in Finland and Sweden, as well as the sparkling lakes; the excellence of cycle paths in Denmark and the friendliness of people in all countries.
However, it is also possible to split the EuroVelo 10 up and to cycle the most beautiful parts segment by segment:
Enjoy the amazing coastline 'Germany - Poland'.
Go for 'The Baltic States', starting from Klaipėda, which you can reach by Ferry. Don't miss the Curonian Spit!
Cycle 'Finland – Denmark' and experience the Nordic nature. You can shortcut Russia by using the ferry from beautiful Tallinn to Helsinki and you can avoid the busy 'Europe Streets' in the northern parts of Finland and Sweden by taking the ferry from Vaasa to Umeå.
Whatever part you decide to cycle, always be aware that it is hard not to fall in love with the Baltic Sea - it will conquer your heart forever!
Follow Bernd on Facebook and Instragram.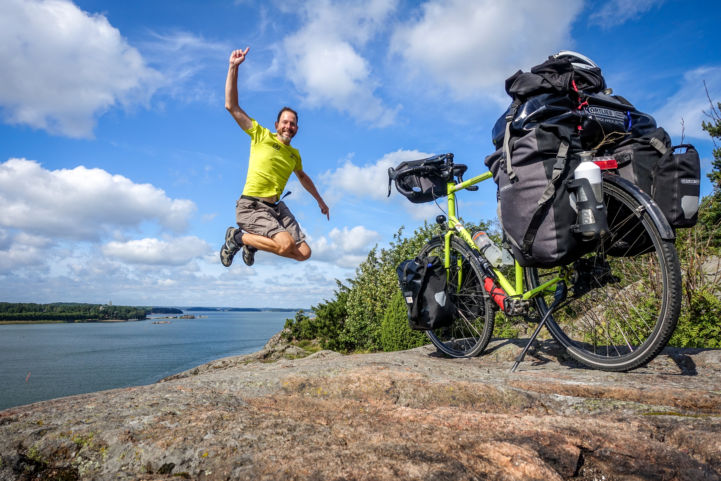 Author(s): Bernd Schadowski